When Liberal Democrat leader Jo Swinson appeared on LBC radio on Tuesday morning, she was asked about a meme going around claiming that animal rights charities were criticising her because she apparently loved killing squirrels.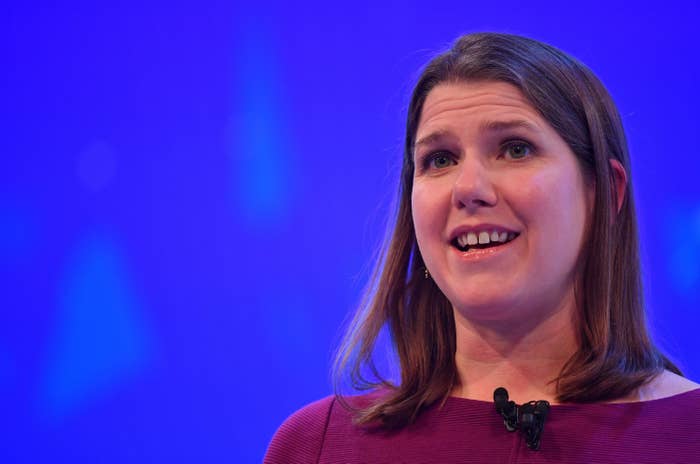 Swinson pointed out the story was "very fake news" and said she was the latest victim of a Twitter account manufacturing a negative news story and sending it viral across social media.
The posts appear be meant as satire, but as they've spread widely online, any irony appears to have been lost on many of those sharing them on Facebook.
"They're quite sophisticated and people believe them," Swinson said. "I do think it's worrying because it's got echoes of what we've seen in other elections.
"I think there are questions for the role of publishers who are circulating this kind of thing that is untrue."
She appeared to be talking about a tweet from @groovyguyzone, who had used a simple text replacement tool to replace the words in a Daily Mirror story. The account then took multiple screenshots of the manufactured story and posted them to Twitter two weeks ago.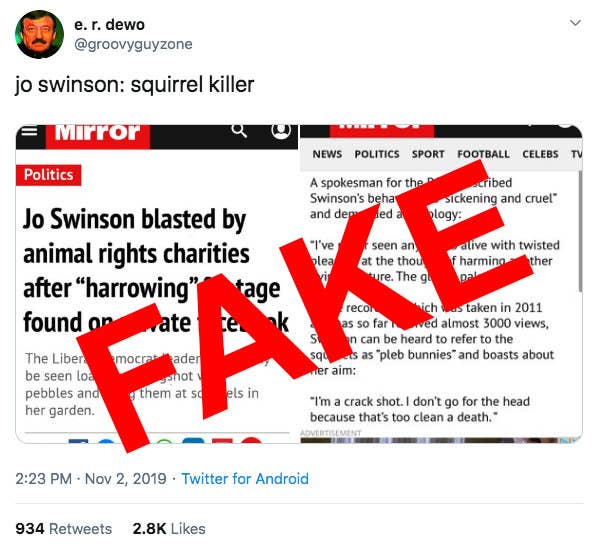 The tweet got fewer than 1,000 retweets, but on Facebook, it started to fly. The tweet, and variations of the fake Daily Mirror story, were screenshotted and shared endlessly into Facebook feeds and groups.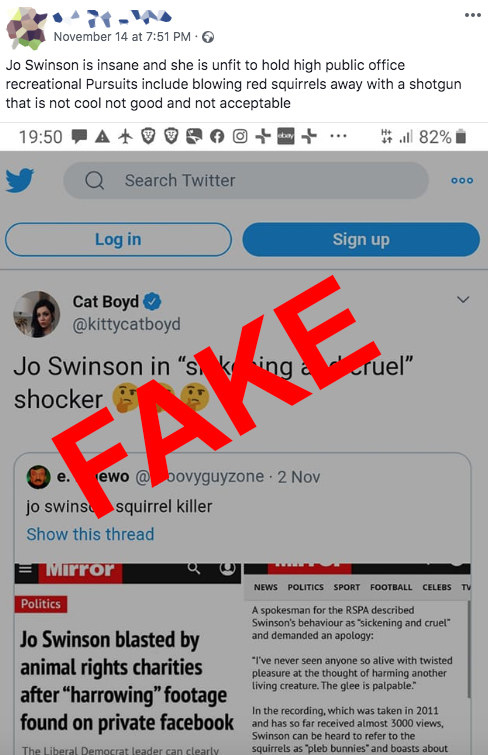 Someone then put up the fake story on Medium, headlined "Swinson condemned for cruelty to squirrels", where it was shared more than 3,700 times.

The Medium post was removed after being flagged by Swinson's team. But the story lives on in Facebook groups.
It's not the first time @groovyguyzone has been linked to fake news about politicians created using the simple text replacement technique combined with a screenshot. Last month, the account shared screenshots of manufactured stories about Labour's Jess Phillips and Tom Watson.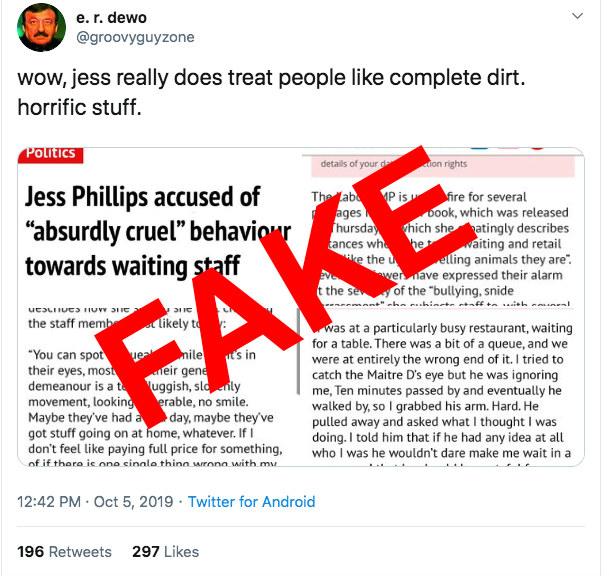 After Swinson called out the "very fake news" on Tuesday, @groovyguyzone's series of retweets suggest the posts are at least in part meant as satire.
But out-of-context, deliberately faked, or joke Twitter screenshots are starting to have more impact as they fly around the internet and deceive people this election campaign. Earlier this month, a tweet joking about a BBC Question Time questioner being a plant by producers went viral.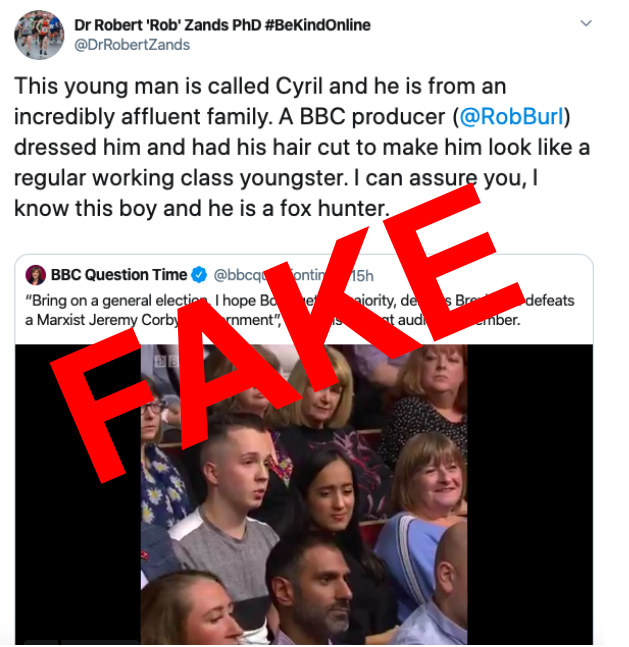 Another Twitter user posted about it, which was then screenshotted and taken to wildly popular Facebook groups.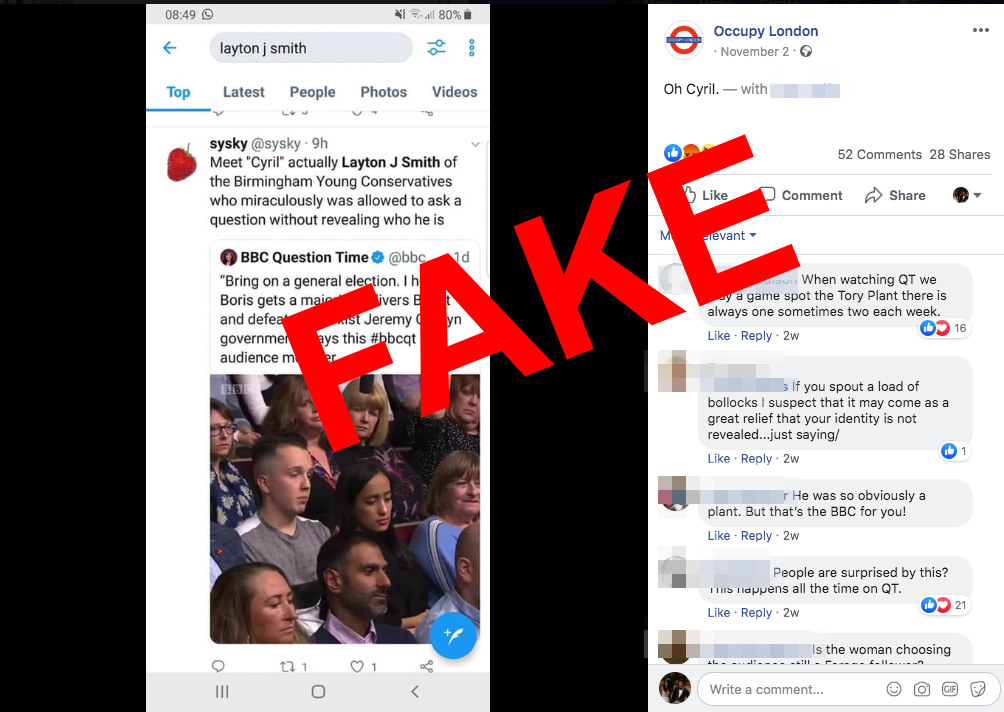 So be careful on social media this election campaign, especially when you see an out-of-context screenshot (like this one) in your feed or timeline which has been stripped of any further information.