Melbourne's Ravenhall Prison was taken over by its inmates after an argument over Victoria's incoming cigarette ban.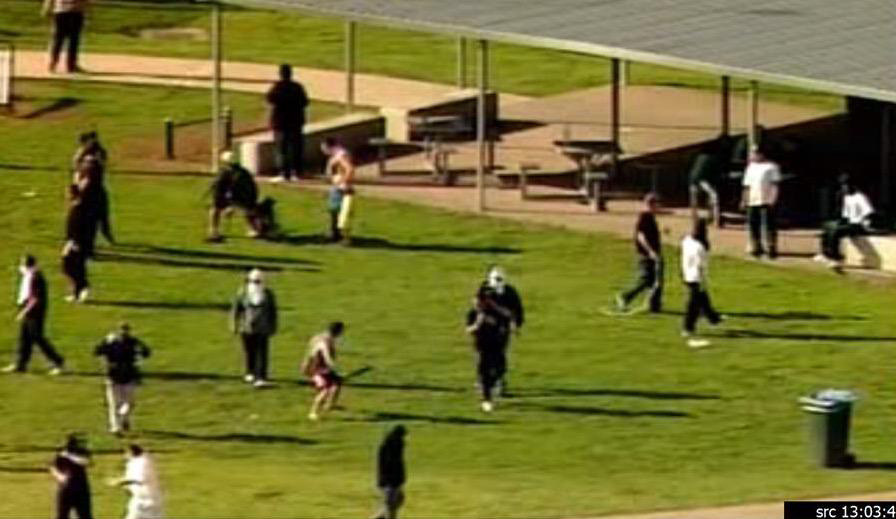 Inmates started rioting shortly after midday and pictures from the scene showed them covering their faces as they started fires and destroyed property.
According to The Herald Sun all staff were evacuated as a precaution and a neighbouring prison was in lockdown.
The statewide cigarette ban was due to be brought in tomorrow and according to The Age, 85% of inmates at the Ravenhall prison are smokers.
UPDATE 1830 AEST: A police operation against the Ravenhall rioters continued into the night, with reporters on the scene reporting loud bangs from inside the complex.
All but 100 inmates have given up and continue to move throughout the centre, according to the Herald Sun.
Victoria's corrections commissioner Jan Shuard gave a press conference in the early afternoon. She would not confirm the reports that the riot started because of the statewide smoking ban.
"The situation is still being managed, until we can have a full debrief on it, we won't know how it got to this stage," she said.
Meanwhile local media are reporting another Victorian prison has experienced a disturbance. It's unknown whether the incidents are linked.
The Channel Seven helicopter showed clear pictures of the inmates after staff had been evacuated from the complex.
The state police's heavily armed riot police began an operation against the centre in the afternoon.