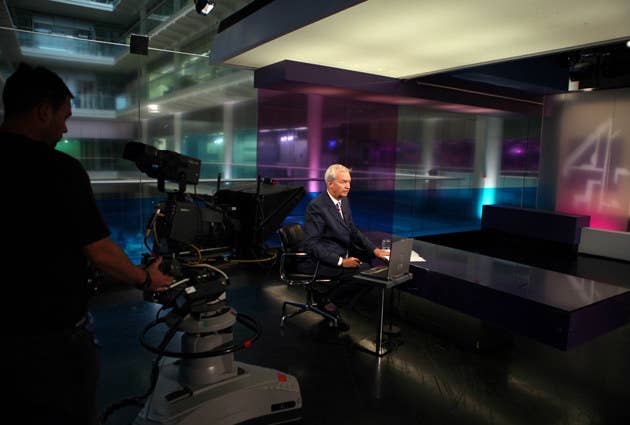 Senior management at ITN — the makers of Britain's Channel 4 News, ITV News, and 5 News — have told staff the gender pay gap at the company is 19.6%, more than twice that of the BBC.

ITN sources told BuzzFeed News the revelation came during "heated" staff briefings on Wednesday about a gender pay report, which lead to "furious" female reporters grilling the company's top executives about how it had happened.
"It all went down very badly," said one source in the room.
"[ITV News social affairs editor] Penny Marshall challenged ITN chief executive John Hardie directly, saying, 'It feels hollow that you express surprise as I for one have been asking for this to be open for three years.'"
The disclosure — which is now featured in a report sent to the government — comes after the BBC revealed last year its gender pay gap was 9%, leading to several months of scrutiny.

Hours after ITN's eye-catching figures were made public, the Guardian, which has a female editor-in-chief, released its own figures, showing a gender pay gap at the progressive newspaper of 11.3%.

According to another source, Channel 4 News business editor Siobhan Kennedy used Hardie's past comments on the issue against him, while ITV presenter Mary Nightingale told the briefing: "Yet again women are expected to be patient and good and waiting as usual.'"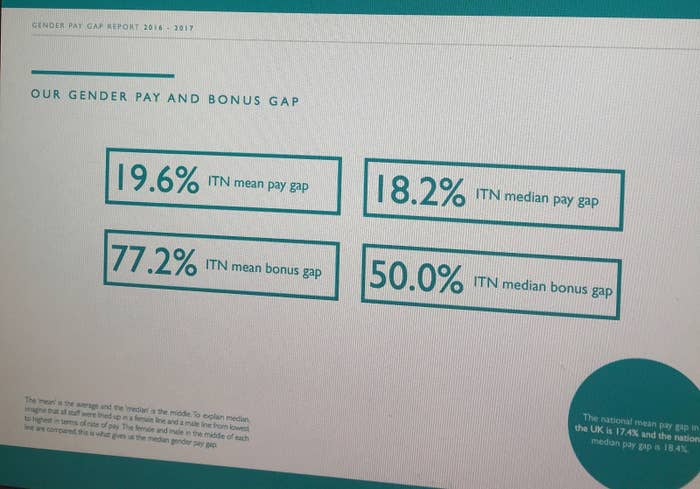 Channel 4 News host Cathy Newman told the meeting the figures were an "absolute disgrace", said the source.
The report also revealed a staggering 77.2% "bonus pay gap" among senior management in the company's newsrooms, which one female ITV producer described as "almost feudal".
"The anger in the room wasn't focused on presenter pay — it didn't come up. It was more about a culture of 'jobs for the boys' at ITN overall," said a source.
As the meetings broke up, some of the company's most senior women tweeted news of the pay gap report, with the hashtag #ITNwomen — a nod to the #BBCwomen group that has been agitating at the BBC for gender pay equality since last year.
ITN later released a statement from Hardie, saying the situation was a result of not having enough women in senior roles.
"In common with many companies our gender pay gap is mainly caused by having fewer women than men in senior leadership roles and we know that we have to work even harder to address this," Hardie said.
"We are putting in place tough targets, including halving our pay gap within five years, alongside initiatives that will empower and support women in order to progress their careers."