The BBC's highest-paid journalist, John Humphrys, once headlined a closed-door event for Conservative MP Michael Gove's constituency donors, according to a document obtained by BuzzFeed News.
Humphrys – who as a main presenter of the Radio 4's agenda-setting Today programme regularly interviews Gove on air – is listed as a previous guest speaker for fee-paying members of the MP's exclusive luncheon club, called the Strangers Gallery.
The event is understood to have taken place in 2007, when Gove was an opposition frontbencher. But the MP continued to brag about the Humphrys appearance to attract donors for years afterwards, citing him on promotional material for the lunch club as an example of the type of high-profile figure that club members could meet in return for their membership fee.
The material seen by BuzzFeed News describes Gove as the secretary of state for education, a post he held in David Cameron's government from 2010 to 2014. The document remained on the website of Gove's Surrey Heath constituency association until 2014.
A BBC insider confirmed Humphrys spoke at a Strangers Gallery event, adding: "He just thought he was talking about the BBC at an event for an ex-colleague."

Gove's journalistic career included working on the Today programme, according to his Wikipedia page.

Strangers Gallery is described as a "luncheon club for Conservative minded business and professional men and women residing or working in the Surrey Heath Parliamentary Constituency".
Members are promised access to regular lunches and a yearly event called "Ladies Night", where they are addressed by senior politicians or media personalities.

In addition to Humphrys, other previous Ladies Night headliners listed in the document seen by BuzzFeed News include current foreign secretary Boris Johnson, former Conservative party chairman Lord Norman Tebbitt, musical lyricist and Tory supporter Sir Tim Rice, conservative commentator Matthew D'Ancona, and another BBC presenter, Michael Buerk.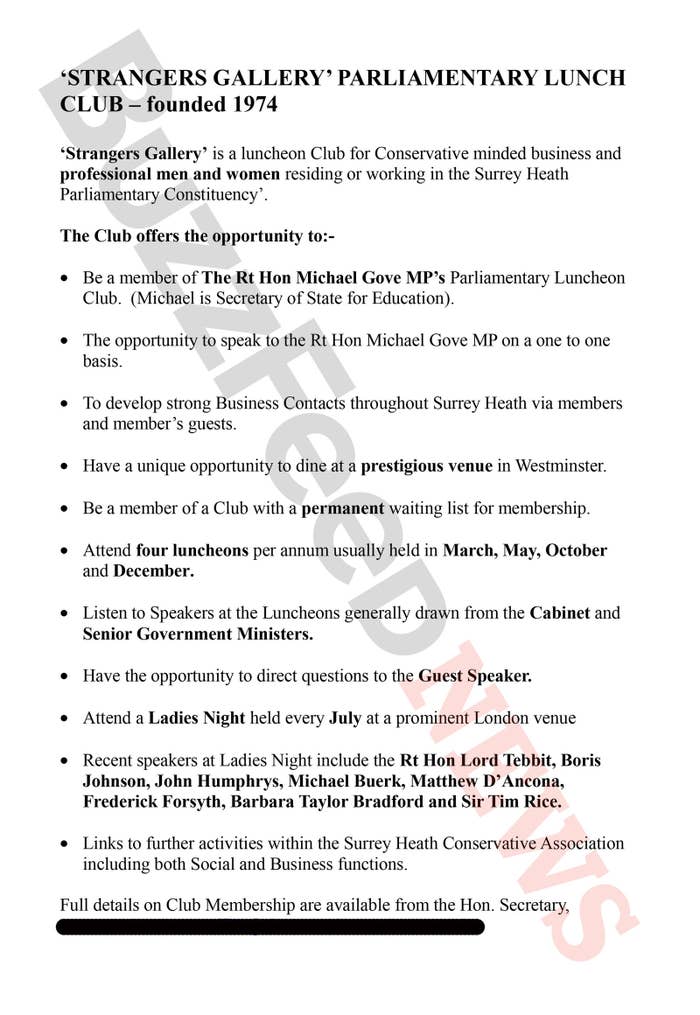 BuzzFeed News understands Humphrys, who earns in excess of £600,000 a year from the BBC, did not receive an appearance fee.

It is understood that the event addressed by Humphrys was not considered a "political fundraiser" because tickets covered only the cost of the event.

BBC staff regularly have to clear outside appearances with executives to avoid situations that could prompt any accusations of political bias.

The BBC was unable to say whether Humphrys had sought and obtained permission to speak at the event. According to conflict of interest guidelines published on the BBC intranet, staff must declare "outside work, private interests or activities which may interfere with your BBC work or give rise to a conflict of interest (actual or potential) e.g. speaking at events or writing for publications".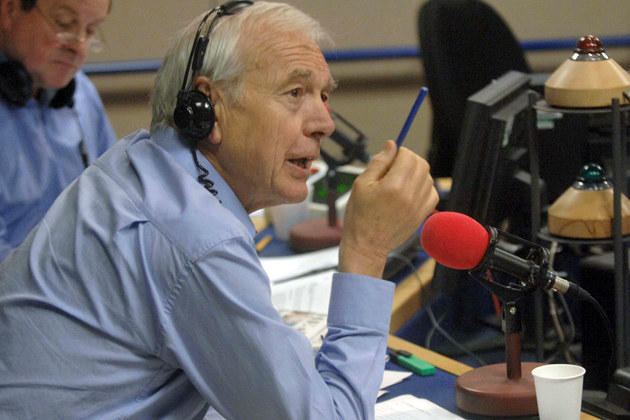 The Strangers Gallery luncheon club is one of the biggest sources of private donations to Michael Gove over the last decade.

According to official figures, Gove has raised nearly £750,000 in political donations since 2007 — more than £75,660 of which came from the club.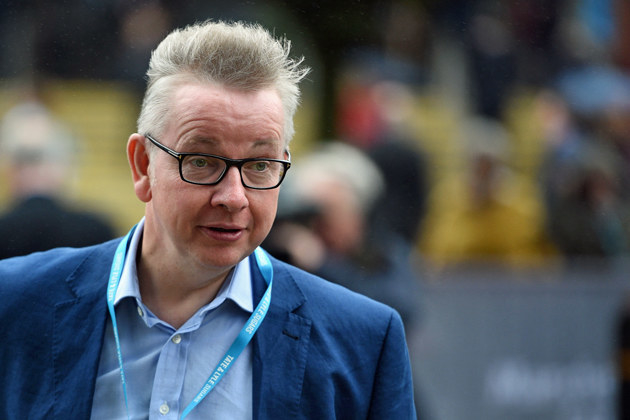 "Strangers Gallery is sort like the Freemasons," a former member of the Surrey Heath Conservative association, which supports Gove, told BuzzFeed News. "The whole thing is quite discreet and the fee to join is, well, it's quite stout."

Tom Watson, deputy Labour leader and shadow culture secretary, said: "Like most politicians who've been interviewed by him, I have a huge amount of respect for John Humphrys as a journalist.
"It's for the BBC to set its own guidelines about its employees' commitments outside of work, but it is vital the corporation's reputation for fairness and impartiality is upheld. Any perception of political bias, even if inaccurate, is potentially damaging."