BBC Veteran John Humphrys Will Spend His Last Shift On Radio 4's Today Programme Interviewing David Cameron
The broadcaster will bow out grilling the former prime minister who called the 2016 Brexit referendum.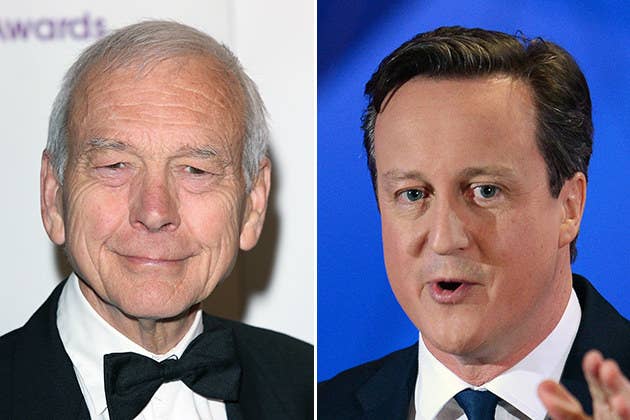 The BBC's most senior presenter John Humphrys will present his last Today programme on September 19, interviewing former prime minister David Cameron about his soon-to-be released autobiography, BuzzFeed News has learned.
Humphrys, 75, has been one of the presenters of the BBC's flagship current affairs programme for 32 years, often sparking outrage for coming across as pro-Brexit or delivering comments seen to be sexist or out-of-touch.
According to a source, Humphrys will host his last Today programme on Thursday September 19, with his final interview coinciding with the release of David Cameon's political memoir called "For The Record".
It'll be a big Thursday for Cameron on the public broadcaster, with BBC One also set to air the first of a two-part series called "The Cameron Years" that evening.
Press Gazette reported last month that Cameron's first UK broadcast interview since the 2016 Brexit Referendum will be on ITV with journalist Tom Bradby.
Cameron sold his memoir for £800,000 to Harper Collins – the publishing company owned by media baron Rupert Murdoch. The Daily Mail reported that the former prime minister had tried to delay the publication till after Brexit had been achieved in order not to "rock the boat".
Humphrys departure comes at the end of a rocky couple of years at the broadcaster.
In 2017, the BBC's pay disclosures revealed Humphrys was earning up to £650,000 per year from the BBC.
Last year, the BBC veteran was caught on tape "joking" about fellow BBC journalist Carrie Gracie's efforts to get better pay for women at the broadcaster. BuzzFeed News obtained the tape of the incident.
One BBC source said there was also some surprise when colleagues had been asked to contribute money to Humphrys' leaving present via PayPal.