Australia's Heart Breaks After Tragic Death Of Cricketer Phillip Hughes
The batsman died on Thursday two days after being struck by a ball. He was 25.
Australia is in mourning following the death of young test batsman Phillip Hughes, who died on Thursday. Hughes sustained a fatal head knock while playing in a State game on Tuesday. He was 25 years old. Cricket Australia released a statement to announce Hughes' shock death, and said he was not in pain before he died.
"It is my sad duty to inform you that a short time ago Phillip Hughes passed away," said the statement from Australia's team doctor, Peter Brukner. "He never regained consciousness following his injury on Tuesday. He was not in pain before he passed and was surrounded by his family and close friends."
"As a cricket community we mourn his loss and extend our deepest sympathies to Phillip's family and friends at this incredibly sad time." Australian coach Darren Lehmann and others in the cricket community were shocked and stunned.
Hughes received the blow from a bouncing ball while playing for South Australia against New South Wales. The ball hit him on the side of the head and the batsman collapsed to the pitch. Bowler Sean Abbott and other teammates held his head while waiting for doctors to arrive. At Thursday's media conference, Brukner explained how the ball had hit the back of his neck, severing an artery and causing a "massive bleed".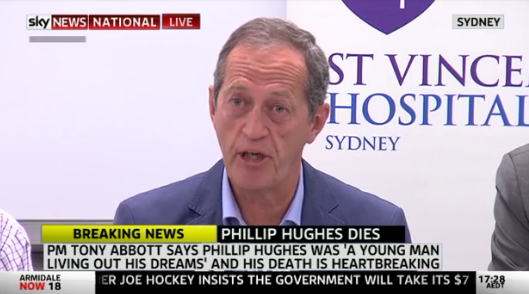 St Vincent's Hospital's Dr Tony Grabs added that Hughes had been brought there with a "catastrophic" injury and blood surrounding his brain. Surgery was performed to relieve pressure but he did not recover.
"There's only about 100 cases of this ever reported...only one case caused by a cricket ball," said Dr Brukner.
Both doctors played down media speculation that ambulance response time had caused Hughes' condition to worsen. They maintain doctors at the ground worked to keep him alive.
Cricket Australia joined others in expressing deep sadness for Hughes and support for bowler Sean Abbott.
Teammates from around Australia had flown into Sydney to visit Hughes while international cricketers sent their messages of support. The prime minister, Tony Abbott, released a statement expressing deep sadness over Hughes' death.
"Philip Hughes was a young man living out his dreams," Abbott said. "His death is a very sad day for cricket and a heartbreaking day for his family. What happened has touched millions of Australians.
"For a young life to be cut short playing our national game seems a shocking aberration. He was loved, admired and respected by his teammates and by legions of cricket fans."
The young batsman played 26 test matches for Australia and scored three centuries. He was in line for a test recall for next week's fixture against India. It was would have been his 26th birthday this Sunday.