Tony Abbott Doesn't Want Marriage Changed Because It's All About Protecting Women And Children
"It is something that evolved many centuries ago to protect women and children..."
Former prime minister Tony Abbott has waded into the latest push to legalise marriage equality in Australia, suggesting the institution should be preserved because it's about protecting women and children.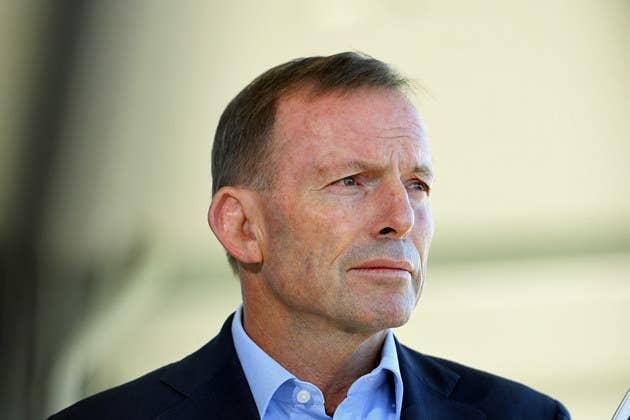 The national marriage equality debate was reignited on Monday after a group of Liberal MPs went public with calls for their party to dump its plebiscite policy, which failed to pass the Senate last year.

On Wednesday prime minister Malcolm Turnbull, a supporter of marriage equality, refused to answer whether the government would move the issue forward by trying to hold a postal plebiscite, an idea put forward by conservative MPs.
On Sydney's 2GB, Abbott began by restating his opposition to marriage equality and claiming that the marriage institution's function had "evolved" to "protect women and children":
The concept of marriage is between a man and a woman, preferably for life open to children, that long pre-dates our constitution, it long pre-dates our parliament, it long pre-dates the civil law, frankly.

It is something that evolved many centuries ago to protect women and children in a world where they were much less secure than they are now. That's why I would be very reluctant to change.

He was also scathing towards the four Liberal MPs who've left open the idea of crossing the floor on the issue:
I would say to any of my colleagues who are tempted to cross the floor on a procedural motion, don't forget the platform on which you were elected at the last election ... for them to cross the floor to try to ensure that the parliament does it, that is a real breach of faith with the public. It's obviously a dramatic loss of discipline inside the government. It's a serious attack on the authority of the leadership but at the end of the day it's a breach of faith with the electorate.