Prime minister Malcolm Turnbull dined on prawn dumplings and pork buns and sipped on tea at Yum Cha yesterday and just metres away BuzzFeed News spotted this newspaper on a table.
Many Australians won't have seen this political advertisement ... it's a shady looking image of Turnbull and the immigration minister, Peter Dutton.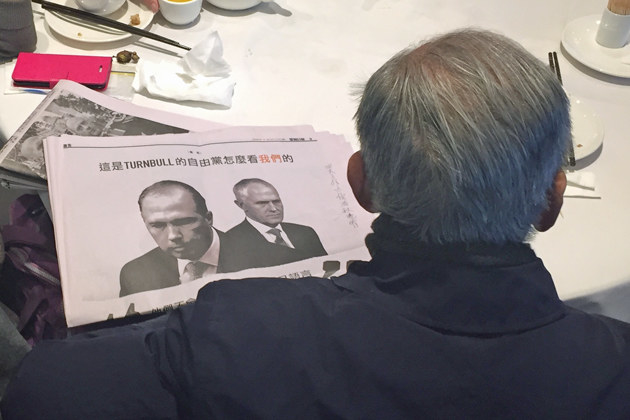 Australia's most controversial union, the CFMEU, claimed credit for the ad, which translates the infamous Peter Dutton "illiterate refugees" quote into Mandarin, with the strapline: "THIS IS WHAT THE TURNBULL LIBERALS THINK OF US".
A spokesperson for the union told BuzzFeed News the ads have been placed in non-English newspapers. There are versions in Greek, Italian, Serbian, Croatian, Arabic and Vietnamese.
It's significant because Dutton's comments were one of the true breakthrough moments of the campaign.