Tommy Robinson Is Now Reliant On This US Crowdfunding Platform
The San Francisco-based founder of Donorbox tweeted that Tommy Robinson has a "POV" that is "of great interests (sic) to many British people", weeks after scrubbing the company's hate speech policies from its terms and conditions.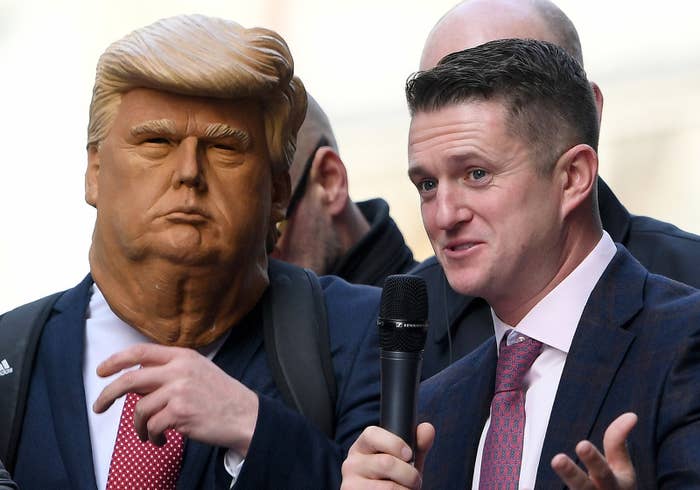 When Tommy Robinson was slapped with a £20,000 legal bill last month after losing in court against Cambridgeshire police, the far-right activist turned to his legion of fans on YouTube for help.

"[Go to] www.cambridgecosts.com," Robinson (whose real name is Stephen Yaxley-Lennon) said, looking into his phone camera, which was live-streaming to his YouTube with 390,000 subscribers. "We're 50% there after 48 hours."
The URL re-directed straight to a page on his personal TR.News website. Once there, visitors were given a short description of the case, alongside a crowdfunding plugin from a US-crowdfunding company called Donorbox, asking people to donate to his cause.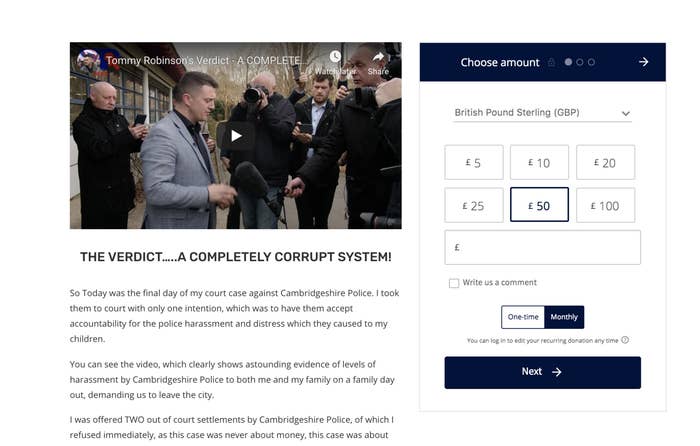 "If this little tax that you put on me was supposed to be a message to drive me away and silence me," Robinson said in the video, "Thanks to the beautiful British public and the support I have got… I will be paying your fine and your bill."
As the national debate continues about social media companies slowly, one-by-one removing Robinson from their platforms (this week, BuzzFeed News first reported YouTube had placed sweeping new restrictions on his channel) little attention or scrutiny has been paid to the US-start-up Donorbox, which has been facilitating payments to key campaigners among the UK far-right.

With more well-known payment platforms like PayPal taking a stand against online far-right figures, Donorbox has become the platform of choice for Robinson. It's also the case for the hyperpartisan news website Politicalite, run by Robinson's closest supporters, and James Goddard, the UK's most prominent self-styled yellow-vest protestor, who has been charged with harassing anti-Brexit MP Anna Soubry.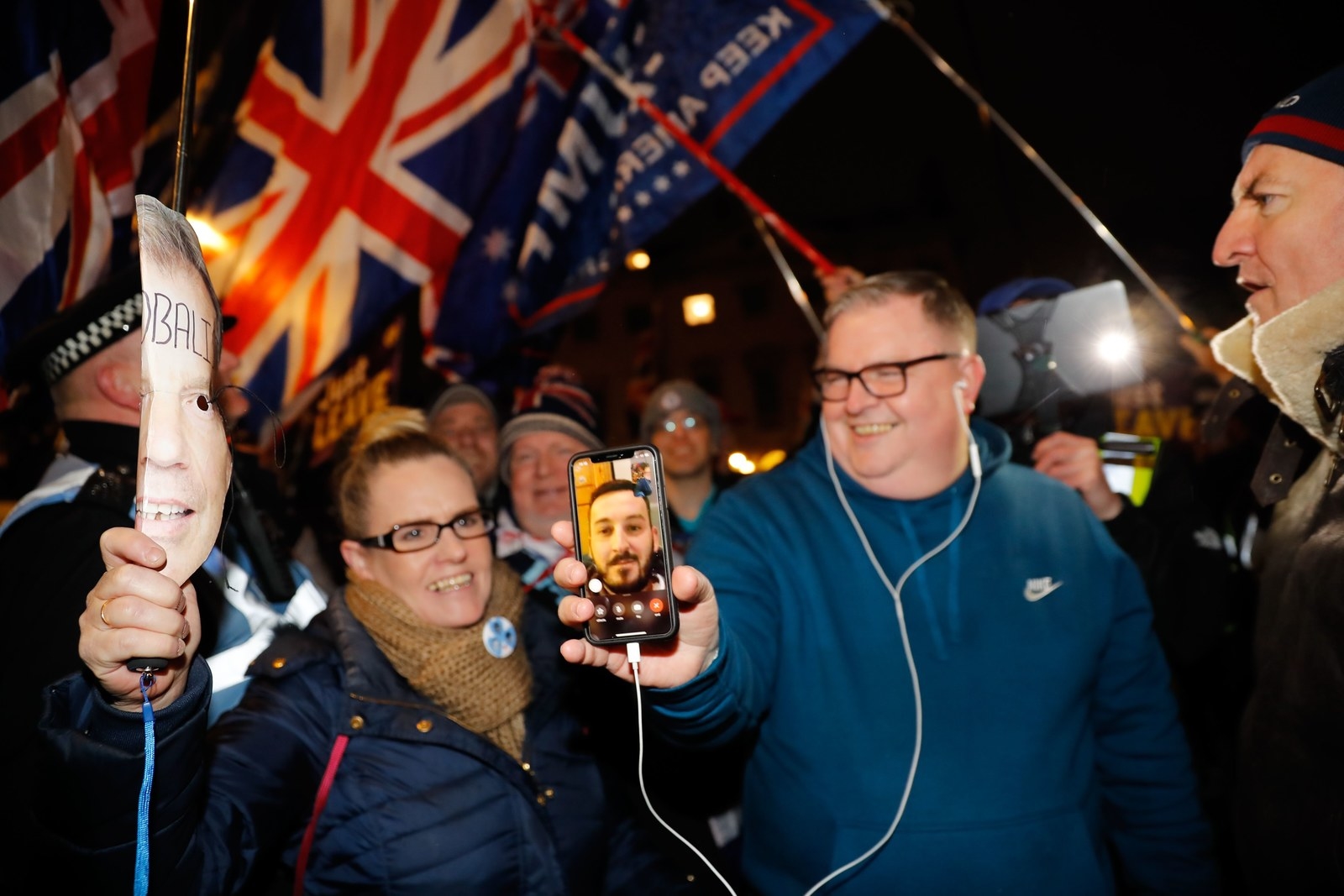 They all prominently place Donorbox plugins on their platforms, repeatedly calling for supporters to fund their activity.

When asked about Robinson's use of the platform by BuzzFeed News, Donorbox's founder Charles Zhang released a statement, which said he didn't want to get into "opinions on TR (Tommy Robinson)".
"We have no interests (sic) in this story," Zhang said. "We are not a platform or a social network that spreads information.
"Donorbox is a basic financial tool that allows people to give out of their free will. We hosts donation forms for socialists, conservatives, Muslims, Christians, and the LGBTQ community. It's often that their views clash dramatically."
"Any opinions on TR will just get dragged on and on for years. Also, we don't have confidence in your news organization to release unbiased, truthful reporting."
In truth, Donorbox and the company's founder appear to have been grappling with Robinson's use of its plugin over several months.

The San Francisco-based company of 12 employees bills itself as a "recurring donation checkout" to help "non-profit organizations" get funding from supporters. The company claims to have 18,000 organizations in 25 countries using the platform, listing clients like Gold's Gym, Eventbrite, and minor US congressional and mayoral campaigns.
But its use by the UK far right became a problem for the company at the end of last year. In December, BuzzFeed News reported Donorbox had made the decision to suspend Robinson's account after the activist campaigned on behalf of a schoolboy accused of assaulting a 15-year-old Syrian refugee outside in a viral video.
It's hard to pin down the exact sequence of events, but some time after BuzzFeed News had asked about the suspension, a key part of the company's terms and conditions were deleted.
One of the terms of service – scrubbed from the website – said clients would agree not to use Donorbox for "the promotion of hate, violence, harassment, discrimination, terrorism, or intolerance of any kind, including by race, ethnicity, national origin, religious affiliation, sexual orientation, sex, gender or gender identity, or serious disabilities or diseases."
After it was removed, Robinson's account was reinstated.

Zhang sent a follow up email to BuzzFeed News, which said Donorbox needed some time to deliberate on the issue of hate speech: "There is a massive difference between nationalist activism and really disgusting organization like the Daily Stormer. We are working on a new community policy that will clearly draw the line between controversial activism and real hate. These are hard questions that require many layers of deliberation. These policies have not been done correctly by any tech companies. We are going to make an attempt."
But in the weeks that followed, there was no indication the company had developed, or were indeed in the process of developing, a new policy with regards to hate speech.
Rather, tweets from Zhang's Twitter account @hungrycharles show him spending the months after Robinson's brief suspension piling in on right wing attacks on social media companies.
In February, Zhang responded to comedian Kathy Griffin's tweets about the MAGA Covington High School controversy: "Anyone has the ovaries to ask @jack why @kathygriffin is not banned for doxxing?"
Weeks later after financial blogger Zerohedge was temporarily banned on Facebook, Zhang tweeted: "This is idiotic as @zerohedge is not even political. There will be a rise of other platforms if this keeps happening. Being banned from FB or Twitter has become a badge of honour."
Last week, Zhang posted a YouTube video from one of Tommy Robinson's collaborators, Australian activist Avi Yemini, who had undercover footage of a recent interview he'd done with comedian Jim Jeffries for Comedy Central.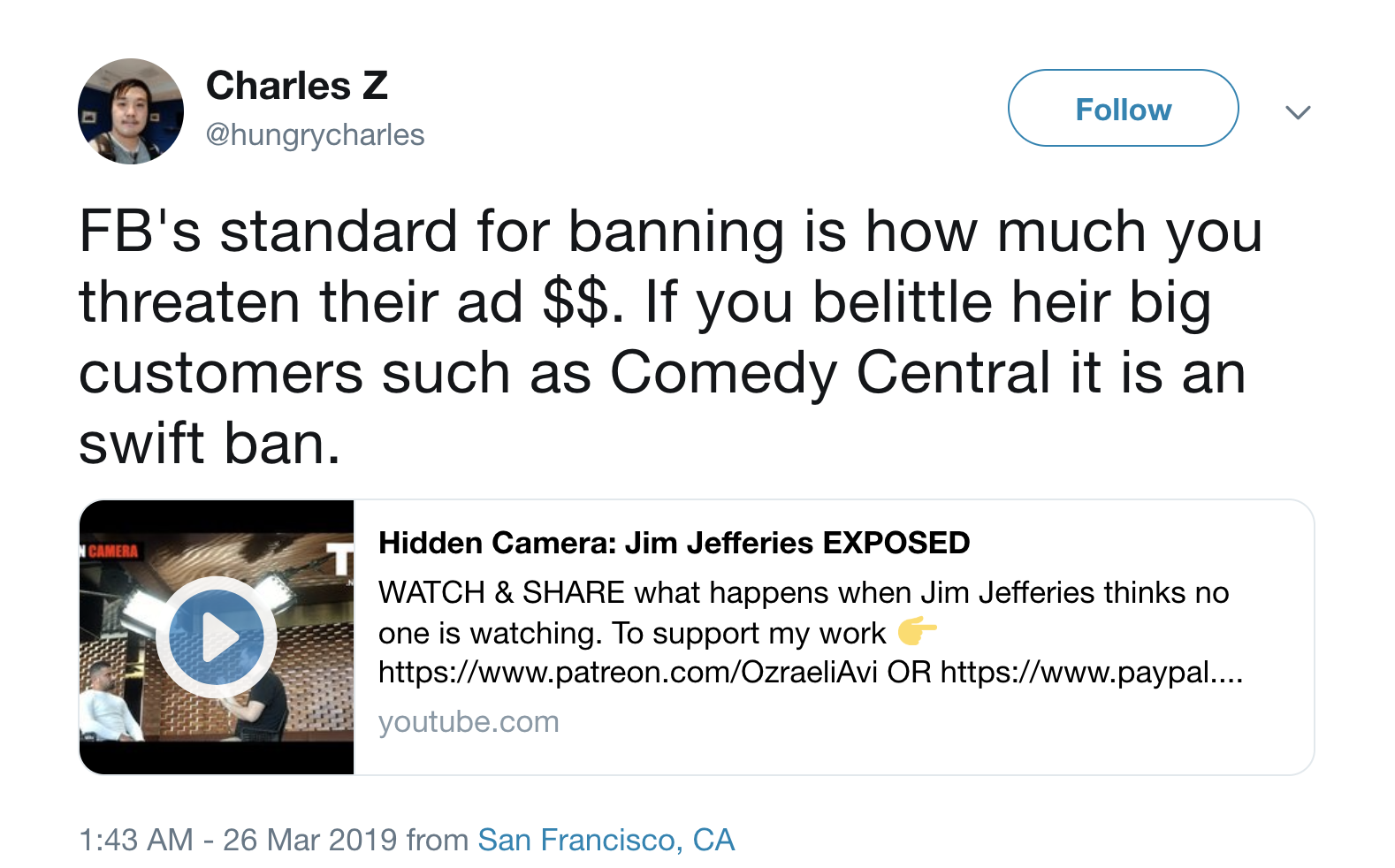 Referring to the fact Yemini claims to have been banned from Facebook before, Zhang tweeted out the video with the message: "FB's standard for banning is how much you threaten their ad $$. If you belittle heir (sic) big customers such as Comedy Central it is an swift ban."
But Zhang's tweets also appear to point to him slowly embracing a position that Donorbox shouldn't be overly concerned about anti-Islam activists like Tommy Robinson and yellow-vest protest leader James Goddard using the platform to make money.
In early January, Zhang tweeted; "Hate speech policy is necessary but it has to be explicitly clear." He later posted a Sky News story about Goddard being released on bail after his arrest for allegedly harassing Anna Soubry outside parliament: "Released after a few hours. You Brits are toying with me. This whole ordeal is non-news. He just walked with her and asked her questions and then call her Nazi. Big effing deal. Pls don't waste my time."
Weeks later, Zhang reacted to a video posted to a private Twitter account which showed Muslims campaigning against LGBT education outside of a Birmingham school: "Just one of the reasons why popular platforms should be neutral. All adults, govts, and religions should not be immuned from criticisms."
And on March 8, Zhang posted Tommy Robinson's YouTube video which showed him announcing that he'd face a new contempt hearing. The Donorbox founder tweeted that Robinson has a "POV" that is "of great interests to many British people."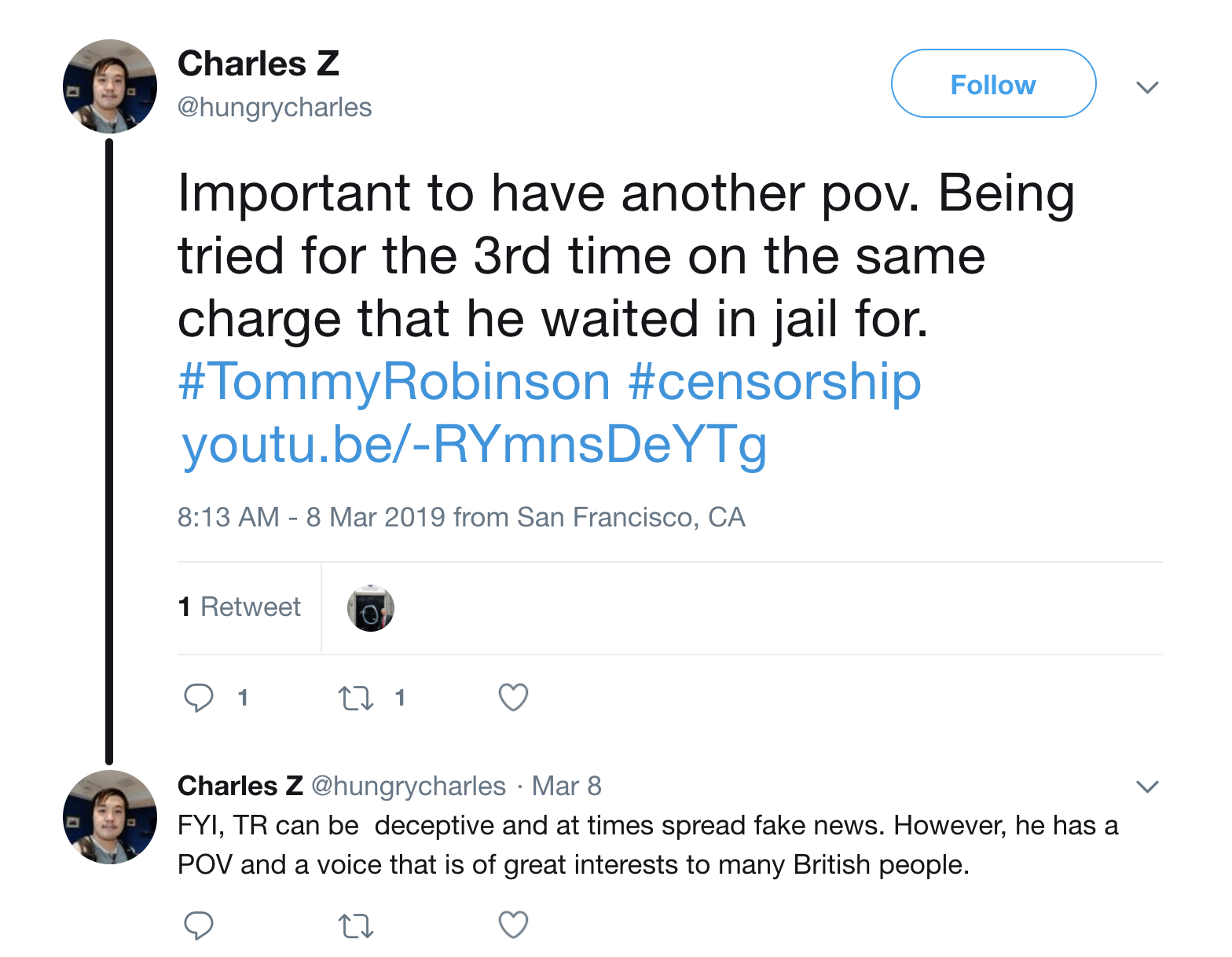 "Important to have another pov. Being tried for the 3rd time on the same charge that he waited in jail for. #TommyRobinson #censorship," Zhang wrote.
"FYI, TR can be deceptive and at times spread fake news. However, he has a POV and a voice that is of great interests to many British people."

A spokesperson for Donorbox said that the company's software "doesn't support Tommy Robinson's point of view, nor the views of any other political party." They went on to say: "We support and protect freedom of speech, which as you must know, is of upmost importance in any democratic society."

In a follow-up email, they went on to say the company and its banking partners had decided to abide by new provisions stating: "Any business and/or organisation that engages in and promotes unlawful violence or physical harm to persons or property is strictly prohibited."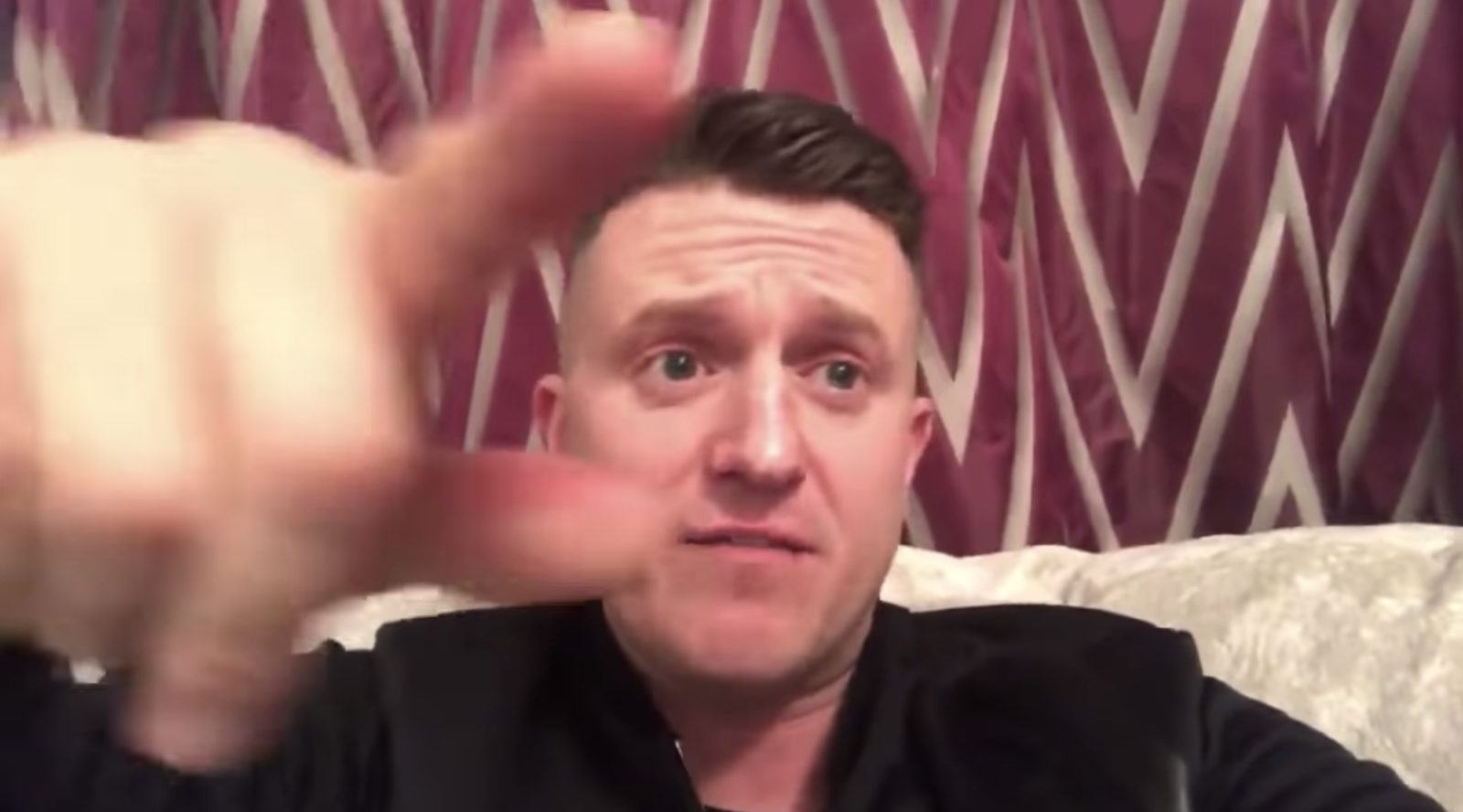 Robinson has spent the last few weeks preparing supporters for when he's banned from all major social media platforms. In a recent YouTube video, the campaigner laid out his vision of going to supporters directly over email, sending them links to videos, and encouraging sharing in closed networks like on the Facebook-owned WhatsApp.

"Soon my ability to talk with any of you will be gone," Robinson said. "I'm building a group where I want to be able to contact you. So that when I'm deleted off here, when I'm deleted off everywhere, I can still make a video and I can ping it straight to you."
In reality, Robinson still has multiple avenues to get his message out online: He can still upload videos to YouTube and he has a network of hyperpartisan websites run by allies updating people on his every move – that's before you account for his new role as figurehead of the anti-immigration UKIP, which has hundreds of thousands of supporters following verified accounts across all major social media channels.
But in the video to his own supporters, Robinson was outlining his pivot to private sharing.
"You can then use the social media platforms that they're trying to take away and share that video. The truth can still be shared even if it's just in WhatsApp groups amongst your friends."