Official family immigration records obtained by BuzzFeed News reveal anti-immigration senator Malcolm Roberts personally signed that he was a British citizen.
The fresh documents have come to light as calls grow louder for the Indian-born senator to be referred to the High Court over concerns he was a dual British citizen at the time of his election in July last year.
Since questions emerged over his citizenship status last year, Roberts has denied he was ever a British citizen, while a spokesperson told the media that the One Nation senator was "choosing to believe" he was never British.
BuzzFeed News has now obtained the official citizenship applications of the entire Roberts family from the Department of Immigration, through an application lodged with the National Archives in Queensland.

It shows Malcolm Roberts applied to be an Australian citizen on May 8, 1974, with the 19-year-old writing when he signed that he was a "(British) UK + COLS" citizen — referring to a "British UK & Colonies citizen".
Another page in the Roberts file confirms the senator's personal details at the time of the Australian citizenship application.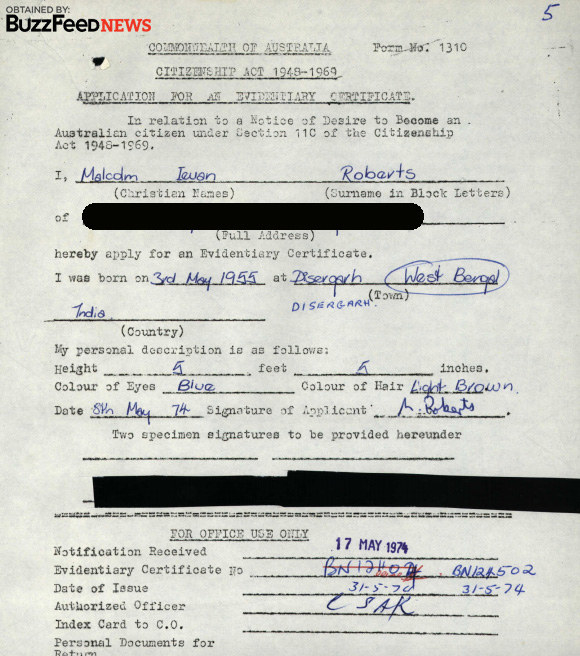 It also includes the Australian citizenship application of Roberts' Welsh-born father, Ieuan, who also listed his citizenship status as "(British) UK + COLS".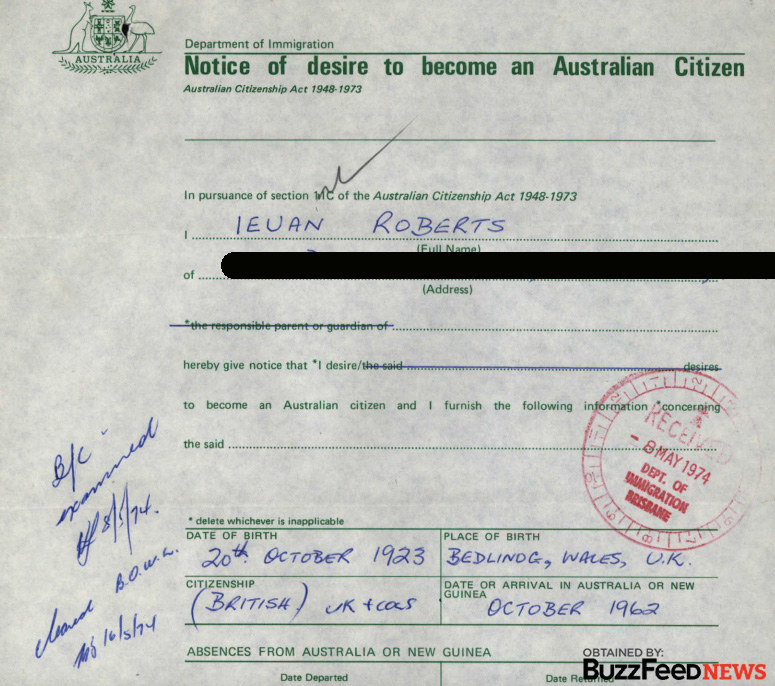 Another document shows Ieaun Roberts signed consent for his son Malcolm Ieaun Roberts to apply for Australian citizenship.
The cover letter of the file shows that the applications for Australian citizenship were approved by the department on June 26, 1974.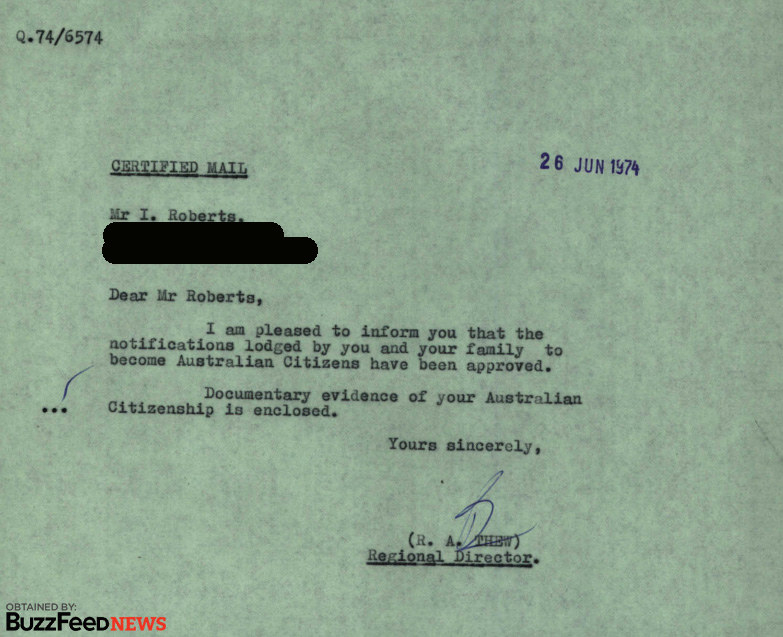 The form shows that Roberts was applying to become an Australian citizen according to Section 11C of the Citizenship Act 1948–1969, which referred to Aussie citizenship and the status of British subjects.

There is nothing in Section 11C to suggest a new Australian citizen would lose the rights and privileges of British citizenship.
The citizenship documents sit in stark contrast to Roberts' repeated assertions that he has never held British citizenship.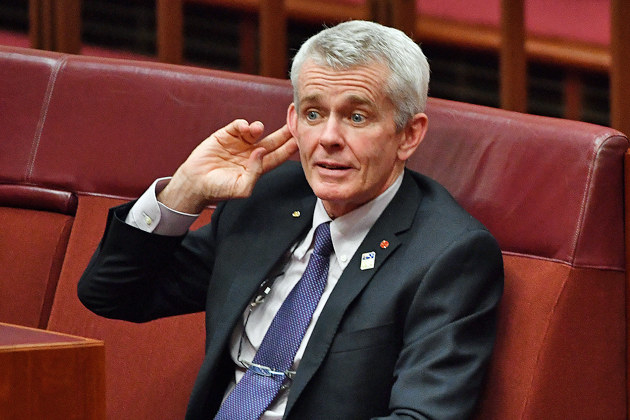 After BuzzFeed News revealed Roberts was listed as British on historical travel records, the One Nation senator's spokesperson told Fairfax Media the One Nation politician was "choosing to believe" otherwise.

"He is preferring to believe that he was never British because he has no allegiance or exercised any citizenship arrangement," the spokesperson said last month.

"However they have renounced and released him of anything to do with them."

Roberts subsequently went on Sky News to reveal he'd written several times to British authorities in the lead-up to the last election, asking for any possible citizenship to be renounced.

Roberts said he received confirmation from authorities six months after the election he was no longer a British citizen.
On Tuesday, independent senator Derryn Hinch released a statement, claiming he had sat down with crossbench senators, including Roberts, who was brandishing a statutory declaration about his citizenship.
"I also had a sit-down with Senator Roberts, during which he advised me that a statutory declaration was provided to (Senate President Stephen) Parry addressing the question of his eligibility," Hinch said.

"He read me parts of that stat. dec. (sic). Senator Roberts personally assured me that the claim he had travelled on a British passport was wrong. That he had travelled on his mother's Australian passport."
When BuzzFeed News alerted Roberts' office to the file that shows the senator knew he had British citizenship in 1974, and sought a response, the spokesperson said "no thanks" twice and then hung up the phone.