Despite having the strongest hairline in the Australian parliament, WA senator Scott Ludlam has vowed to shave his head to raise money for victims of leukaemia.
Senator Ludlam told BuzzFeed News that he's committed to the "World's Greatest Shave" challenge for the WA Leukaemia Foundation this March.
"People from all walks of life are affected by blood cancer, but people from all walks of life - even politicians - can help. That's why I've signed up for the 2016 World's Greatest Shave," he said.
But with Ludlam's hair, there's a twist...
See Ludlam's hair was named "Gary" by Guardian cartoonist 'First Dog on the Moon' several years ago.
And the Greens senator has told BuzzFeed News that if people are so worried about "Gary" they can actually donate to save his hair.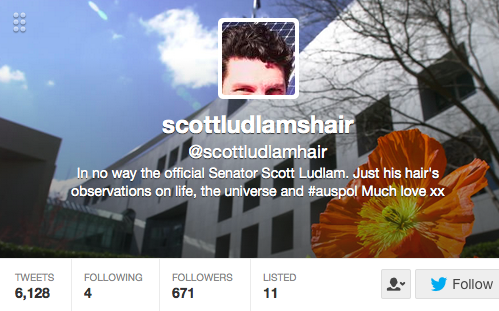 On his charity page, people are asked when they donate whether they'd like to "save Gary" or "shave Gary". Ludlam will go bald if the "shave Gary" votes come out on top.
So right now Ludlam's hair hangs in the balance. Australia's most distinct thick, knitted, quiff is at the mercy of a great charity drive for victims of leukaemia.