The former Australian Prime Minister Gough Whitlam who served as leader between 1972 until he was dismissed from government in 1975, has died aged 98. A statement from the Whitlam family has been sent to media outlets including the ABC who broke the news on Tuesday morning.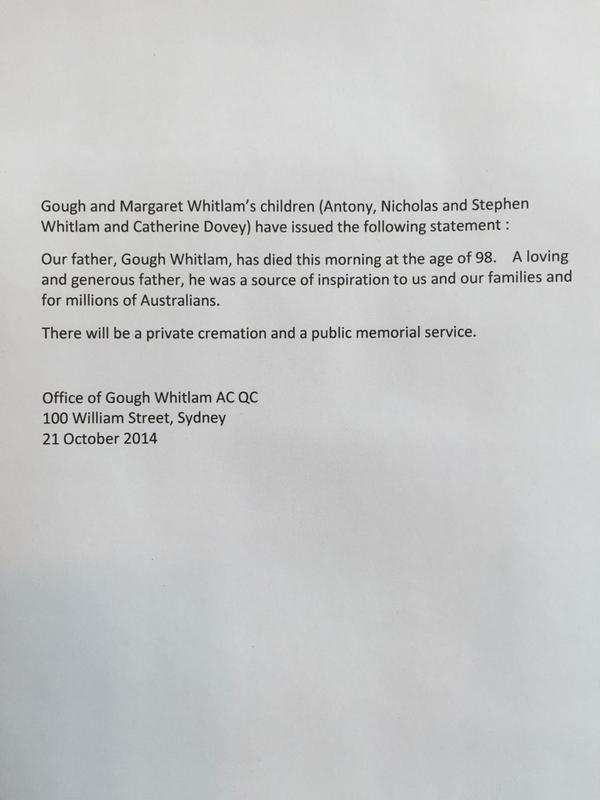 The iconic Labor prime minister is remembered as one of the "greatest reformist prime ministers" for revolutionising the education and health systems and making them free for all Australians. Prime Minister Tony Abbott released a statement calling the party-rival a "giant of his time" and instructing all flags to fly at half mast.
Former Labor Prime Minister penned a tribute in the Guardian Australia: "Gough will live always in our nation, which he transformed throughout his long public life." And the Labor Leader Bill Shorten delivered several speeches for Gough Whitlam. Mr Shorten called him a "giant" and "legend" of the Australian Labor Party.
Labor party members sat in a special caucus and heard speeches from Mr Shorten and from Mr Whitlam's good friend, Senator John Faulkner. And other Labor Party members took turns paying tribute to Mr Whitlam.