A new tax on Facebook and Google could help save Australian journalism, a Senate inquiry in Sydney has heard.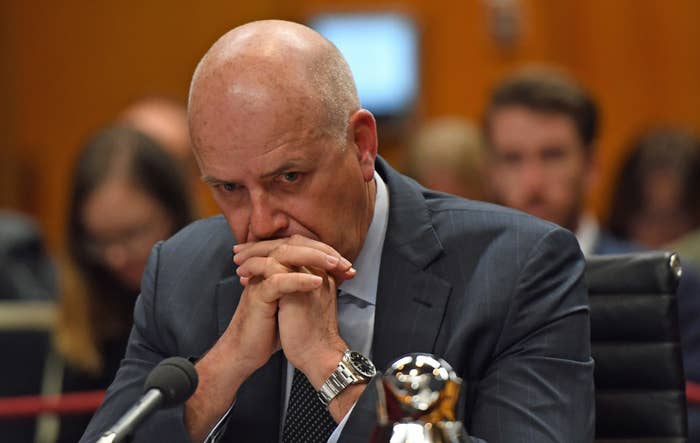 Paul Murphy, the head of journalists' union the MEAA, floated the idea at the Senate's Future of Public Interest Journalism inquiry at NSW state parliament on Wednesday.
He told BuzzFeed News a new levy could be applied to the internet giants' advertising revenue in order to keep Australian commercial news companies such as Fairfax and News Corp competitive.

"Some sort of levy on their advertising revenue could be looked at," Murphy said. "There should be a lot of things put on the table.
"They're the ones taking most of the advertising revenue off the back off journalism that is paid for and produced by other companies."
Murphy appeared at the inquiry ahead of Fairfax Media CEO Greg Hywood.
Hywood, who has faced intense criticism following Fairfax Media's recent decision to slash 125 editorial jobs in another savage round of cuts, attacked Google, Facebook and ABC News.
When Fairfax announced the radical restructure on World Press Freedom Day earlier this month, journalists from The Sydney Morning Herald and The Age walked off the job for a seven day strike.
Hywood blamed the current situation facing the company on having to compete against internet giants Facebook and Google, particularly for advertising revenue.
"Clearly organisations that provide... no original content, like Google and Facebook, are hoovering up a lot of the dollars in the market," Hywood said.
On a number of occasions during his appearance, Hywood accused ABC News online of using taxpayer money to promote its own stories on Google, which he claimed seriously hurt commercial news websites in Australia.
"The ABC... pays Google out of taxpayers' money – [Google] pays negligible tax and spends nothing on local content provisions – for search engine marketing," Hywood said. "That means the ABC's stories appear on key search terms on national news... and restricts our ability to create revenue from our audience.

"Traffic is dollars and if the ABC takes traffic from us by using taxpayers' money to drive that traffic, it's using taxpayers' money to disadvantage commercial media organisations."

Several senators quizzed Hywood about why the CEO had taken a reported salary package of $7 million last year, while the company was sacking so many journalists.
Greens senator Scott Ludlam pointed out to Hywood that his salary package represented 7% of the entire $100 million yearly operating budget of its main newspapers The Sydney Morning Herald, The Age and The Australian Financial Review.
Hywood would not confirm how much his salary package was worth, instead saying, "We have done what we need to do to sustain journalism".
BuzzFeed News understands the senators intend to call Facebook, Google and The Daily Mail Australia to appear before the inquiry.

Daily Mail Australia has been locked in a bitter dispute with News Corp in recent years, with News Corp previously claiming the Australian version of the British tabloid regularly uses News Corp's original content as the basis for its own stories.