These Facebook Pages Are Spending Thousands Of Pounds Trying To Influence Your Views On Brexit
"As a regular person, you know that vast sums of money are being spent but you have no idea who those organisations are."
New data from Facebook's ad archive has revealed that a network of hard-Brexit and second referendum campaigning groups splashed more than £1 million on ads in the lead-up to Theresa May's crucial Brexit vote — but their sources of funding remain unclear.
Facebook has opened a new ad archive for US, UK, and Brazil political advertising after controversies stemming from the simple way people could buy political ads and target users.

It also followed intense criticism from MPs about the way the official Brexit campaign used Facebook to win the 2016 referendum, which included breaking electoral laws by overspending.
But even with the archive and new rules governing political spending — for example, all UK political ads must now carry a "paid for by" label and breakdowns of who they're targeting — the funders can still easily side-step being properly identified.
Better Brexit and Now Brexit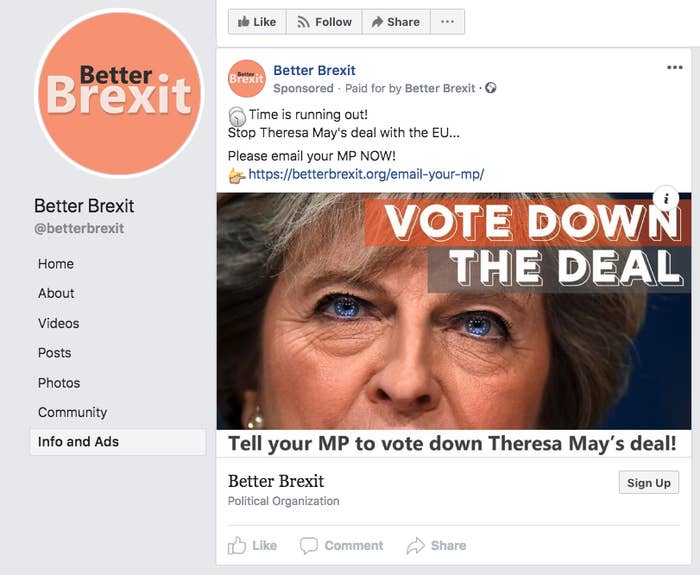 According to Sam Jeffers from Who Targets Me — a nonpartisan transparency project that tweets insights about UK political ads on Facebook — two pages called Better Brexit and Now Brexit have caught people's attention in recent weeks.
"Both pages were set up on the same day," Jeffers said. "They both registered their domains on the same day. They both used the same WordPress platform.

"It looks like they are the same people."

Both Better Brexit and Now Brexit have spent a relatively small amount — less than £1,000 — on the advertising, but they've started boosting articles into users' timelines and targeting people with calls to contact their MPs.
Neither page has any clear, public information about who's behind it. And to add to the confusion around the naming of all these pressure groups, there's already a Brexit group called Better Brexit, pushing the soft Brexit plan of Tory MP Nick Boles.
Boles' Better Brexit can be found at BetterBrexit.org.uk while the new, hard-Brexit Facebook group Better Brexit is at BetterBrexit.org.
Dan Barker, a digital consultant, also picked up on the fact the new Better Brexit on Facebook lists Voter Consultancy Ltd as its data controller — the company owned by the former chief technology officer of the official Leave campaign, Thomas Borwick.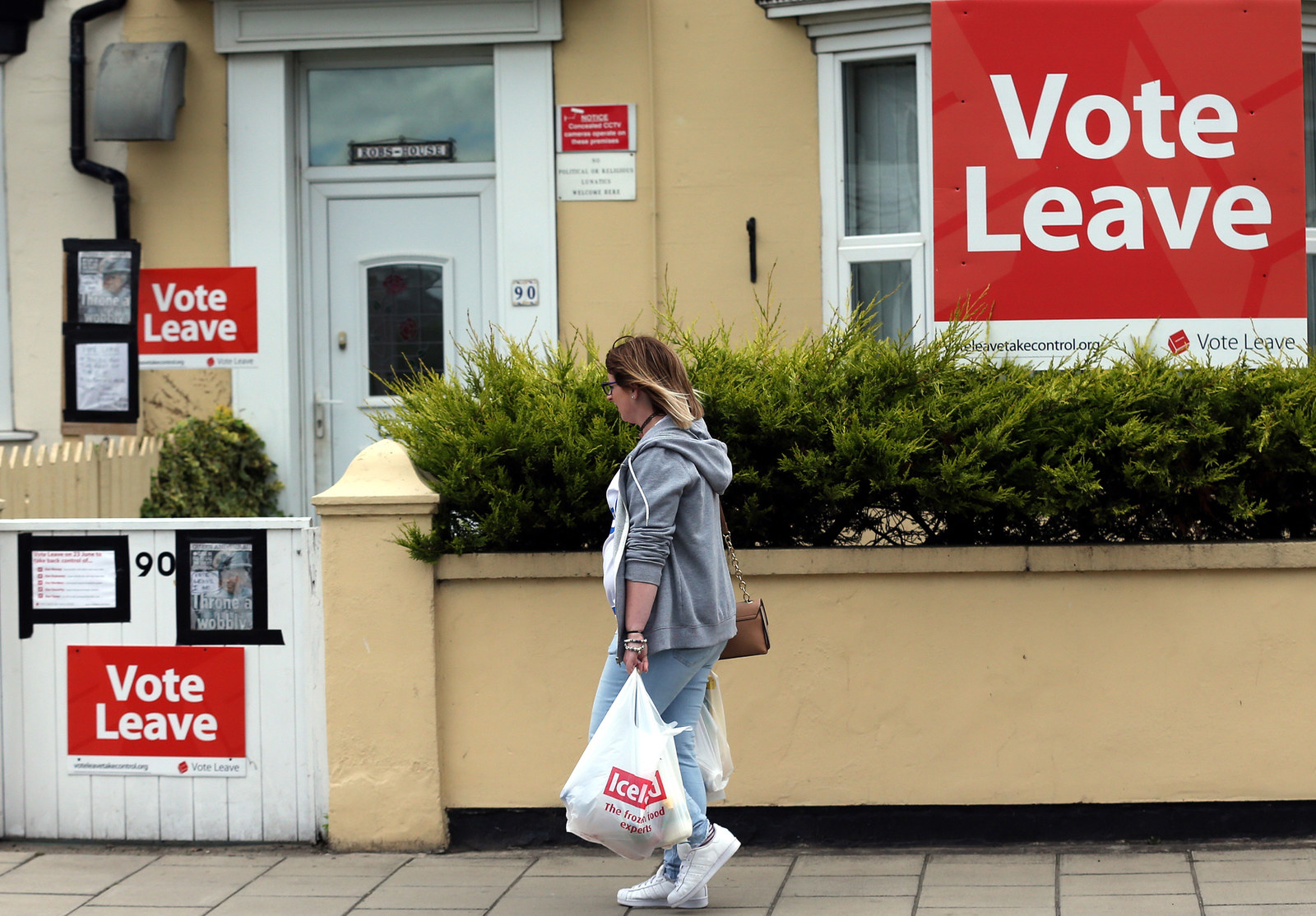 Reached by phone on Monday, Borwick refused to disclose whether he was behind the groups Better Brexit and Now Brexit.
"We don't discuss any ongoing campaigns," Borwick said. "We work with a variety of different clients in this space."

And despite refusing to be forthcoming with information, Borwick went on to praise Facebook's transparency changes, including the company's ad archive.
"I think Facebook has done a very good job of increasing transparency."
Hours after BuzzFeed News spoke to Borwick, ads from both Better Brexit and Now Brexit were taken down.
We Are The 52%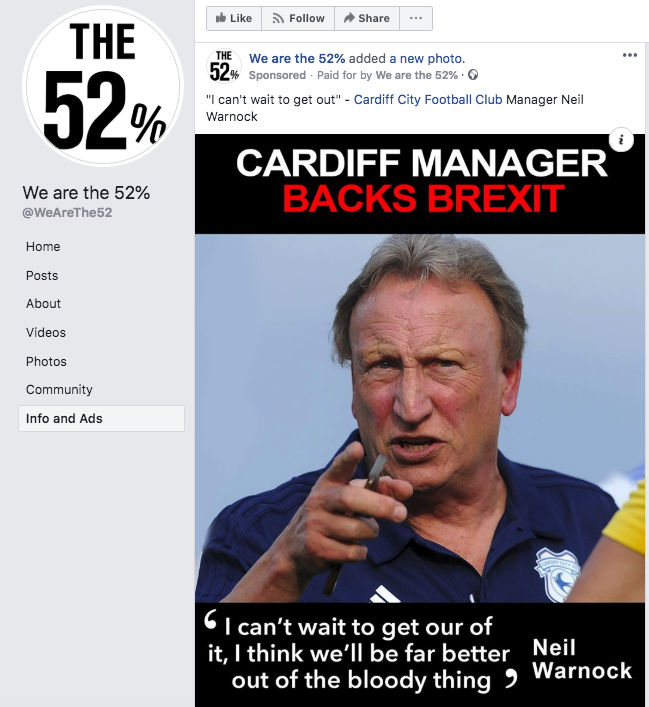 Another pro-Brexit, anti-Theresa May Facebook group is We Are The 52%, which has more than 55,000 followers.
According to Facebook's records, We Are The 52% has spent almost £12,000 in the run-up to Tuesday's vote, often running videos featuring pro-Brexit celebrities criticising the government's deal.
And like the others, We Are The 52% links back to a simple website, which doesn't feature any specific information about how the group is funded. It only claims to be "edited" by a social media consultant with extensive links to the Conservative party named Theodora Dickinson. She did not return requests for comment.
Jeffers told BuzzFeed News: "We Are The 52% is good example of a Facebook page that's lack of information means people are left in the dark about who is really behind ads in their feed.
"As a regular person, you know that vast sums of money are being spent but you have no idea who those organisations are. What their ultimate intent is is also not particularly clear."
Britain's Future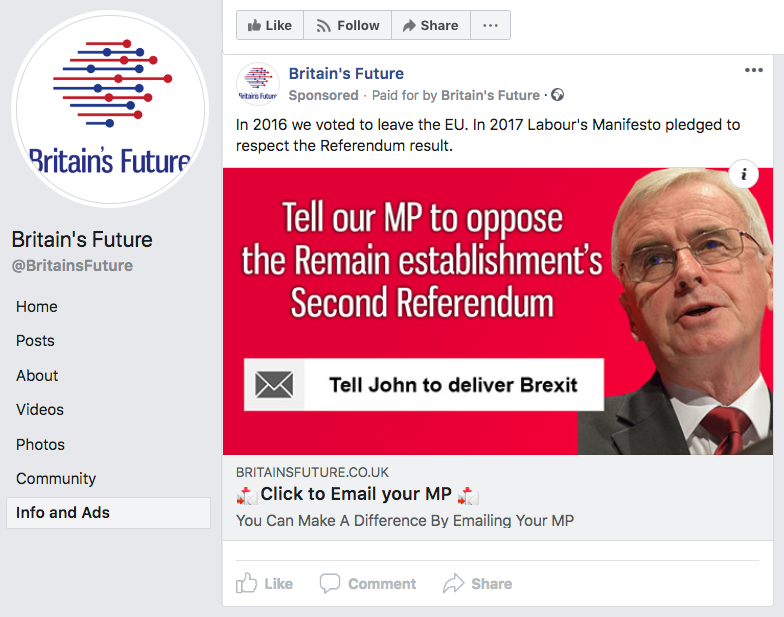 The page with just 19,000 followers has placed more than 1,110 Facebook ads in less than four months, spending nearly £90,000 — that makes it the fourth-biggest spender on UK political ads on Facebook, and the biggest pushing for a hard Brexit.
The company's records show the group also spent another £7,400 on 87 ads without a disclaimer.
In just the last few days, Britain's Future has posted several dozen ads targeting 69 Labour MPs, with a call for users to contact them and the instruction: "Tell our MP to oppose the Remain establishment's Second Referendum." And in the final 24 hours before the vote, the page placed ads targeting Conservative MPs.
As first reported by the Guardian, the only person associated with Britain's Future and its advertising on the group's Facebook page and website is a self-described freelance journalist named Tim Dawson.
He is named as the "editor" of Britain's Future on the group's website — which has the look and feel of a news site. According to his agency page, Dawson is a contributor to the Spectator and the Daily Telegraph, and also a writer of BBC sitcoms.
Dawson didn't return repeated requests for comment on Monday about whether he's the source of the money.
People's Vote and Best For Britain
It's not just pro-Brexit groups using Facebook to sway the public heading into Tuesday's vote. The collection of anti-Brexit, pro-second-referendum campaign groups have embarrassingly outspent the other side.

People's Vote — the country's most visible campaign for a second Brexit referendum — has spent an eye-watering £223,000 on a little under 2,000 Facebook advertisements since October last year.
It makes the campaign the leading spender on Facebook advertising — accounting for about a fifth of all UK political advertising on the social media network since October. Asked for a list of donors, a People's Vote spokesperson gave a statement to BuzzFeed News saying the "bulk of our funding comes from small donations".

"We are hugely grateful to our supporters in the country who have helped us build a grassroots-up campaign that is effectively challenging the government and the pro-Brexit establishment," the People's Vote spokesperson said. "Their donations and support are vital for all that we do. We fully comply with all our duties and requirements under the law as regards the reporting of donations."
The second-biggest spender is the anti-Brexit group Best for Britain, which has spent more than £150,000 on Facebook. There remain questions about the sources of funding for both the People's Vote and Best for Britain campaigns — the latter is known to have been funded by George Soros, but other donors remain anonymous.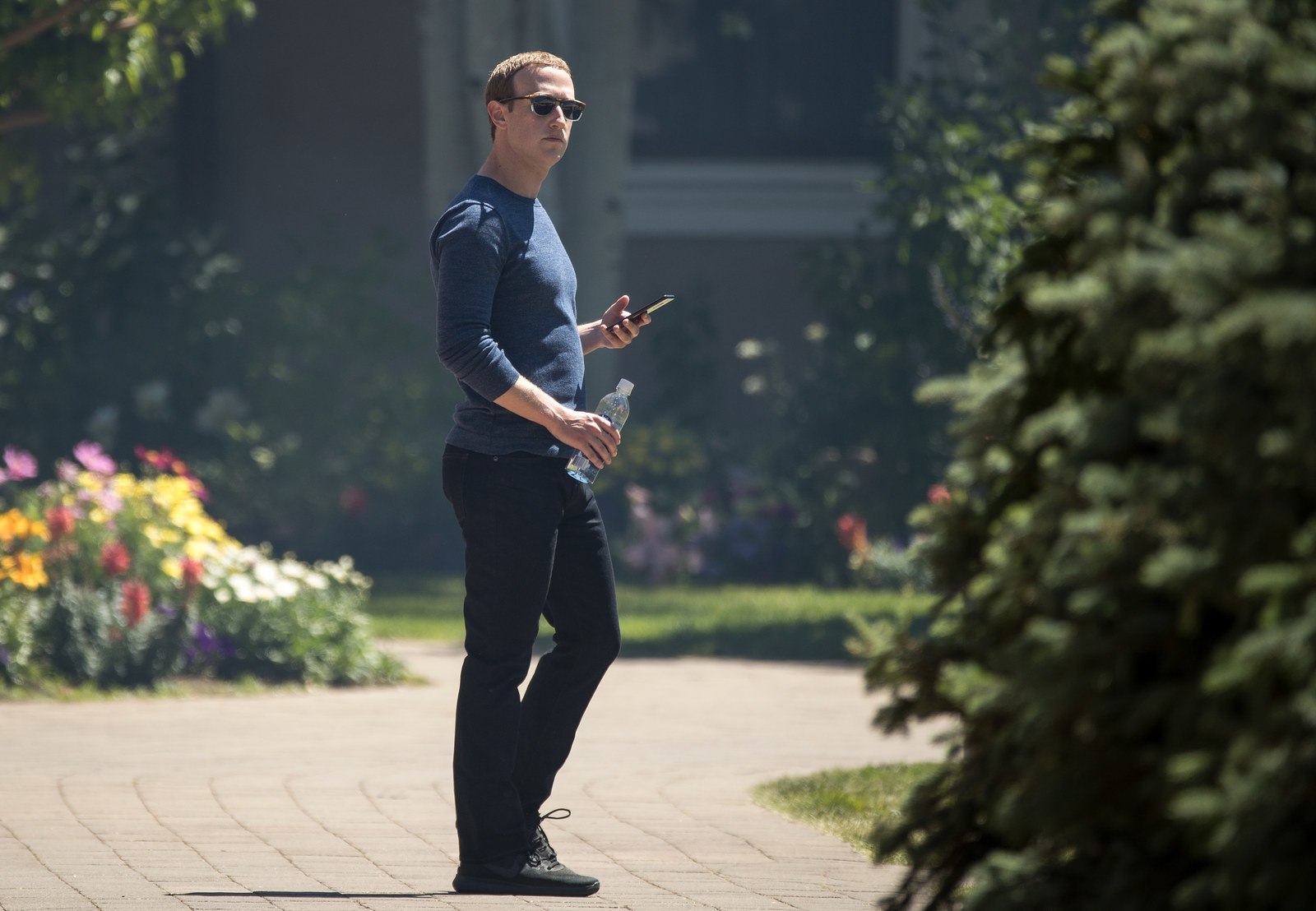 In a statement to BuzzFeed News, Facebook's vice president of global public policy Richard Allen said: "We have taken an industry-leading position on political ad transparency in the UK, introducing new tools that go beyond what is currently required of us by law and further than anywhere else that allows political advertising

"This includes a 'Paid for by' disclaimer that requires an advertiser to accurately represent who is running that ad, and our Ad Library that archives political ads for seven years. We also publish a weekly report detailing ads run and top spenders across our platforms.
"This information gives everyone the ability to easily find out information about the Pages running political ads and direct questions to them."
To put all of this into perspective, it's worth considering the amount of money sloshing around Facebook in the United States. According to the Facebook archive, politicians, political parties, and pressure groups in the United Kingdom have spent just over £1 million since October.
Since May 2018, Facebook records show US groups have spent more than $449 million — that's taking into account the Congressional mid-terms at the end of last year.