Evgeny Lebedev, the media mogul who owns the Independent and the London Evening Standard, met with disgraced journalist turned right-wing activist Milo Yiannopoulos for lunch in London on Tuesday, BuzzFeed News has learned.
According to a source, Lebedev, who also owns TV channel London Live, has kept in regular contact with the cheerleader of the alt-right over recent years.
The meeting raises questions as to whether Lebedev is considering business opportunities with Yiannopoulos, who recently was exiled from US-based website Breitbart after an in-depth BuzzFeed News investigation exposing the ties between the British tech journalist, website chairman Steve Bannon, and the political alt-right.
Responding to a BuzzFeed News request for comment about the London meeting and whether business opportunities between the two men were discussed, Lebedev's spokesperson said the Russian socialite had no comment.
"Evgeny is a very unusual man, like Milo, so there are similarities for a start," said a source familiar with the meeting. "Lebedev has some sympathetic views to the right. He was at that Farage party."
Late last year, BuzzFeed News revealed Lebedev was among the press barons who gathered at London's Ritz hotel to celebrate UKIP MEP Nigel Farage's success during the Brexit campaign.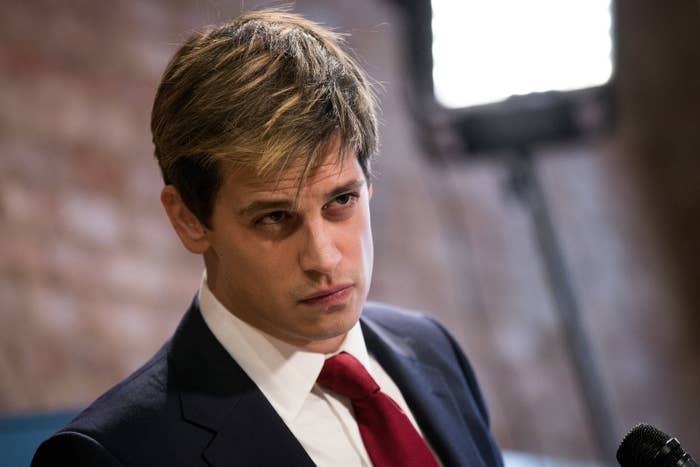 Leading figures on the American right have distanced themselves from Yiannopoulos since BuzzFeed News revealed the extent of coordination between him and Bannon in the formation of the alt-right.
Hedge fund billionaire Robert Mercer has cut ties with Breitbart, writing in a resignation memo from his company earlier this month: "... actions of and statements by Mr. Yiannopoulos have caused pain and divisiveness undermining the open and productive discourse that I had hoped to facilitate."
A source close to Yiannopoulos told BuzzFeed News he had returned to London and was now looking to move on.
"Milo is always looking for more rich people to speak to," the source said. "You can see what happened after the Mercers – he's moving on."
Yiannopoulos is no longer booked on major news networks in the US and UK, which might be why the self-dubbed "iconoclast" has turned his attention to Australia, where the media seem less familiar with his reputation.
He recently appeared on several of Australia's biggest TV news programmes to promote a December tour of the country, where fans will be charged $1,000 to have dinner with him.
BuzzFeed News did not receive a response from Yiannopoulos about whether there were plans to work with Evgeny Lebedev.