Immigration minister Peter Dutton upset a lot of people last week with his comments about refugees who come to Australia without speaking English.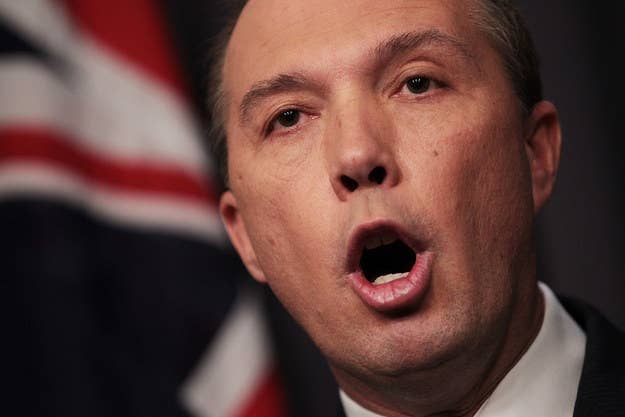 So the starting point is Peter Dutton's parents. A simple Google search reveals their names are Bruce Dutton and Aisla Leitch.

A search of the 1968 electoral roll in the Queensland seat of Lilley, shows that Peter Dutton's mother worked as a stenographer, while his father was a bricklayer.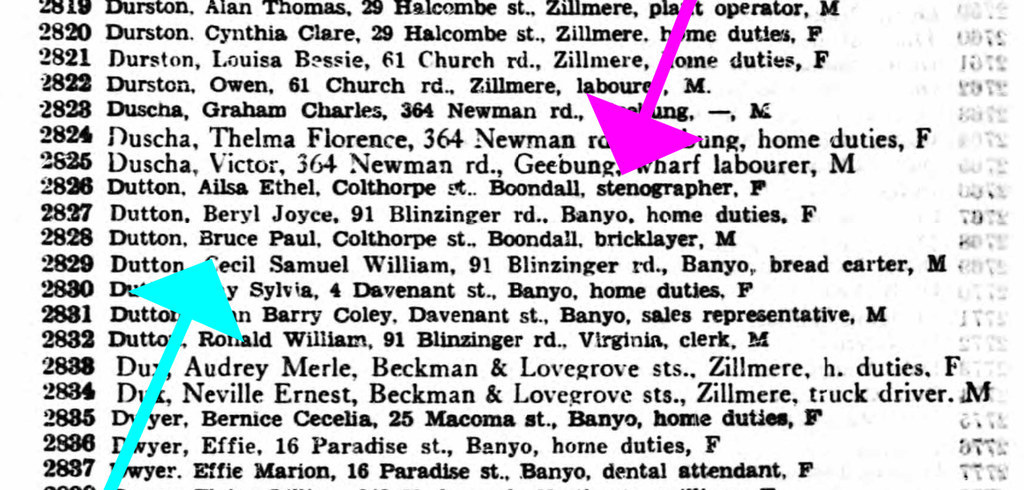 Let's go back further. A check of the birth notices from Brisbane's Sunday Mail shows that Bruce Paul Dutton was born on May 5, 1945. Dutton's father was born to a "Mr. & Mrs. H C Dutton".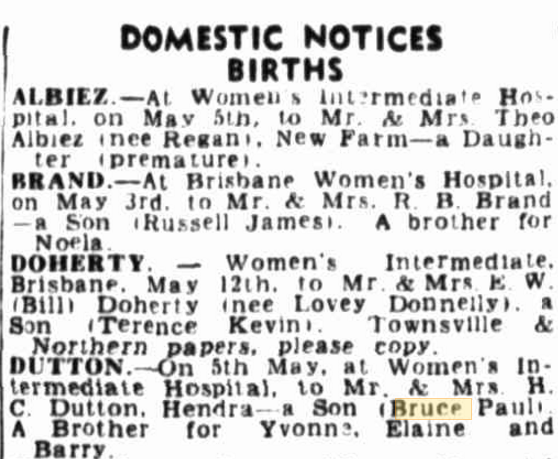 If you search the electoral rolls for an H C Dutton between 1933 and 1955 there are only two names that come up: Henry Charles Boydell Dutton and Henry Coley Dutton.
And if you search those names in Ancestry.com (which scrapes official birth, deaths and marriage data for the past few centuries) BINGO! Henry Charles Boydell Dutton is the son of Henry Coley Dutton.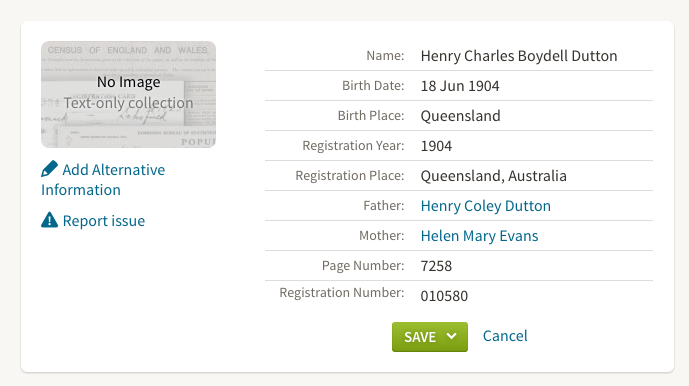 To recap, that's, Peter Dutton < Bruce Paul Dutton < Henry Charles Boydell Dutton < Henry Coley Dutton.
Finally, Henry Coley's father appears to be former Queensland lands minister Charles Boydell Dutton. That's right, Peter Dutton's great, great grandfather was also a politician from Queensland.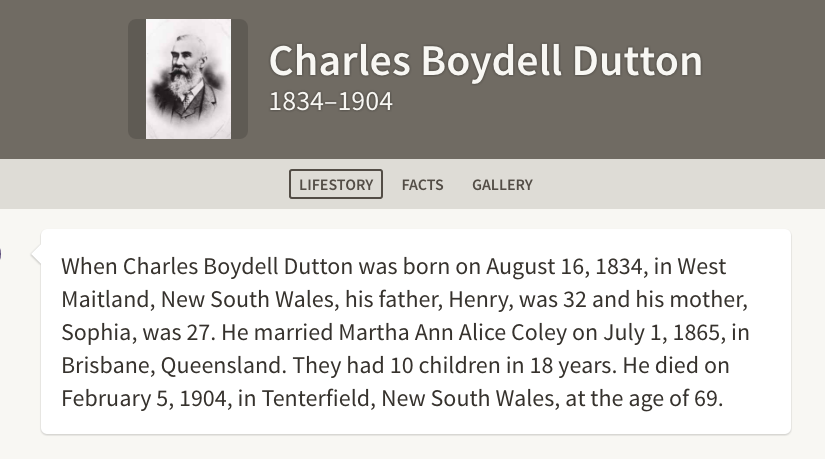 Jordan Gregory (@jordansgregory) also did some searches at the National Library of Australia for Charles Boydell Dutton. There are some absolutley classic quotes about Dutton from The Queensland Figaro in 1887 that ring eerily true to his great, great grandson.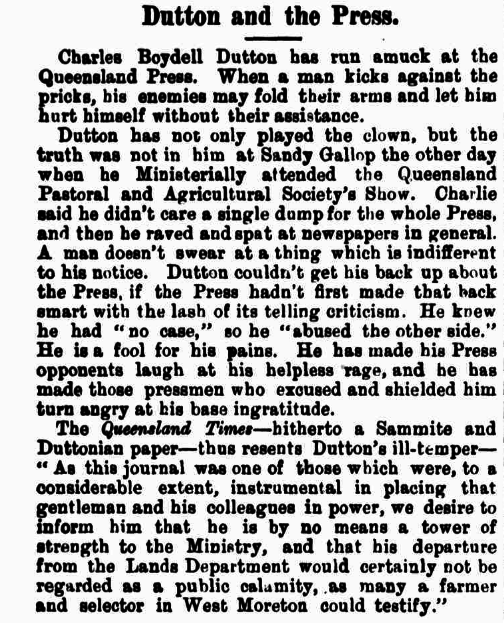 Part of the text reads:
Dutton couldn't get his back up about the Press, if the Press hadn't first made that back smart with the lash of its telling criticism. He knew he had "no case" so he "abused the other side". He is a fool for his pains. He has made his Press opponents laugh at his helpless rage, and he has made those pressmen who excused and shielded him turn angry at his base ingratitude.
And from when the same newspaper in 1884 described Charles Boydell Dutton as a "squatter of the squatters" and "an out and out Tory in the guise of a Liberal — a wolf in the guise of a lamb..."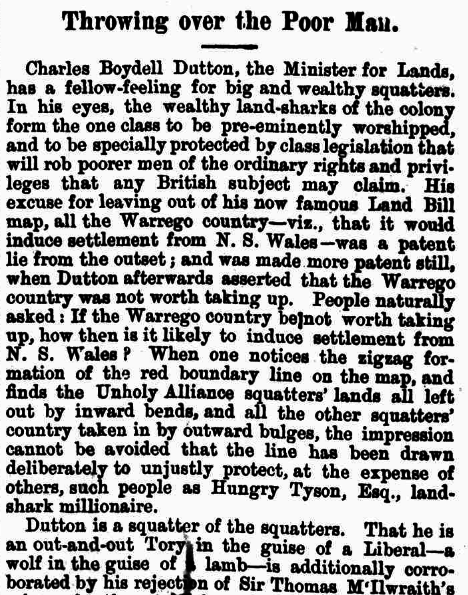 Or from 1887, when Dutton doses a crowd with "transparent rot" at the Ipswich Show banquet.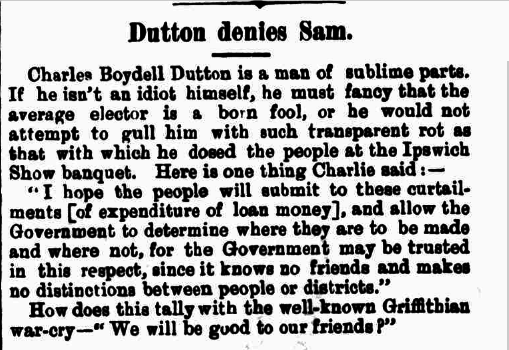 Charles Boydell Dutton is a man of sublime parts. If he isn't an idiot himself, he must fancy that the average elector is a born fool, or he would not attempt to gull him with such transparent rot as that with which he dosed the people at the Ipswich Show banquet.
What an amazing snapshot into the political legacy of the Dutton men across the centuries!