Australia's opposition leader Bill Shorten has written a fiery letter to Republican presidential candidate Ted Cruz, calling the claim gun reform led to an increase in rape, "offensive and incorrect".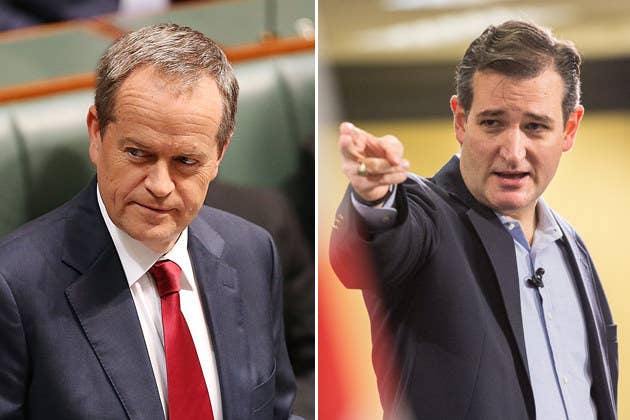 Speaking on conservative talk radio earlier this week, Texas senator Ted Cruz ridiculed Australia's gun buy-back scheme by linking it to assaults on women.
"And as you know, Hugh, after Australia did that (gun buyback), the rate of sexual assaults, the rate of rapes, went up significantly, because women were unable to defend themselves,' he said.
Shorten took it upon himself on Thursday to write a personalised letter to Cruz laying out why his comments were "offensive" to Australia.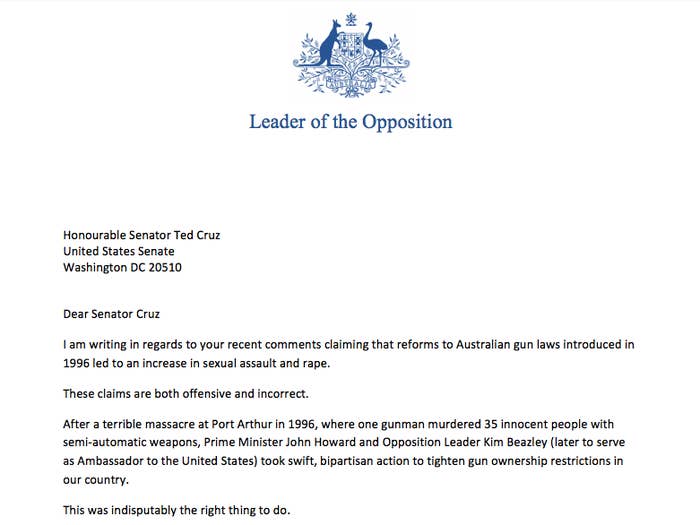 Dear Senator Cruz, I am writing in regards to your recent comments claiming that reforms to Australian gun laws introduced in 1996 led at an increase in sexual assault and rape.These claims are offensive and incorrect.After a terrible massacre at Port Arthur in 1996, where one gunman murdered 35 innocent people with semi-automatic weapons, Prime Minister John Howard and Opposition Leader Kim Beazley (later to serve as Ambassador to the United States) took swift, bipartisan action to tighten gun ownership restriction in our country.This was indisputably the right thing to do.Twenty years after the chilling tragedy of Port Arthur, along with many Australians, I regard gun law reform as John Howard's finest achievement in office.Contrary to your comments, reducing the number and restricting the availability of semi-automatic weapons did not lead to an increase in the rates of violent crime, rape or sexual assault.
The claim from Cruz comes from statistics which appear to show sexual assaults went up in the ten years after the implementation of the gun buy-back scheme.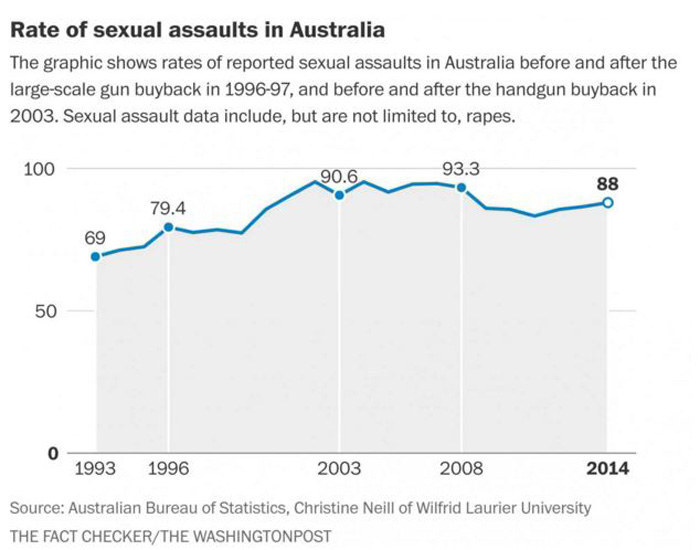 But in a widely shared 'fact check' of the claim from the Washington Post, experts point to an increase in reporting for the change.
"The rates didn't go up 'significantly' after the buyback and there's no evidence changes to gun laws in Australia affected sexual assault rates or jeopardised the ability of women to protect themselves," said the report.
I urge you to study our example in detail before you pass comment on our system again.Please do not misrepresent the success of Australia's gun reforms in a misguided defence of your own gun laws.Americans are entitled to know the truth that the reforms to Australia's gun laws are working and lives are being saved.
That final line again:

Cruz' comments follow the U.S. gun lobby's recent campaign against "Australian-style bans" which have included several YouTube videos.