Conservative MPs Are Switching From WhatsApp To Signal
The Tories have been plagued by stories based on leaked WhatsApp chats, but now they're moving to the encrypted messaging app with an auto-delete function.
After a series of embarrassing leaks from their WhatsApp groups, Conservative MPs have been downloading the end-to-end encrypted messaging app Signal, which allows users to auto-delete messages.
The MPs have been joining the platform — popular with journalists and political activists, and endorsed by whistleblower Edward Snowden — over the last 24 hours.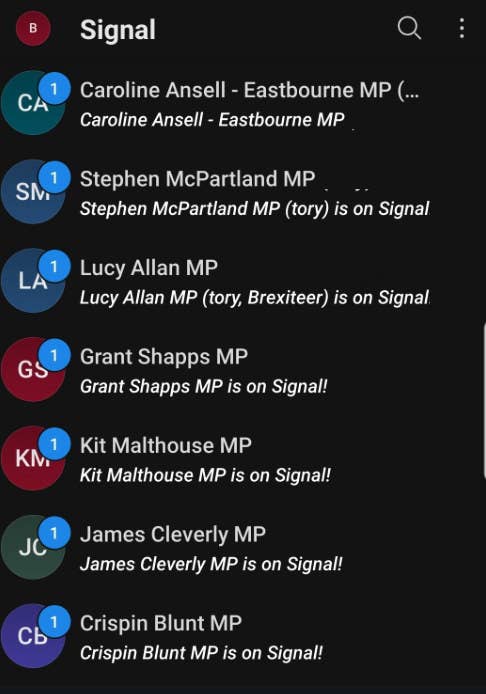 Sources told BuzzFeed News the primary reason behind the move was because of the group-size limit on WhatsApp. "WhatsApp doesn't allow groups over 256 and we like to have everyone on the same platform," a senior party source said.
But perhaps the most attractive feature for Conservative MPs looking to do business in Westminster is that Signal has an auto-delete function. It allows users to put a timer on messages before they're completely cleared from the app.
That might help Tory MPs who've been plagued by stories based on leaked WhatsApp messages for some time. Stories like this one published by BuzzFeed News last year, reveal just how much politicians of all sides use WhatsApp for their discussion and gossip.
Like WhatsApp and Apple's iMessage, Signal uses end-to-end encryption — allowing only the sender and receiver to read the messages — which has been at the centre of debates about law enforcement and online privacy.
UK home secretary Priti Patel has been working with the US and Australian governments to stop Facebook from using end-to-end encryption across the company's apps.

Patel co-signed a letter sent to Facebook, which said a platform-wide use of end-to-end encryption would be a threat to public safety. Facebook pointed to messaging apps like Signal in its response: "We believe that people have a right to expect this level of security, wherever they live."