Clive Palmer's Funny Tweets Are Distracting You From His Very Serious Problems
The dog... that's on the grog.
You've probably noticed that former politician and mining billionaire Clive Palmer has been throwing out some truly baffling content on Twitter and Facebook recently.
The tweets and statuses, many of which are related to his apparent struggle with dieting and weight loss, have found a new audience online.
So just WTF is going on? Well, journalists who've been covering Palmer for years have a simple message for everyone on the internet: IT'S A DISTRACTION!
No reporter knows Palmer's business interests like The Australian's investigative journalist and multiple Walkley Award winner Hedley Thomas, who says the businessman is using Twitter and Facebook to distract the media.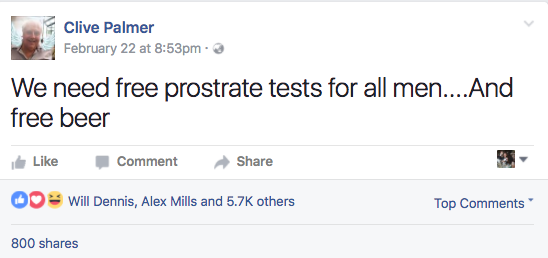 "When Clive is under significant pressure, he throws the switch to vaudeville and creates this entertaining deflection... it distracts attention from scrutiny [of] the problem he is facing," Thomas told BuzzFeed News.
"He's very good at it."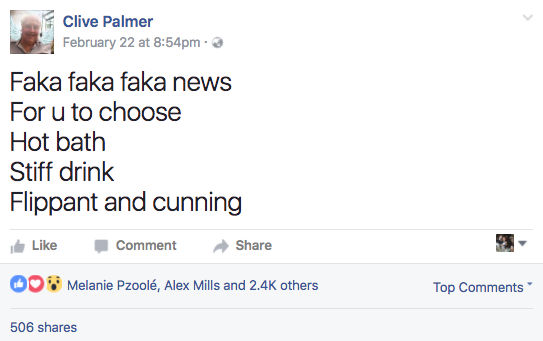 Palmer's absurd social media posts just happen to coincide with court action over the collapse of his mining business Queensland Nickel, which saw 800 workers lose their jobs.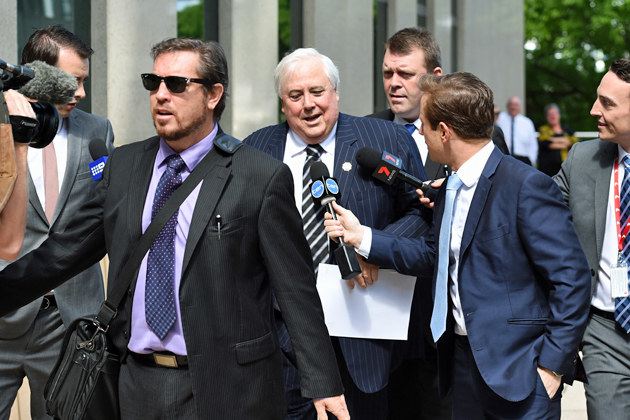 Queensland Nickel has been in the Federal Court in Brisbane in recent weeks facing claims from liquidators that former MP Palmer was secretly running the business with his nephew Clive Mensink.

On Monday The Australian reportedly found the woman who was secretly paid $1 million to find Palmer's company mining opportunities in Kyrgyzstan.
"His Twitter utterances are getting play and in Clive's mind whatever play they get is attention he's not receiving for paying creditors' money to mystery women," Thomas said.
Palmer has previously said the $1 million payment to the woman in Kyrgyzstan was to run a local office and look for "mineral opportunities"

Brisbane bureau chief for The Australian Financial Review Mark Ludlow said Palmer is likely distracting the media from liquidators moving in on his nephew.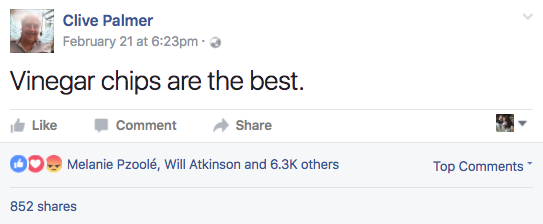 Ludlow told BuzzFeed News there might even be another explanation: "My gut feeling is Clive has relevance deprivation syndrome and wants some attention."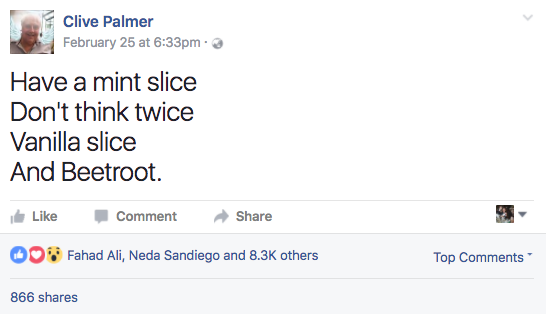 Meanwhile, the businessman - who has not responded to requests from BuzzFeed News for comment - is not just relying on his native reach, as he appears to be paying money to Facebook to spread his weird content.
Hedley Thomas's 18-year-old son recently said to his father: "Have you seen Clive's posts? He's cracked it. He's hilarious".
And that worries Thomas, as "there's a demographic that isn't really following or keeping up with the serious difficulties that Clive causes."
So remember, next time Palmer posts some absolute nonsense on social media, it's most probably a distraction from the liquidation of his business, which left hundreds of people out of work. Though this tweet...