Days after being condemned by the Senate for speaking at a far right, anti-Islam fundraiser, federal government MP George Christensen has given an interview to a podcast with a history of making homophobic, anti-Semitic and anti-Aboriginal "jokes".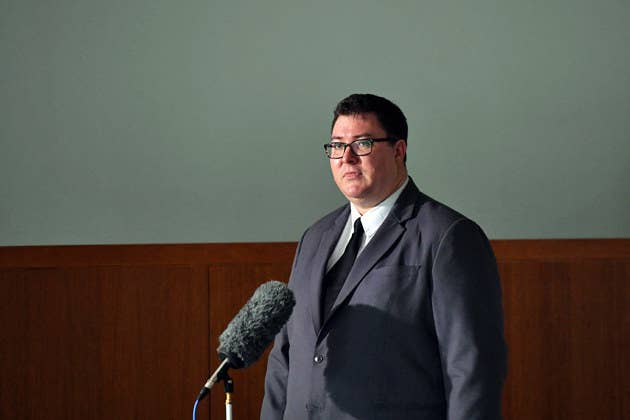 Christensen appeared on the latest episode of "The Convict Report", a regular radio show from Australia's version of the alt-right, which calls itself "Dingo Twitter".
In previous episodes of the podcast hosts have joked about former Indigenous MP Nova Peris being raped by family members; labelled ABC 7.30 host Stan Grant a "reverse Michael Jackson"; promoted a caricature of former treasurer Joe Hockey as the "slimy Semite"; and questioned whether prime minister Malcolm Turnbull was Jewish because of his previous career as a merchant banker.
Canadian prime minister Justin Trudeau has been called a "faggot" and one host asked for the phone number of the wife of Greens leader Richard Di Natale, mocking "you should let your wife be independent".
But this week, in an unprecedented move, a government MP has appeared on the podcast, accusing US billionaire George Soros of funding activist group GetUp!.
"That GetUp!, we all know it's George Soros-funded," Christensen said on the podcast. "It's in the whole big worldwide movement of leftist organisations."
The Queensland MP, who reportedly sat down this week to write a resignation letter to Malcolm Turnbull because of a local sugar issue and because he was recently passed over for a cabinet position, told the podcast he'd "no longer parrot the government line" when it came to issues of 457 visas and trade.
"To my shame I toed the government line on issues like 457 visas and the issues like CHAFTA (Chinese-Australia Free Trade Agreement). Something stuck in my craw every time I had to parrot out a government line. This year I just thought enough is enough."

Christensen's interview goes for less than an hour, leaving the hosts to talk about other issues of the week including the latest episode of the ABC's Q&A, and ex-Liberal MP Ross Cameron's controversial comments that the NSW Liberal Party had turned into a "gay club".
The hosts referred to independent senator Jacqui Lambie as a "meth Mum" (Lambie has revealed her son has battled addiction), gave Muslim woman Yassmin Abdel-Magied the racist nickname "shuck and jive" and defended Ross Cameron's comments.
"On the current [Liberal Party membership] form it says there are two pillars of the Liberal party. They call it the two 'B' principles… and that is for a boyfriend or a beard. It is a gay club," says one host.
Former Labor leader Mark Latham has also become a regular guest on the podcast.
Earlier this week, a motion passed the Senate calling on Malcolm Turnbull to condemn Christensen for attending an anti-Islam event in Melbourne over the weekend.
BuzzFeed News asked Christensen whether he thought it was appropriate to appear on the "Dingoes" podcast.
"I know these Dingo guys are a bit wild (although they mostly aim to shock through edgy, non-politically correct humour) so I have to say I don't agree with all their views," Christensen said.
"If you're going down the wormhole of guilt by association, then I have to say if being interviewed by someone means I support their views I must be a raving leftie because, after all, I've done quite a few interviews with BuzzFeed."
BuzzFeed News has asked the prime minister's office whether it's appropriate for a government MP to appear on the show.