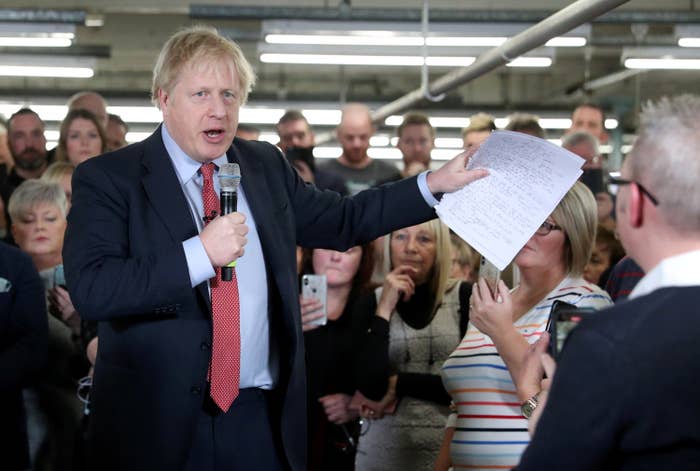 Channel 4 News has a new policy banning nonpolitical journalists from tweeting about politics after high-profile clashes with Boris Johnson over the last few months.

The decision comes during what one Channel 4 source described as a "period of deep self-reflection" for the broadcaster after two run-ins with Boris Johnson's campaign team during the election.
The first was Channel 4's decision to put a melting ice sculpture to stand-in for Johnson during the climate debate.
In retaliation, a senior Johnson aide told BuzzFeed News that Johnson would look at reviewing the broadcaster's news remit if elected.

The second came in the final days of the campaign when Channel 4's online team made a subtitling error on a video it tweeted out.
The broadcaster wrongly suggested Johnson had discussed whether "people of colour" should be allowed in the UK under Conservative immigration policy, but later clarified that the PM said "people of talent".
Channel 4 quickly deleted the clip and made a swift apology: "Our earlier tweet was a mistake. We misheard and we apologise."
The broadcaster went on to make an on-air apology, but Johnson's campaign aides said the incident showed that Channel 4 were "campaigners" and not an impartial news organisation.
In the wake of the subtitling error, Channel 4 News nonpolitical journalists were instructed to stop posting tweets about politics.
A source said the ban will continue into the new year as the broadcaster reviews internal policies around journalists posting on social media.
A Channel 4 News spokesperson said the ban was brought in after a "number of errors" by broadcast journalists online.
"The policy was implemented during the election campaign, particularly in light of a number of errors made on social media by Ofcom regulated journalists across the industry," the spokesperson said.