Software engineer Justin Simon discovered that it was possible to send an iMessage to Australia's attorney general George Brandis on Sunday.
Simon appeared to enter in Brandis' publicly available work email, 'senator.brandis@aph.gov.au', in the iMessage app and discovered he had linked it to his Apple device.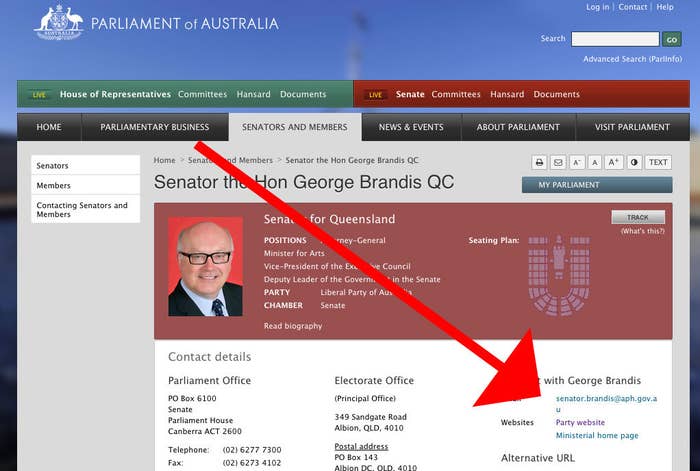 It effectively means anyone can send an iMessage to Mr Brandis, who has been leading the government's controversial mandatory metadata collection efforts.
A group of Twitter users started bombarding Mr Brandis with questions and posting the results.
Simon even started finding other MPs who have their publicly available emails linked to an Apple device.
A list of government MPs that have emails linked to iMessage include, health minister Sussan Ley, environment minister Greg Hunt, industry and science minister Ian Macfarlane, justice minister Michael Keenan, Nationals MP Luke Hartsuyker, Liberal MP Bob Baldwin and the prime minister's parliamentary secretary Christian Porter.
They all have their work emails linked to Apple's iMessage app.
BuzzFeed News obtained one message sent to environment minister Greg Hunt, suggesting the government MPs are receiving the messages.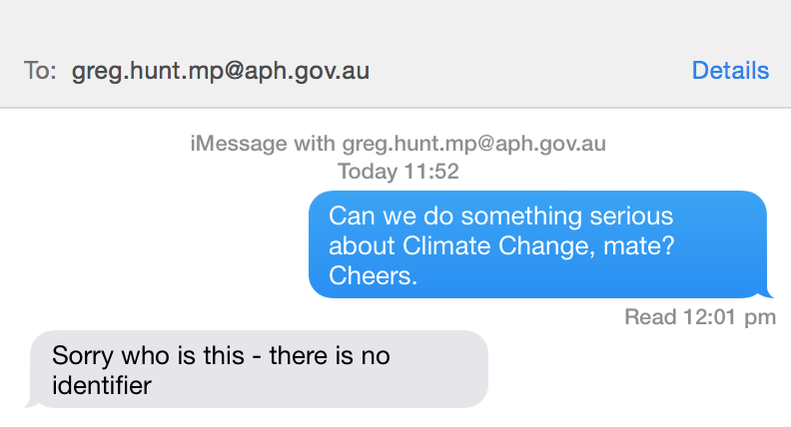 BuzzFeed News has called (and iMessaged) Mr Brandis' office and asked for comment.
UPDATE: Attorney general George Brandis appears to have de-linked his work email from the iMessage App.