Prime Minister Boris Johnson Used The N-Word In A 2004 Comic Novel
Labour's Diane Abbott said the choice of language proved Johnson had "deeply-held racist views".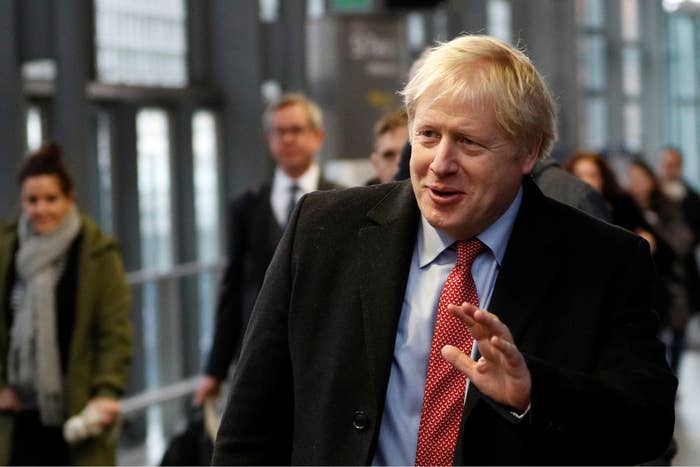 A comic novel by Boris Johnson, Seventy-Two Virgins: A Comedy of Errors, has been widely derided by critics for its racist caricatures and sexist depictions of women.
But one striking element has never been directly addressed, or maybe even noticed, since its release — the author's repeated use of the n-word in reference to a black character.
The comic novel was published in 2004, when Johnson was the Tory MP for Henley, shadow minister for the arts, and editor of the conservative Spectator magazine.
The plot centres around a clumsy bicycle-riding Tory MP and recounts a fictional terrorist attack by "Islamofascists" in London.
The many racist caricatures and sexist descriptions in Seventy-Two Virgins have already generated headlines. Among other issues, he refers to Jewish oligarchs controlling the media, mentions "hook nosed" Arabs, refers to a "half-caste" person, and even describes a woman as "a mega-titted six-footer".
But the use of the n-word at the beginning of Johnson's novel appears to have gone unnoticed.
Early in the novel — page 11, chapter 2 — Johnson's third-person narrator introduces the reader to an African-born parking inspector named William Eric Kinloch Onyeama and describes his thoughts:
"The parkie considered. Many traffic wardens are traumatized by the verbals, as they are called, COON, NIGGER, MONKEY, APE.
"Those were some of the names Eric had been called, shorn of their participial expletives."
This is the first of two uses when a woman pleads with the parking attendant not to give her a ticket:
"IS THIS YOUR IDEA OF POWER? WHY DON'T YOU GET A BETTER JOB? These were some of the questions he was asked.
"Faced with such disgusting behaviour, some traffic wardens respond with a merciless taciturnity. The louder the rant of the traffic offenders, the more acute are the wardens' feelings of pleasure that they, the stakeless, the outcasts, the niggers, are a valued part of the empire of law, and in a position to chastise the arrogance and selfishness of the indigenous people."
It is hardly the first time Johnson's language around race has invited criticism. In a 2002 Daily Telegraph column, he referred to African warriors having "watermelon smiles". In another column for the same newspaper, Johnson wrote about Tony Blair's travels around the world and "cheering crowds of flag-waving piccaninnies".

Labour's shadow home secretary, Diane Abbott, said the use of the n-word showed the prime minister had "deeply-held racist views".
"It's shocking that Boris Johnson writes about minorities in this way. He is simply not fit to be an MP, let alone our Prime Minister, especially in 21st century Britain.
"Boris Johnson wrote this when he was a Conservative Shadow Minister. It exposes his deeply-held racist views which fuel hatred and bigotry towards black people and minorities."
"Johnson has said that Conservative candidates who are guilty of racism are 'out first bounce', so he should be immediately suspended and placed under investigation. Johnson's record of racism is repulsive to many black people and minorities. It's not too late to stop him getting back in to Number 10 Downing Street."
Earlier this year, the Guardian's Mark Lawson also revisited the novel, writing a piece under the headline "What does Boris Johnson's terrible novel Seventy Two Virgins tell us about him?" Last month, a Twitter account called @VirginsJohnson was set up to share passages from the novel. Some of the tweets going viral led to online stories about its racist language.
Johnson's columns on other social issues have also dogged him during the election campaign. Two weeks ago, a woman confronted him during a radio talkback segment over his critical comments about single mothers made in a Spectator column in 1994. He was later challenged by ITV host Holly Willoughby on the same comments. In both cases, Johnson argued that what he'd said had been taken out of context.