The Latest Political Controversy Around Boris Johnson Has A Long Social Media Trail
The relationship friends jokingly called "BoJen" is now under the spotlight.
The latest controversy to engulf British prime minister Boris Johnson involves an American tech entrepreneur named Jennifer Arcuri, lucrative government grants, and overseas trade missions while he was London mayor.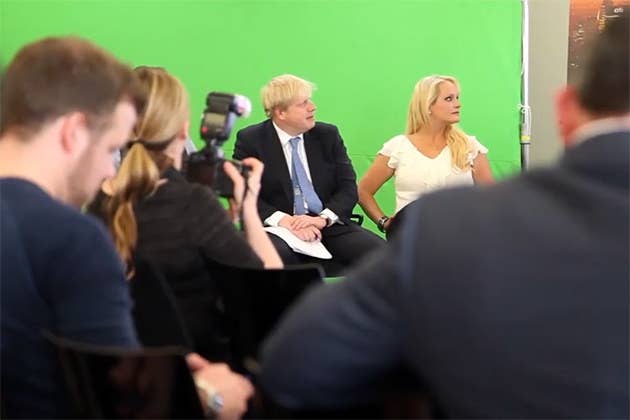 Over the weekend, the Sunday Times revealed Arcuri's tech companies had been given tens of thousands of pounds of public money while Johnson was in City Hall and that he had failed to declare a series of potential conflicts of interest as a result of his "close friendship" with her.
According to the newspaper, Arcuri went on overseas trade missions led by Johnson. Leaked emails allegedly show he intervened on more than one occasion to get her on trips because she'd been initially refused permission on the grounds that her business didn't meet the criteria.
The Department for Digital, Culture, Media, and Sport also gave one of Arcuri's companies a £100,000 government grant this year as part of a scheme for UK-based businesses to give people "cyber skills". The department is now investigating the grant after the newspaper alleged her company was operating from a base in LA.
In response to the Sunday Times story, Arcuri said: "Any grants received by my companies and any trade mission I joined were purely in respect of my role as a legitimate businesswoman."
Overnight, while on a plane to New York, Johnson declined to answer six questions from reporters about the Sunday Times story. On Monday, Johnson told Sky News, "everything was done with complete propriety and in a normal way".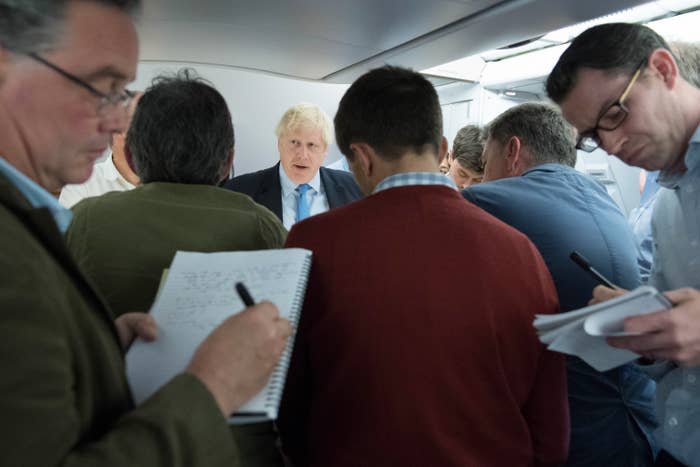 But Arcuri's posts on Facebook and Twitter over a four-year period between 2012 and 2016 offer a record of the tech entrepreneur's journey into Johnson's inner circle. They also appear to show how Johnson was using his own contacts to help her build a network.

Her tweets and public posts show her repeatedly alongside Johnson at events to promote her company, as well as sharing jokes with her friends about their relationship. Let's dive in.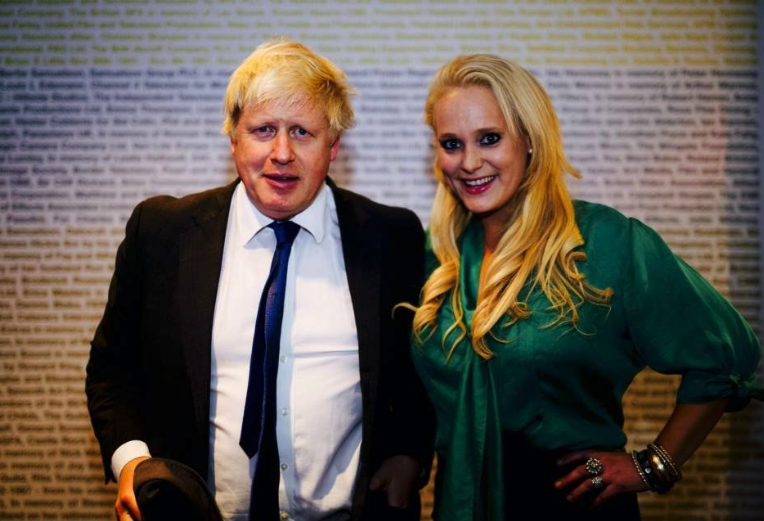 In 2012, Arcuri used Twitter to try to get the attention of a key ally of Johnson, his Australian friend and political strategist Lynton Crosby. She tagged Crosby about the then-mayor appearing at her summit: "Boris J asked me to get in touch with you..."
Within a few days, Arcuri tweeted that Johnson was indeed going to appear at the summit and thanked Crosby for his support.
In May 2012, Arcuri posted a photo of herself with Johnson against the backdrop of Hult International Business School, with the caption, "The Innotech Summit 2012".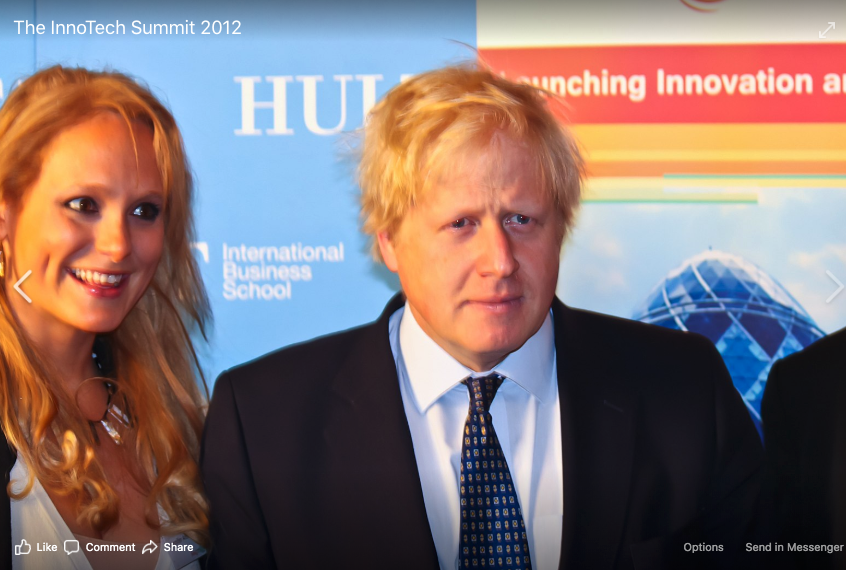 According to her LinkedIn, Arcuri was doing an MBA at the school at the time. Acruri's Innotech network is described as joining "Investors, Entrepreneurs & Policymakers in stimulating the London Tech Scene".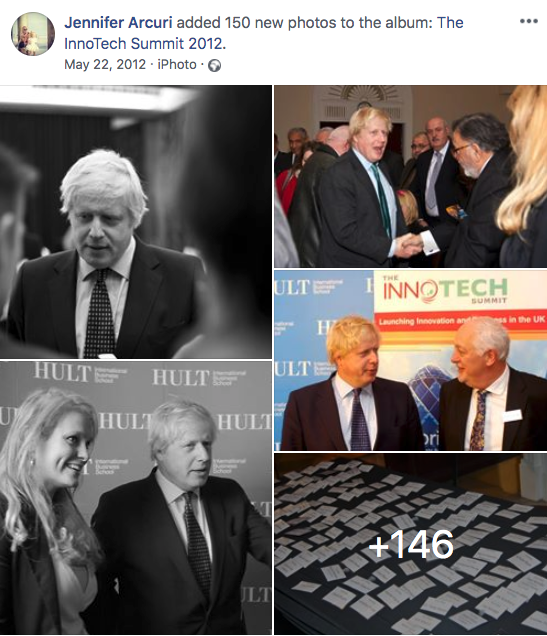 Arcuri would soon change her Facebook cover photo to the two of them together on a bus.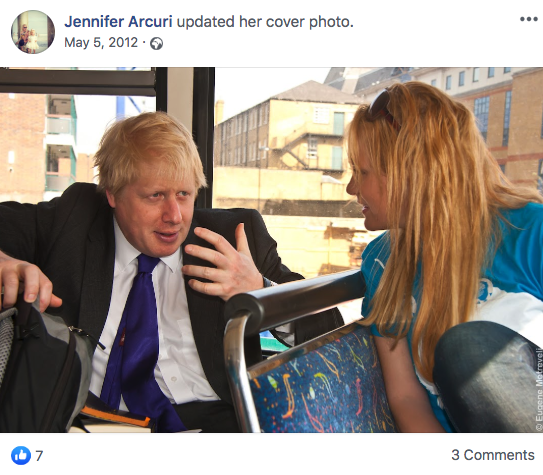 In the comments, Arcuri wrote, "This was the day innotech was born".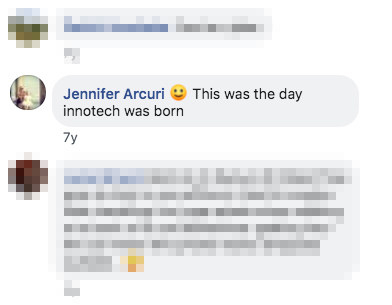 It wasn't the only time Arcuri used Twitter to contact Johnson's inner circle, while name-dropping to get through the door.

She tweeted at Johnson adviser Mark Kleinman asking how to contact another adviser Ben Gascoigne (now Downing St deputy chief of staff), adding: "Boris told me to contact him. Thank you!"
In April 2013, Arcuri posted another photo with Johnson as the "first photo of the Innotech Summit 2013".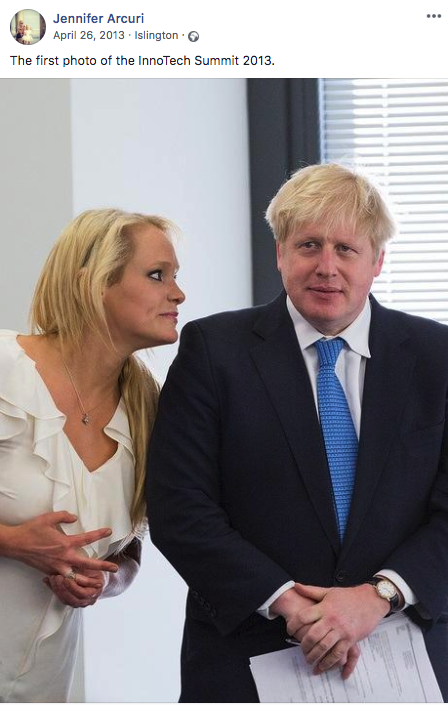 When she asked one of her friends "what was going on in this moment", the friend replied, "BoJen hanging out! that's what".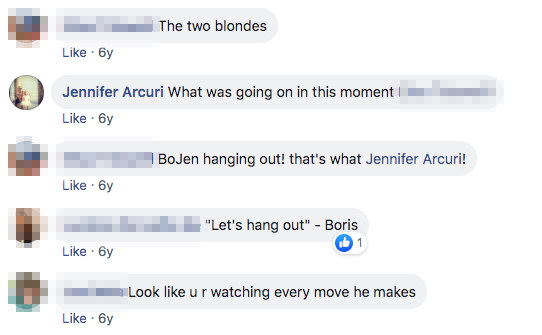 Months later, Johnson appeared at another Arcuri-run tech summit. This time it was billed as the world's first Google Hangout with him.
In a now-deleted blogpost, Hult International Business School promoted the event under the headline: "Hult Alumni Jennifer Arcuri Joins Forces With Boris Johnson".

In the lead-up to the appearance, Arcuri cryptically tweeted that "Someone stole my Boris!!!" Photos on Flickr show there was a cake at the summit for Johnson, with a figurine in his likeness.
In October of the same year, Johnson did another Google Hangout with Arcuri. According to Arcuri's post from the event, the Hangout was part of the 9th World Islamic Economic Forum.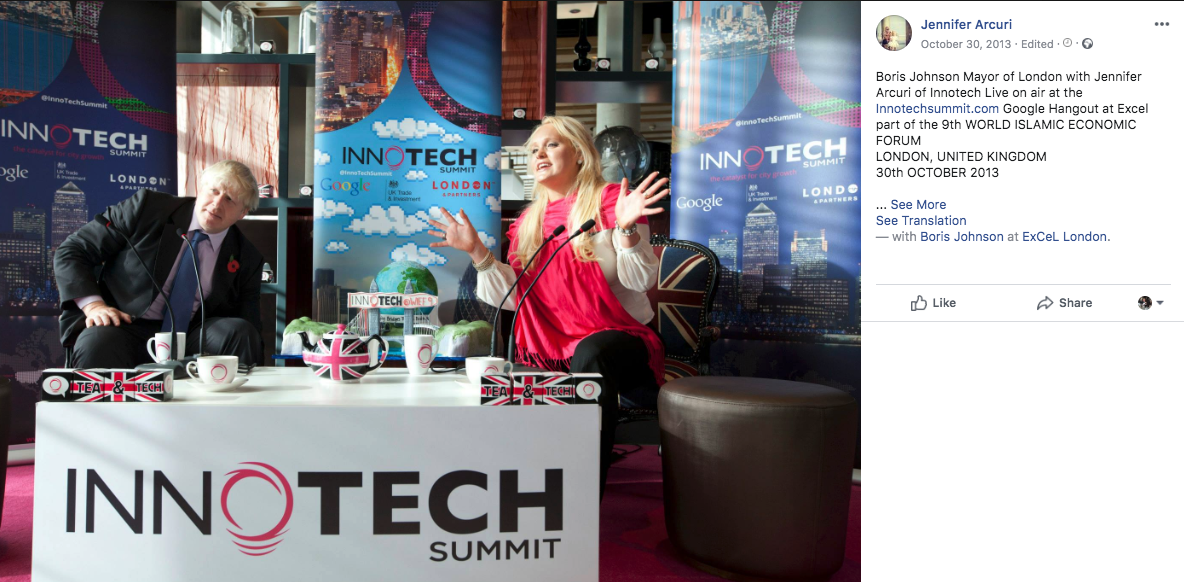 In January 2014, Arcuri posted an article she'd coauthored for the Conservative Home website. One friend noted: "Say hi to big Boris for me 😉". She was the sole like of the comment.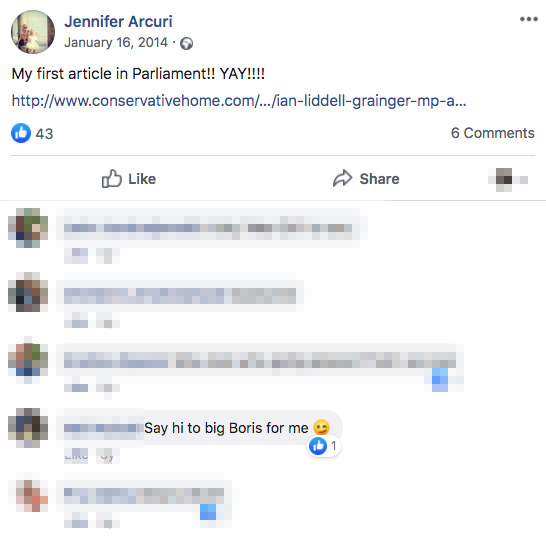 A few months later, Arcuri posted a photo of herself at the London Assembly, which holds the mayor to account, with the caption: "The boss's chair at GLA😉"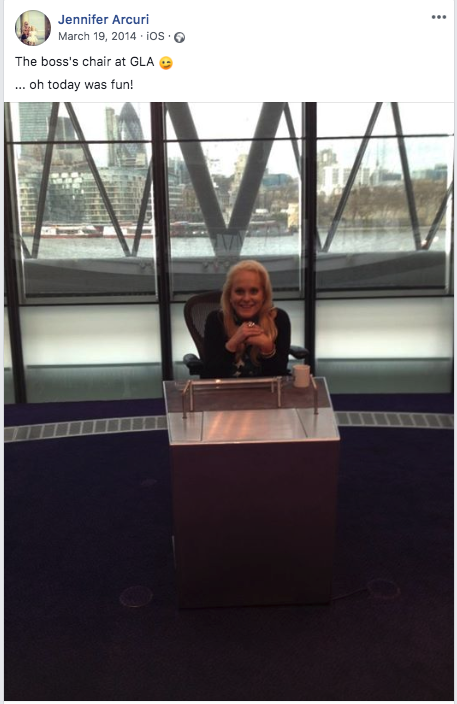 Arcuri replied: "I'm always sent for Victory!! we will be fighting hard to make sure we all stay together come Thursday. We love you Scotland!!!"

A month later, multiple posts across Facebook and Twitter show Johnson again appeared at Arcuri's Innotech summit.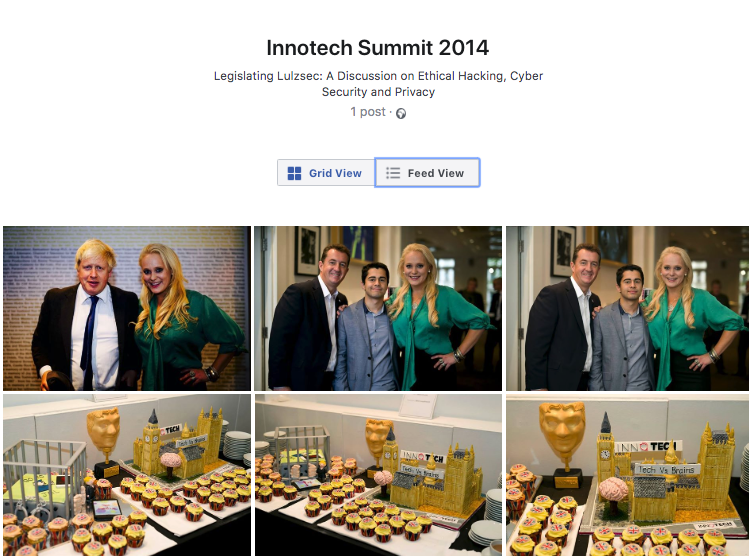 And in a November holiday, Arcuri posted a pic to which a friend responded: "Did Boris turn up and take this photo?😉" She replied: "🙂 not this trip."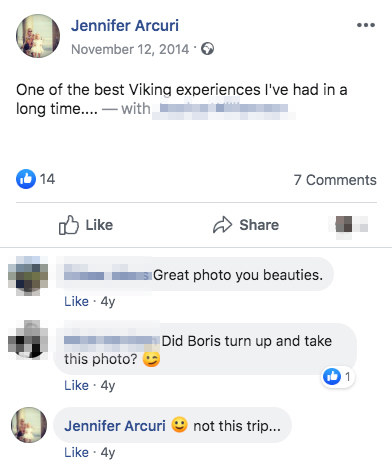 By the end of the year, Arcuri was posting pictures on the Johnson-led trade mission to Singapore and Malaysia.
She attended three separate Boris Johnson trade missions in the space of a year, according to the Sunday Times.
Despite Brexit and the party conference season, the story about Johnson's relationship with the US tech entrepreneur is not going away.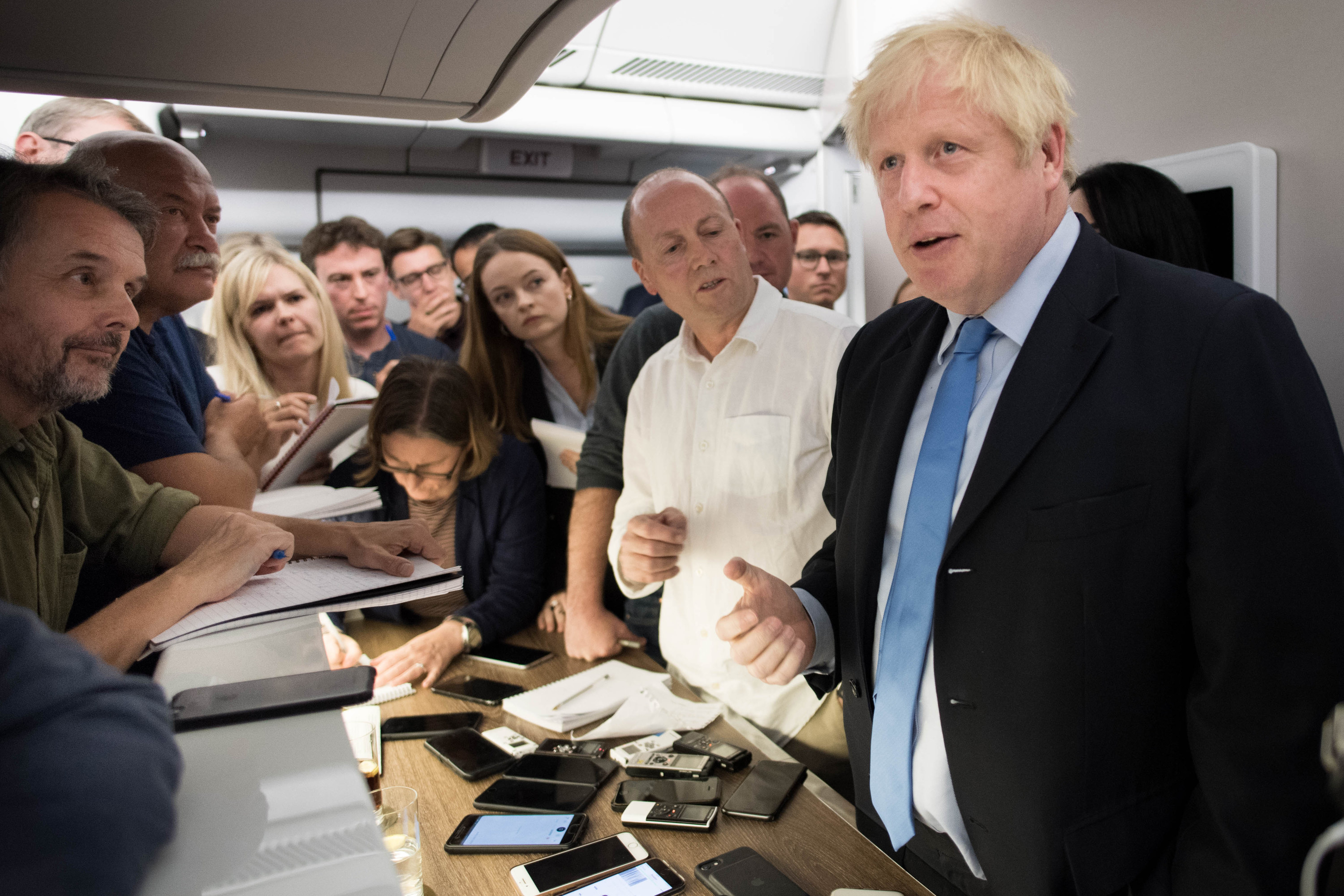 BuzzFeed News has approached Arcuri for comment, but no response had been received by the time of publication.

For now, you'll have to be satisfied with the knowledge that on June 23, 2016 — the day of the Brexit referendum — Arcuri was doing the BuzzFeed quiz: "What % Boris Johnson Are you?"