As results from the UK general election became clearer, Australian Labor leader Bill Shorten was asked about the surprising success of his British counterpart, Jeremy Corbyn.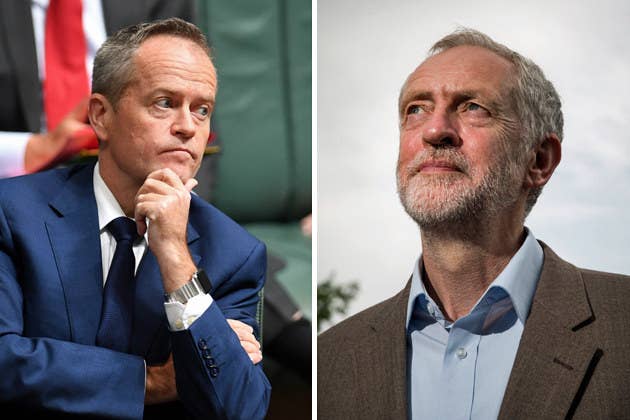 The UK Labour leader shattered everyone's expectations at the general election, with the party gaining seats against the Conservatives and forcing a hung parliament.
Shorten, who has a storied union background but hails from the Labor party's right faction, decided to riff off Corbyn's election slogan.

"Obviously there are differences between the United Kingdom and Australia so we don't know the result yet, but one of the things which my counterpart, the Labour leader in the United Kingdom did is he campaigned, and his slogan was: 'for the many, not the few'," Shorten told reporters at a Melbourne press conference on Friday local time.

He then used Corbyn's mantra to hit prime minister Malcolm Turnbull for his recent decision not to continue a temporary tax on high-income earners.
"I think Mr Turnbull would be well advised to look at the popularity of that message in the context that he is giving a tax cut to a few millionaires and to a few multinationals and he's increasing taxes on the many," Shorten said.

"I think Mr Turnbull should look carefully at that message and understand that perhaps Australians also want to see policy which looks after most people, not just the top end of town."
Unlike Corbyn, Shorten was not the first choice of his party faithful.
In 2013, Shorten took the party's leadership because he won enough of the caucus vote to topple left faction MP Anthony Albanese, who'd been the choice of the party's rank and file.

On Friday afternoon, Labor's left wing MPs were jubilant, with its most prominent voices crowing about the success of UK Labour under Corbyn.
"For the many, not the few!" Tasmanian senator Lisa Singh, wrote on Facebook.

"Congratulations to Jeremy Corbyn and UK Labour," left warrior Doug Cameron wrote. "Progressive policies, a focus on tackling inequality and a commitment to fairness underpinned this significant change to UK politics."

Labor right MP senator Sam Dastyari has been volunteering for centrist UK Labour group Progress for the last week, and told BuzzFeed News from London that there were lessons for Australian Labor.
"There are huge lessons," Dastyari said. "The least not being that the political commentariat have again demonstrated how out of touch they are."
"What is important for Labor is that a motivated, energised youth vote actually matters."
Albanese, probably the most prominent Australian politician similar to Corbyn, didn't get too deep, and instead made a joke at Theresa May's expense.