Uber Australia general manager David Rohrsheim has dodged a question about whether the company uses "greyballing" technology in Australia.
The New York Times exposed "greyballing" by Uber last week. It's the company's practice of displaying a fake version of the app to police and regulators who were trying to catch UberX drivers operating illegally.

On stage at the Australian Financial Review's business summit on Thursday, Rohrsheim acknowledged its been a tough month for the ride sharing service, noting that customers had deleted the app in the wake of recent controversies around links to Donald Trump and a viral post about sexual harassment claims at the company.
According to the Times report, Uber got around law enforcement stings by uncovering officers identities (sometimes by digging into users information on social media) and tagging them with a piece of code labelled "Greyball".
Australia, where not all of the country's states and territories have legalised the ride sharing "UberX" component of the service, was one of the countries mentioned in the report.
When BuzzFeed News asked Rohrsheim directly whether Uber had "greyballed" police and regulators in Australia, the GM explained what the so-called "fun term" was about, but did not deny the accusation:
Greyballing. Much has been written over the last week. There's only so much I can share and there's only so much I know. Greyballing is the fun term, but what it meant was certain users wouldn't see what other users were seeing and there are a whole range of reasons that is done, some of it is for marketing stunts for Star Wars, some of the time it's for the fraudsters who are trying to take Uber rides from A to B and a range of other reasons. What I can say is that how it's being used is now a subject of a global review. We are looking at seeing what every city has done all around the world to find out whether that is something we want to continue to do. For Australia here in particular, we've been here four years and very excited to say that state governments across Australia have said, "yep, Uber's cool, you're here to say", so we've got a good relationship with all the regulators.
The last claim is also not entirely true.
In Queensland, authorities were outraged after it was revealed the company had been getting around law enforcement by deleting the accounts of undercover officers from the app.
Despite the tactics and protests from the local taxi industry, UberX was legalised in Queensland last year.
In Victoria yesterday, taxi drivers staged a protest outside state parliament as the legalisation of Uber was debated inside.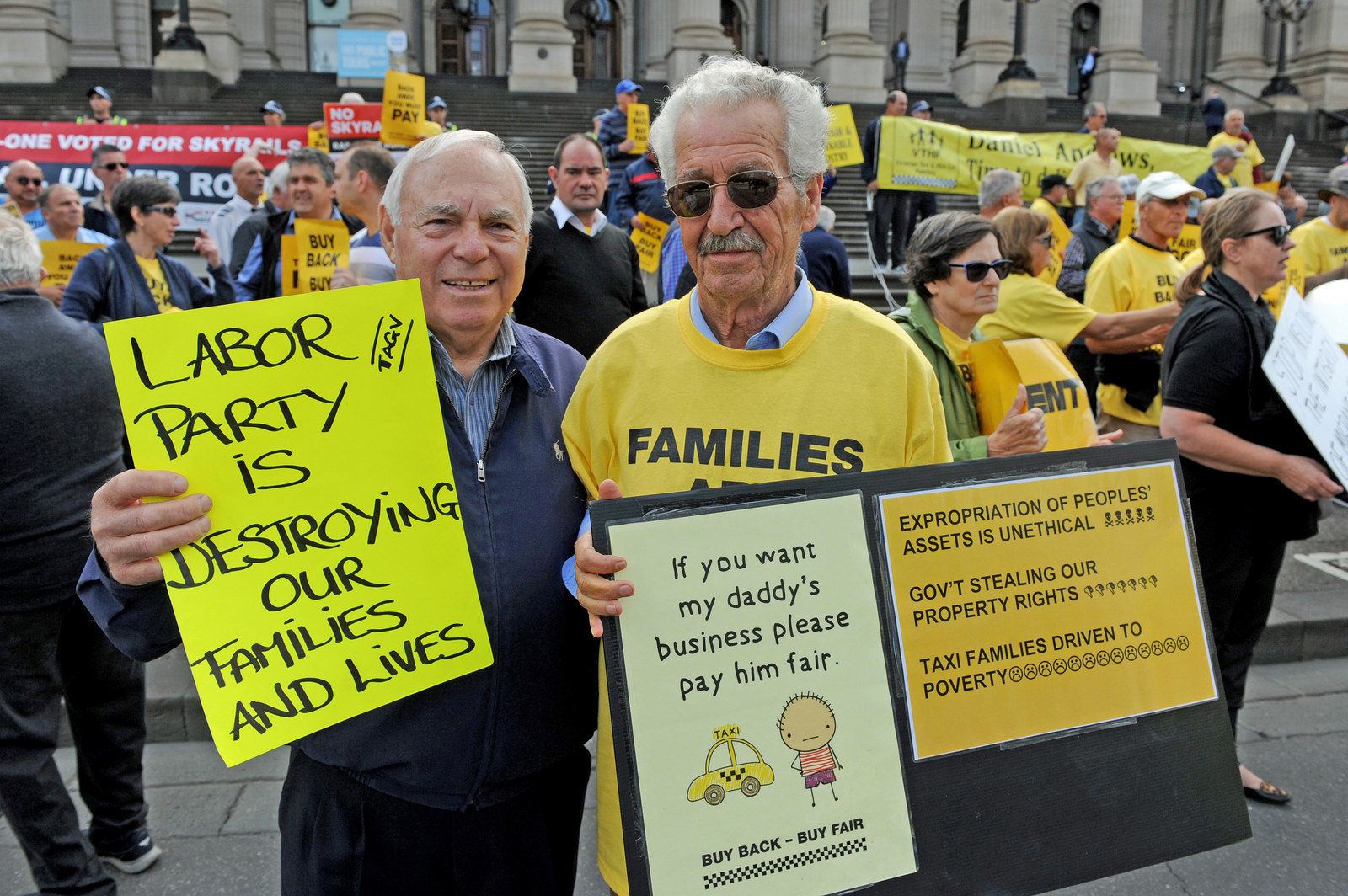 When the New York Times story about "greyballing" was published last week, the Australian Taxi Industry Association was incensed, calling for an immediate investigation into the claims.
"Quite frankly, the state governments and the regulatory authorities didn't do their homework and what we've seen overnight are revelations that are absolutely outrageous," the ATIA's Blair Davies said.