With fresh questions popping up daily about the eligibility of One Nation senator Malcolm Roberts, and his office threatening journalists with being referred to the police, it's worth taking a second to see how we got here.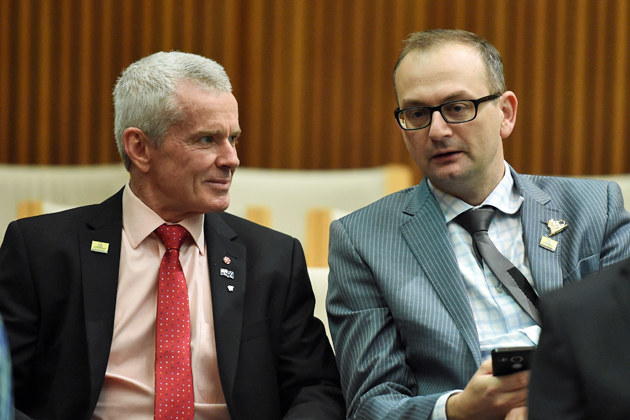 Much of the drama focuses around the bizarre conduct of the Indian-born senator Malcolm Roberts and his controversial staffer Sean Black (above right), who've responded to straightforward questions about the senator's citizenship background with threats, insults and a series of incomplete versions of events.
The central, simple question remains: Was Roberts a dual British citizen ahead of the 2016 election, making him ineligible to run for parliament?

This triggered a pile-on, with any and all MPs with potentially bothersome citizenship issues asked to clarify their status.

Several MPs claimed they had met all requirements, and Roberts wrote a statement for Twitter, saying he had "fully investigated" whether he was eligible before running for parliament last year.

In fact, Roberts had contacted Indian authorities in 2014 to confirm "I am not an Indian citizen".
Two days later, BuzzFeed News contacted Roberts, raising a separate issue: whether he'd actually been given British citizenship through his Welsh-born father.
Labor senator Lisa Singh had come forward to BuzzFeed News the previous day, raising the "complex" issue of British citizenship passed through parents to children.
In response to questions about his possible British citizenship, Roberts' chief of staff Sean Black sent a bizarre email (above), which involved some columns and a claim that Roberts was only an Australian citizen.
A day later, The Australian reported that Roberts had been found on a register of "British Nationals Born Overseas", which prompted the senator to reportedly sign a statutory declaration claiming he was not a citizen of Britain or India.
He didn't produce the documents or any evidence to The Australian.
On Wednesday this week, BuzzFeed News found online ancestry extracts which showed Roberts was not only registered as a British National, but that he'd previously travelled on a UK passport.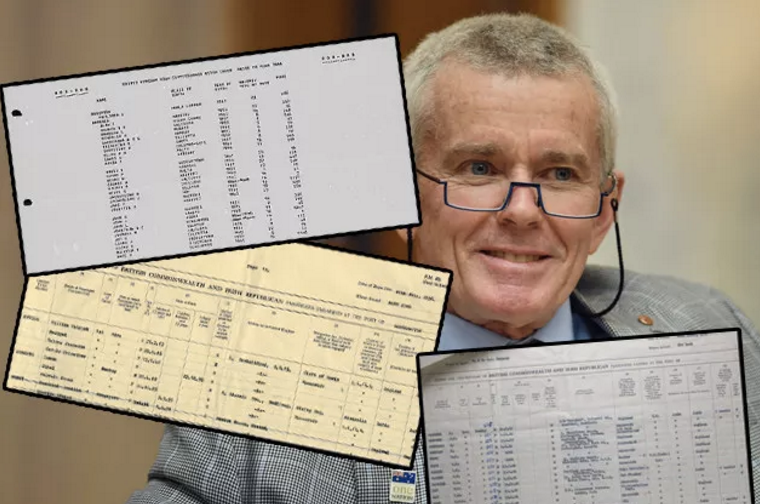 Roberts' name showed up on two passenger logs from 1956 on ancestry.com, listed as travelling on a UK passport; he was also found on a list of British Nationals born overseas on findmypast.com.
In response to questions about the extracts, Roberts posted to Facebook his statutory declaration (dated last week) and a letter he'd written to the Senate president calling for an inquiry.
Roberts also introduced a "renunciation document" to the debate, indicating he had at some stage been a citizen of another country.
"Until the inquiry, my stat dec stands," Roberts wrote on the status. "My renunciation documentation will be provided to this inquiry."

The next day, Fairfax Media dug up a tweet from last year, which then contradicted Roberts' need to provide any sort of "renunciation documents".
Black addressed the contradiction raised by Fairfax Media by saying that Roberts was now "choosing to believe" he was never a British citizen.
"He is choosing to believe that he was never British," Black said. "He is preferring to believe that he was never British because he has no allegiance or exercised any citizenship arrangement.
"However they have renounced and released him of anything to do with them."

The #choosingtobelieve hashtag kicked off and even Ludlam, who'd taken one for the team, could see the funny side.
There was also the tough question of a bizarre quote that Sean Black had given to the Guardian's political editor Katherine Murphy in October last year: "Senator Roberts has never held any other citizenship other than his Australian citizenship".
Yesterday, Black said Murphy had "misquoted" him.
"The Guardian, as always, is most likely wrong," Black said. "They always publish nonsense and I have told them as much today."

Black's sledge prompted conservative senator Cory Bernardi to fire up Twitter and jump to Murphy's defence.
With the Roberts story shifting constantly, Roberts went on Sky News host Paul Murray's show on Thursday night to clear the air, promising to produce documentary evidence he was not a dual citizen.
The conservative TV host began by telling his viewers that he'd seen the documents, and that they were "a million per cent correct".
"I only ever thought I was an Australian citizen," Roberts told Murray. "That's all I believe."
Roberts then revealed, for the first time, he wrote to the British Consulate on May 1, 2016, asking to confirm he wasn't a British citizen.
"That took a month and I didn't get a response, sorry five weeks," Roberts said.
He said he again wrote to the British Consulate on June 6, with another message: "I believe I am not a British citizen, just in case though, if I am, I renounce it effective immediately."
Roberts added, "I'd taken all the steps that I reasonably believe necessary."
According to Roberts, the British Home Office then replied in December last year - five months after the election -confirming his renunciation was received.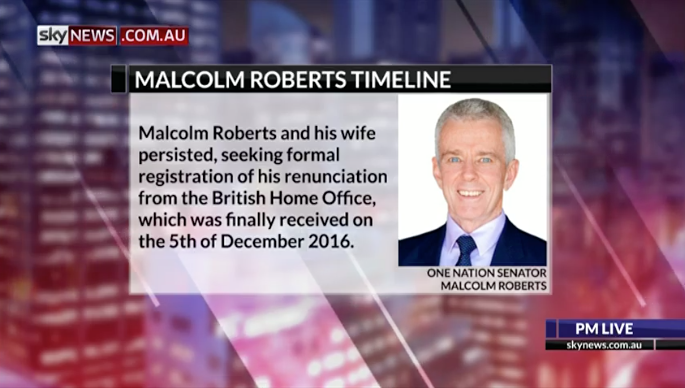 As Roberts hadn't actually released the relevant documents, reporters were left a little perplexed and had more questions.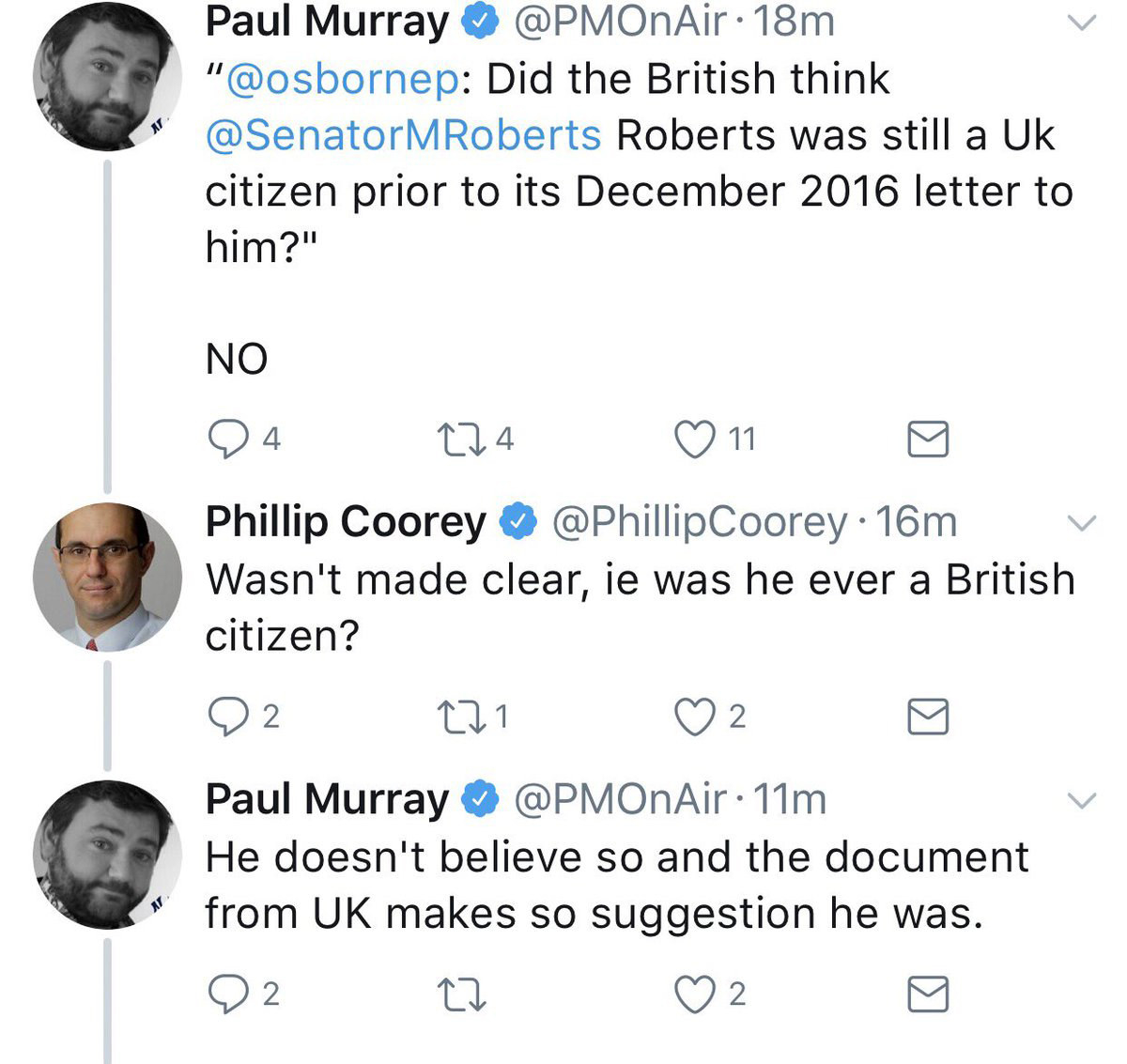 The "proof" also wouldn't be released to anyone else except News Corp...which probably means only Paul Murray on Sky News.
On Friday morning, Fairfax Media tried to get more details about Roberts, but was met with a startling response from Black.
In the email, Black threatened reporters, telling them they would be referred to the police for what he claimed was "stalking" and "harassment".
Meanwhile, the University of Sydney's constitutional law expert professor Anne Twomey told Fairfax Media that there remained serious questions about Roberts' story.
"It would be significant if that renunciation took effect after the nomination date," Twomey said. "The legal status of renunciation is a matter of UK law – not a matter of what Senator Roberts 'chooses to believe'."
"The second question is whether he had taken 'all reasonable steps' to renounce his foreign citizenship before the nomination date.
"If there was a formal procedure to do so and he did not comply with that procedure before the nomination date, then it is arguable that he did not take all reasonable steps."

On Friday, BuzzFeed News asked Sean Black whether Roberts was ever a British citizen, or whether documents would be released to the public.
Black replied: "I refer you to the Sky interview last night. These are the last of the comments we will offer on the matter.
"I now leave you to give this level of scrutiny to your comrades on the left."