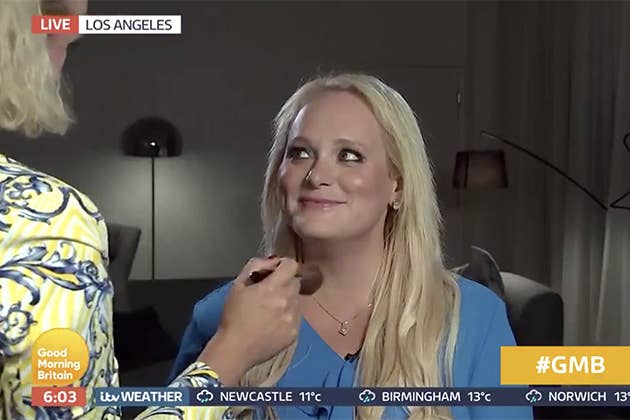 The female tech entrepreneur at the centre of a brewing political scandal involving prime minister Boris Johnson was paid "low five-figures" by ITV's Good Morning Britain to appear on the show on Monday, according to a source familiar with the matter.
Jennifer Arcuri gave her first TV interview to Good Morning Britain after three weeks of stories in the British press about her close relationship with Boris Johnson and allegations of conflicts of interest during his time as London mayor.
A series of Sunday Times reports over several weeks have detailed Arcuri's close relationship with Johnson, with both refusing to deny they were also having an affair. There are also now four separate inquiries into Johnson's conduct as mayor and public grants given to Arcuri.
On Monday morning, ITV's Piers Morgan and Susanna Reid went all out promoting the interview, billing the "world exclusive" with "the most talked-about woman in Britain". It drew fire from the show's counterparts at BBC Breakfast, with host Dan Walker asking, "On the theme of transparency...can we ask how much you paid her?"
According to a source familiar with the matter, ITV paid Arcuri between £10,000–20,000 for the interview. A spokesperson for ITV declined to comment.
The sum is significantly less than the amounts bandied about in the UK media last week. According to the Guardian, US lawyer Michael Walsh acting on behalf of Arcuri had claimed that five news outlets were in the running for the exclusive, with the highest apparently being $225,000.
But Walsh also added Arcuri would be going for "the best package…it may not necessarily be for the highest amount".
One factor that may have played a role in the "bidding war" for Arcuri's interview was that tabloids had been able to track down the tech entrepreneur in LA last week.
The Mail Online scored a brief interview on Wednesday, while the Daily Mirror got an unbelievably candid car park exchange with the tech entrepreneur on Thursday which included unforgettable quotes like, "If I was banging the dude and there was some kind of, like trail or sex tape, but there's nothing" and "I make men trip over their dicks".

It's not the first time ITV's Good Morning Britain has taken out the cheque book: The morning show reportedly paid £7,500 for Meghan Markle's father to appear in June last year.