A Former BBC Presenter Says She Was Dropped From "Today" Because Of The Leaked John Humphrys Remarks
"One rule for men, another for women at the BBC," Miriam O'Reilly, who took legal action against the BBC for age discrimination in 2011, told BuzzFeed News.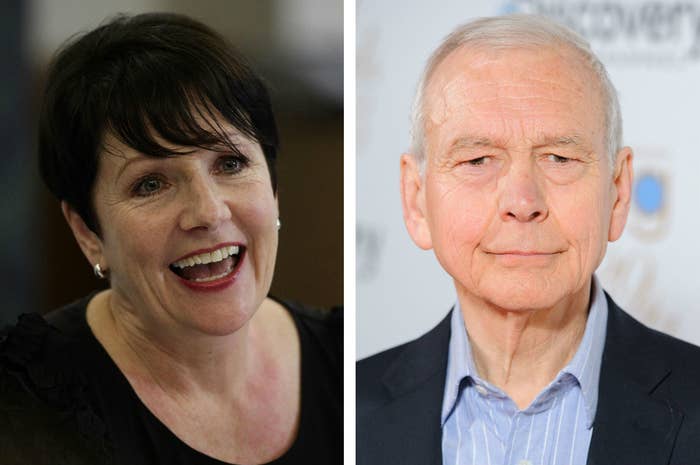 A former presenter has accused the BBC of double standards after she was dumped from an appearance on the Today programme ahead of the leak of a damaging conversation involving host John Humphrys.

Miriam O'Reilly, the former host of BBC's Countryfile, told BuzzFeed News she was due to appear on the programme on Friday morning to speak about gender pay issues at the BBC, until she told a producer she had heard the tape of Humphrys' reported remarks. The BBC has told BuzzFeed News it often makes changes to contributor lineups before broadcast.
On Thursday night, the Sun and Times newspapers obtained the leaked transcript of Humphrys, the highest-paid presenter of Radio 4's flagship news programme, having a disparaging conversation with BBC North America editor Jon Sopel about their colleague Carrie Gracie's demand for equal pay.
"I could save you the trouble as I could volunteer that I've handed over already more than you fucking earn, but I'm still left with more than anybody else and that seems to me to be entirely just – something like that would do it?" Humphrys, who earns more than £600,000, reportedly joked to Sopel, who earns up to £250,000.
The conversation reportedly took place before a segment on Monday morning after Gracie – also a guest presenter on the programme that morning – had published a bombshell letter accusing BBC management of running a "secretive and illegal" pay culture and "breaking equality law", and quit as China editor.
O'Reilly said her appearance on Today on Friday was "all confirmed" and she was having a final briefing with the producer on Thursday "when I said I had heard the tape".
"Less than five minutes later he came back and said something like because of the nature of news he would have to rearrange my interview for another day, perhaps Saturday [when Humphrys does not present the show]," she added.
Earlier this week, BBC management said staff who expressed opinions about Gracie's letter and the gender pay "crisis" at the broadcaster would be excluded from presenting on the issue.
It led to BBC Woman's Hour host Jane Garvey sitting out for a segment on her own programme, while Radio 4 host Winifred Robinson was taken off air because of a tweet backing Gracie.
On Friday morning, Garvey tweeted to say she was heading to work at the "Department of Mixed Messages, formerly known as the BBC".
O'Reilly said the BBC's decision to dump her interview while allowing Humphrys to cohost Friday's Today programme as normal – despite the news breaking of his disparaging remarks – revealed double standards at the corporation.
"So basically I was stood down rather than Mr Humphrys," she said. "That did not happen to Winifred Robinson.

"One rule for men, another for women at the BBC."
In 2011, O'Reilly successfully took legal action against BBC management's decision to drop her from the rural affairs show Countryfile, arguing that she was dismissed because of age discrimination.

A BBC spokesperson told BuzzFeed News on Friday that the decision to drop O'Reilly from the Today broadcast was made on editorial grounds.
"This item became a much broader discussion about social change and consequently [writer] Afua Hirsch was a more suitable guest to talk about the wider issues," a statement read. "It's wrong to suggest anything else."
On Thursday night, a BBC spokesperson also released a statement about the leak of Humphrys's remarks, saying: "This was an ill-advised off-air conversation which the presenter regrets."
A BBC source added that "management are deeply unimpressed" by the episode.