So you need a job?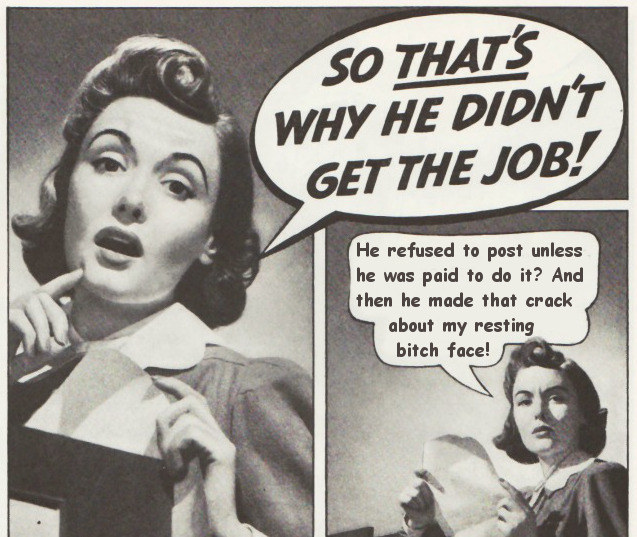 Out of work?
The new old economy giving you a bum deal?
Most exployers pay you peanuts for all your sweat and strife.
Who needs it?!
Take this placement inventory and find out what job you already do on the Internet! Find out if you're an Internet mogul or just another one of the hoi polloi.
1.

When you hear some BIG news, a real Lulu, what do you do?

Blab it to the whole world

Share it on the DL. (It'll cost you)

Deliver the skinny to the one person who needs to hear it the most

Take a gander but keep your trap shut

Stop its spread before it gets ugly

Pin it to your hand picked board of important news items

2.

When some meatball posts something rude, what do you do?

Tell the Top 10 Juiciest bits to anyone who'll listen

Ignore it, maybe even Like it. Hey, to each their own!

Give the person a warning. Make sure they know where they'll end up if they follow that path, right, Buster?

Make a mental note. Might be useful info later.

What bad behavior? You didn't see anything fishy.

3.

When you come across a juicy rumor on the Internet, do you...

Tell it to your gal pals with some smart aleck-y commentary

Share it just with a trusted few? (if they slip you some sawbucks)

Post it to the world and reap the upvotes!

Share it with individual friends -- one at a time -- discreetly.

Ignore it. Could be just a bum rap. Let's keep the party polite!

Mums the word. Although you might spill a drop or two at a friendly backdoor.

4.

When someone posts that they have sad news, what do you do?

Ask "What's eating you?" and offer a friendly ear or shoulder.

Tell them about the top 15 other people that's happened to

Try to help make it better with an FWB "special delivery"

Send them a picture of your silly mug!

Accentuate the positive maybe by congratulating them on their work anniversary

Pin it to your message board of Crummy News

Snapping photos of the donuts to share with drooling followers

Writing up a sassy review of the donut shop

Adding the donuts or the shop to your Naughty Nibbles Pinboard

Inspecting the shop to make sure it's not a front for the mob

Picking up a dozen or 2 to bring to the office

Taking a quiz to find out what kind of donut you are. (You are a cronut, btw)

6.

When some big event happens to you, what do you do?

Snap a photo and post it online!

Broadcast it to the whole world. READ ALL ABOUT IT!

Make a formal announcement and send it out to the whole network

Give your own horn a little toot when no one's looking!

Keep it to yourself, pretty dang sure that your good news spells bad news for some unlucky bum

Demure with a #humblebrag

7.

When you find true beauty, what do you do?

Pin it to your bouquet of other beautiful things and share it with friends

Snap a picture of it and fade it through a Valencia filter

Add it to Top 10 Things More Truly Beautiful Than a Thigh Gap

8.

How free are you with your Likes?

You gladly Like anyone who Likes your content

Likes all around, but a wink-wink will get you a Sticker

You distrust posts and Likes. They both spell trouble

Tight-fisted, You're about getting the Likes not giving them

9.

When people you don't know try to add you as a friend, you...

Add them so you can hit up their contacts

Say No Dice! You don't go in for any of that phoney stuff

Swipe right if they look swell

You'll be anybody's friends if they've got some lettuce

You're a 1-to-1, not a 1-to-many kind of person. You'll only add them if you know them.

Send them the Sorting Hat Quiz and compare see what House they get

10.

What would you do to increase profile views?

Add a high-profile windbag to your contacts?

Post something that makes them flip their wigs!

Create a quizicle featuring Hogwarts, Princesses, and Kitties

Post a bathroom selfie of your roomate

Spend a week straight of all-night pinsomniac pinning sessions!

11.

If some dope posted some embarrassing content what would you do?

Pull them aside in a private text or DM.

Look 'em straight in the face and Like it! Make it seem like they meant it!

Let everyone know that the 4th thing you gotta tell them will BLOW THEIR MIND!

Flag it and bag it -- These knuckleheads need protecting from their selfies

Screenshot that puppy and repost for your own Likes

Take a gander but don't say nothing. You're only human.
This post was created by a member of BuzzFeed Community, where anyone can post awesome lists and creations.
Learn more
or
post your buzz!