Pete Davidson Is Now Making Fans Sign A $1 Million NDA To Attend His Comedy Shows, And The Jokes Are Flowing
What makes a joke worth $1 million? Only Pete Davidson and his recent comedy show attendees know.
Ever since his dating life became a tabloid fixture, so has the content of Pete Davidson's stand-up comedy shows.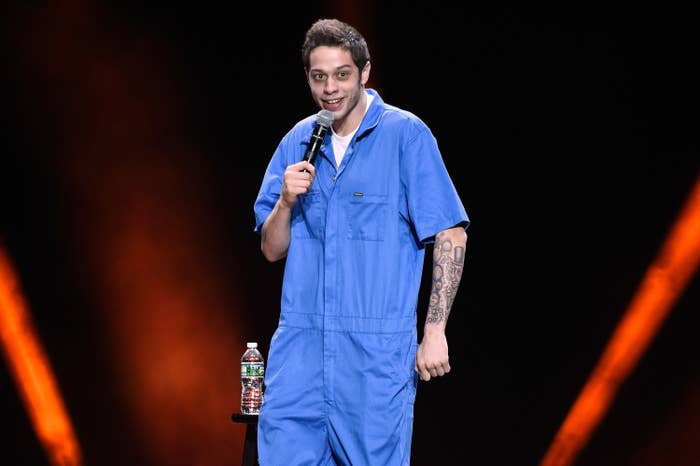 But, at least for the time being, don't expect to hear any of Pete's jokes — if you're not actually at one of his shows. That's because the SNL star is now, apparently, making all attendees sign a $1 million NDA.
Fans who've recently purchased tickets to see the comedian in performance have been reporting some serious requirements they had to agree to in order to attend.
For one, attendees are not allowed to talk about Pete's jokes AT ALL.
"The individual shall not give any interviews, offer any opinions or critiques, or otherwise participate by any means or in any form whatsoever (including but not limited to blogs, Twitter, Facebook, YouTube, Instagram, or any other social networking or other websites whether no existing or hereafter created)," reads an agreement one fan was given after purchasing tickets.
"It also authorizes them to confiscate (including seize & destroy the contents of) any cell phones, cameras or PDAs and that ANY BREACH of the agreement will REQUIRE PAYMENT OF $1 MILLION in damages as well as the legal costs," as a brave fan, who shared the agreement on Facebook, wrote.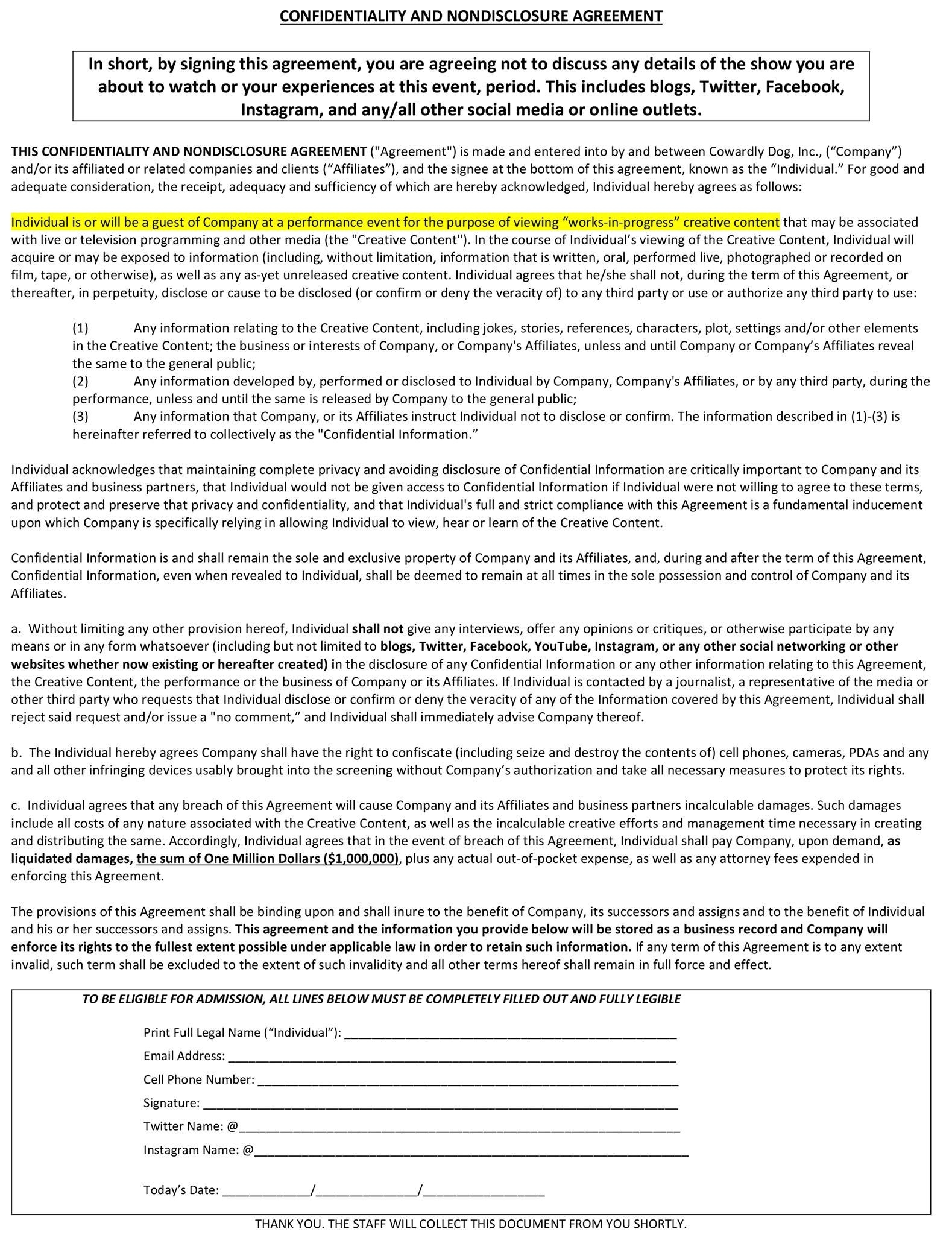 "I understood and was willing to consent to the initial request of locking up any phones or cameras brought to the event, but I think this a bit ridiculous and over the top," the fan added.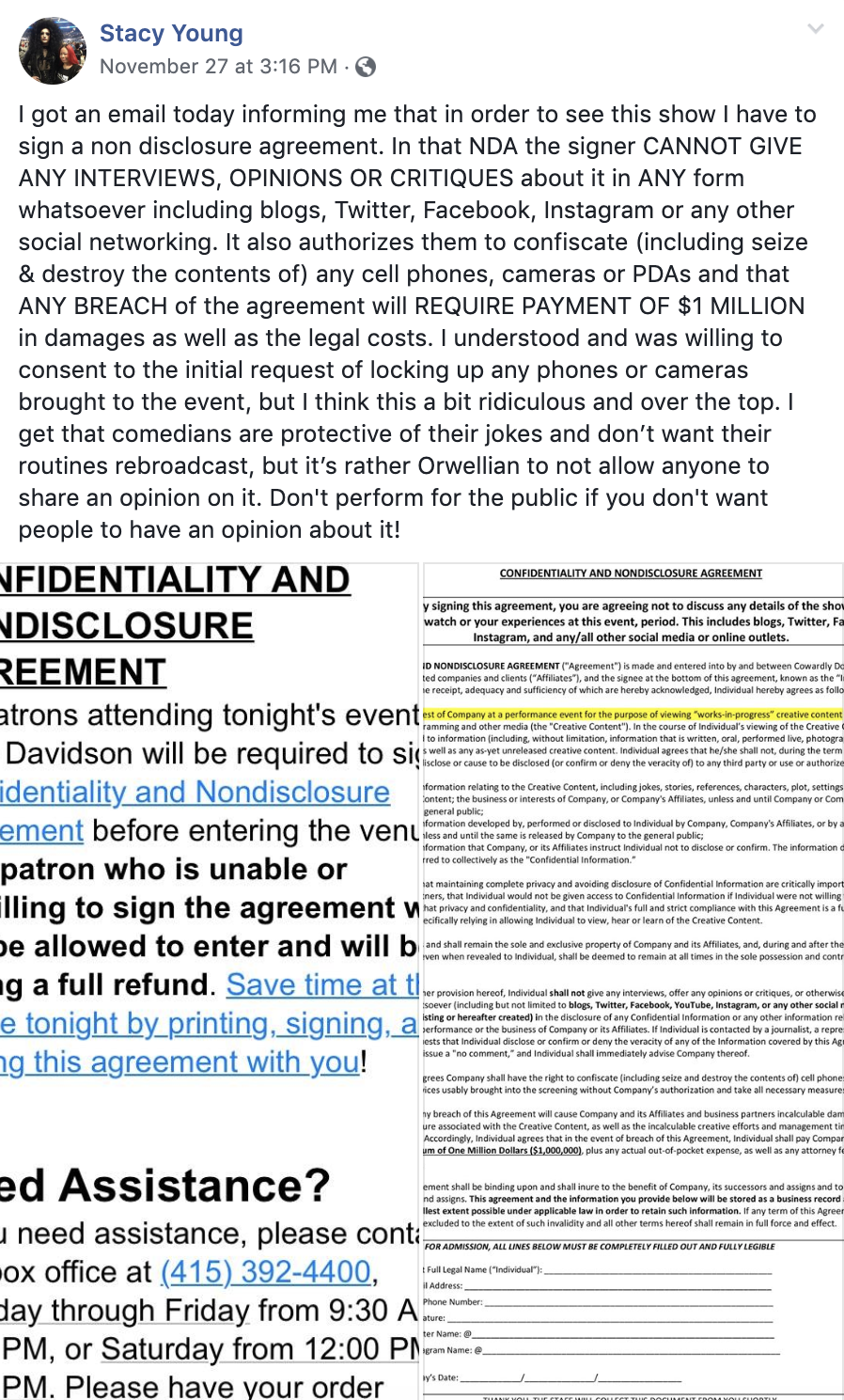 "I get that comedians are protective of their jokes and don't want their routines rebroadcast, but it's rather Orwellian to not allow anyone to share an opinion on it," the fan wrote, "Don't perform for the public if you don't want people to have an opinion about it!"
Still, this hasn't stopped people from attending his recent shows — and having a good time.
Although, it has created all sorts of questions — and, obviously, jokes.
There are a lot of takes on the situation.
Honestly, though, props to Pete because, finding out about this, you have to wonder: What jokes could possibly be worth $1 million?