Madelaine Petsch Is Proud Of Being A Just Okay Home Cook
She's refreshingly honest.
Back in March, Riverdale shut down production in the wake of the coronavirus pandemic, much to fans' and the actors' disappointment. Since then, Madelaine Petsch, aka Cheryl Blossom, has been taking some much-needed chill time, reconnecting with nature, cooking at home, and using it as an opportunity to empower women about birth control as an ambassador for Lo Loestrin Fe.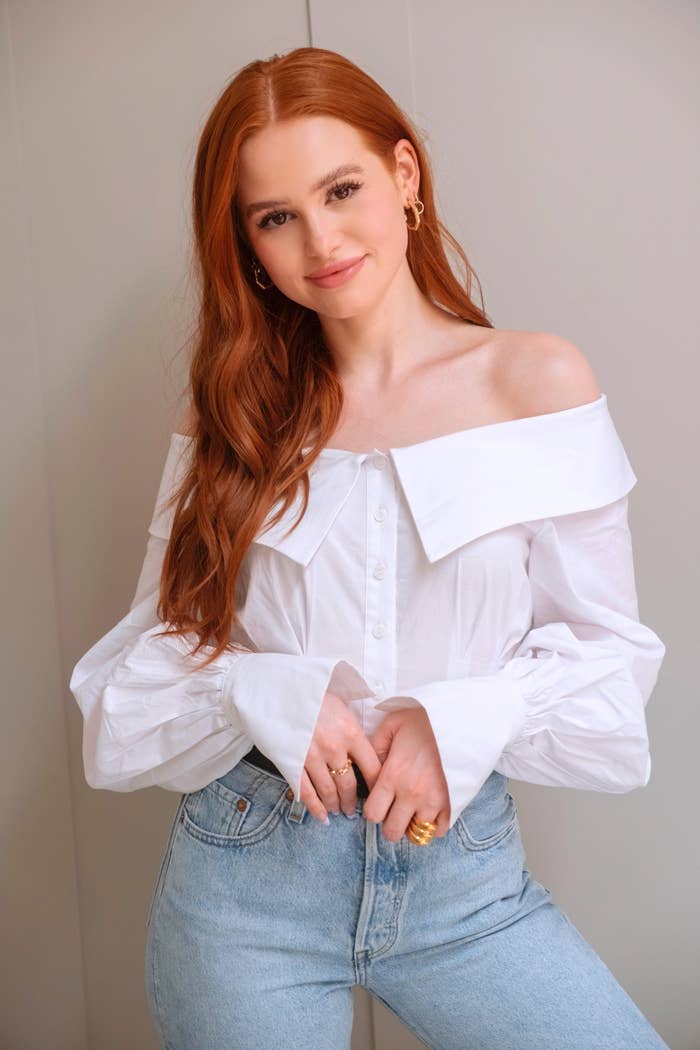 As much as she's enjoying her time off, she's definitely ready to suit back up as Cheryl. "I've got to try to put a positive spin on it, but I definitely miss being at work — that's when I'm happiest," she tells BuzzFeed over the phone in an exclusive interview. Still, Madelaine has been finding plenty of joy during quarantine — below, she opens up about how she's been staying busy, how she connects with Cheryl, and what Riverdale holds for fans when it does return.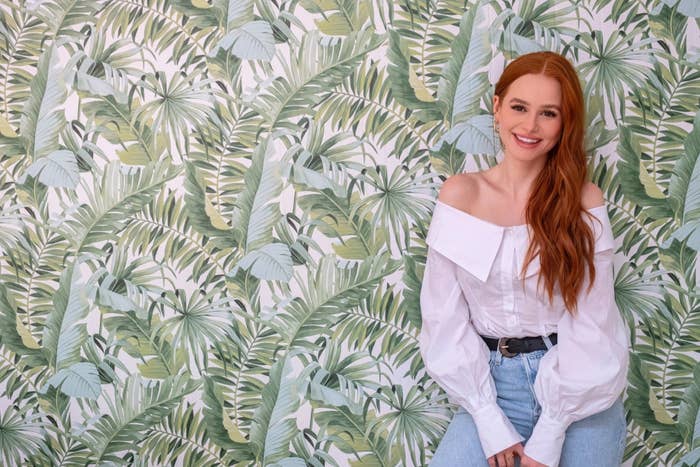 What's been your go-to method of unwinding these days?
"Meditation has been incredibly helpful for me, as well as a consistent workout routine — that keeps my depression level bearable right now. I work with a trainer and he gets me out of my head, which is what I need most for that hour every day."
After coming home from a day of filming, how do you put distance between yourself and Cheryl Blossom?
"I don't really feel like I need to, for the most part. I step into her shoes on set and then the minute I put my clothes back on, I'm Madelaine again. It doesn't affect me like that. But if it's been an emotionally trying day on set, I'll take a bath, light a candle, and read a book. I think about how my job is basically to create an escape for people for that hour a day, and when I come home from creating that, I need to find my escape for that hour a day [laughs]."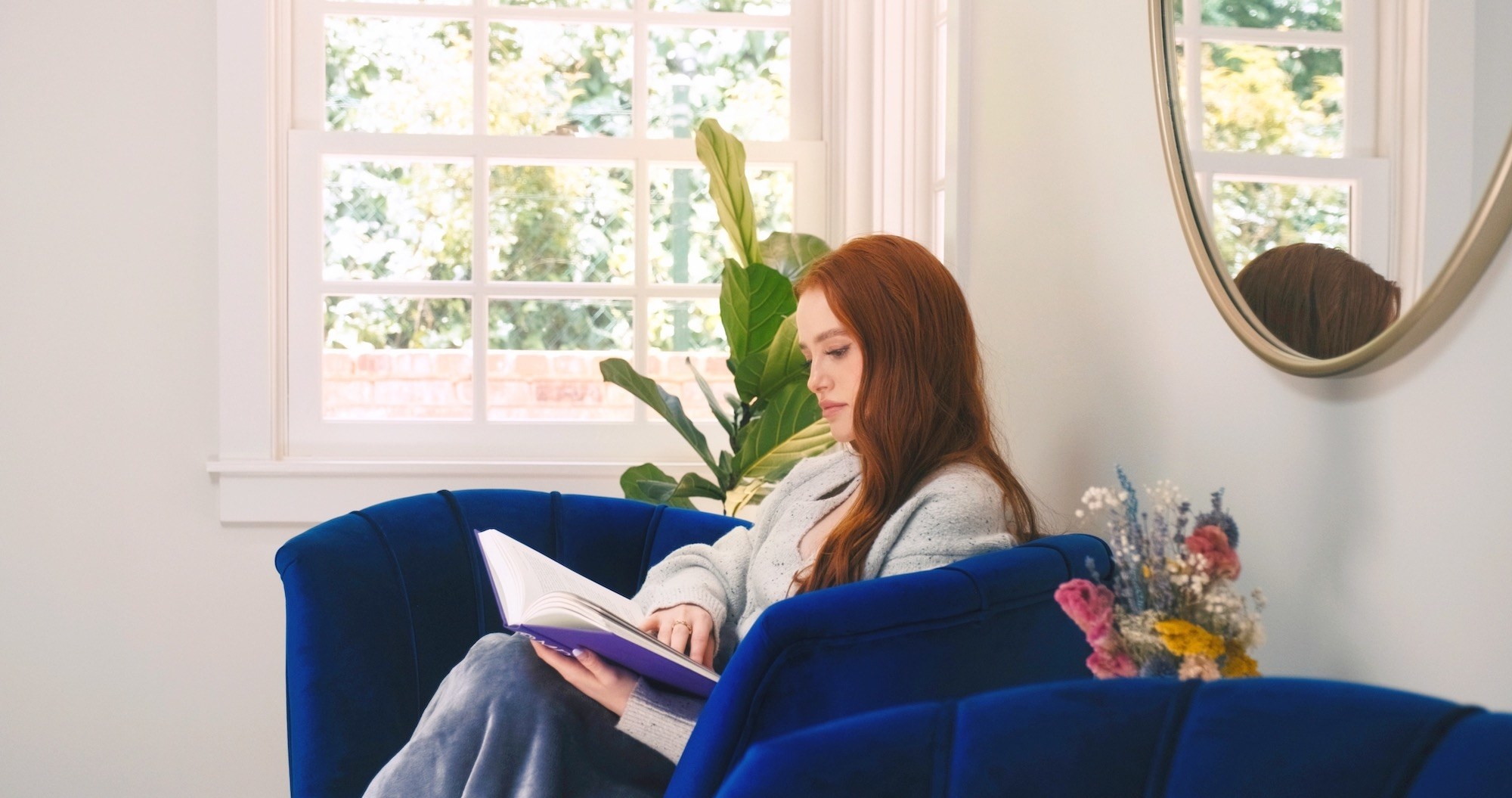 How do you usually slip into character? Do you have a routine when you get on set?
"I don't really have any rituals or anything. I do my own makeup on set, so that helps me get into my groove as Cheryl. I know Cheryl would do her own makeup, so it helps me feel more like her to emote how she's feeling with her makeup and what's going on in the scene. Honestly, it's like flipping a switch for me now with Cheryl — it's so easy. It's kind of ingrained in me."
That's so cool that you do your own makeup. Is that common? Or are you the only person doing your own makeup on Riverdale?
"I think it's fairly common with my actor friends — a lot of them choose to do their own makeup. We have fantastic artists on set who are ready and available to us. It's hard because, with the hair and makeup industry, people come and go a lot and I want my look to stay consistent and I know what works best for my skin. I've had this skin for 25 years. Lili [Reinhart] also does her own makeup as well, and Vanessa [Morgan] does sometimes."
Do you have any favorite TV show or movies that you've discovered during quarantine?
"I started watching Unsolved Mysteries on Netflix, which I'm really into. They just reopened one of the cases too, which I think is so cool. I've honestly been trying to focus on being outside more. I live in LA and it's so beautiful out. I've also been watching old movies that I used to love, like Night at the Roxbury — movies that make me laugh and instilled why I wanted to be an actress."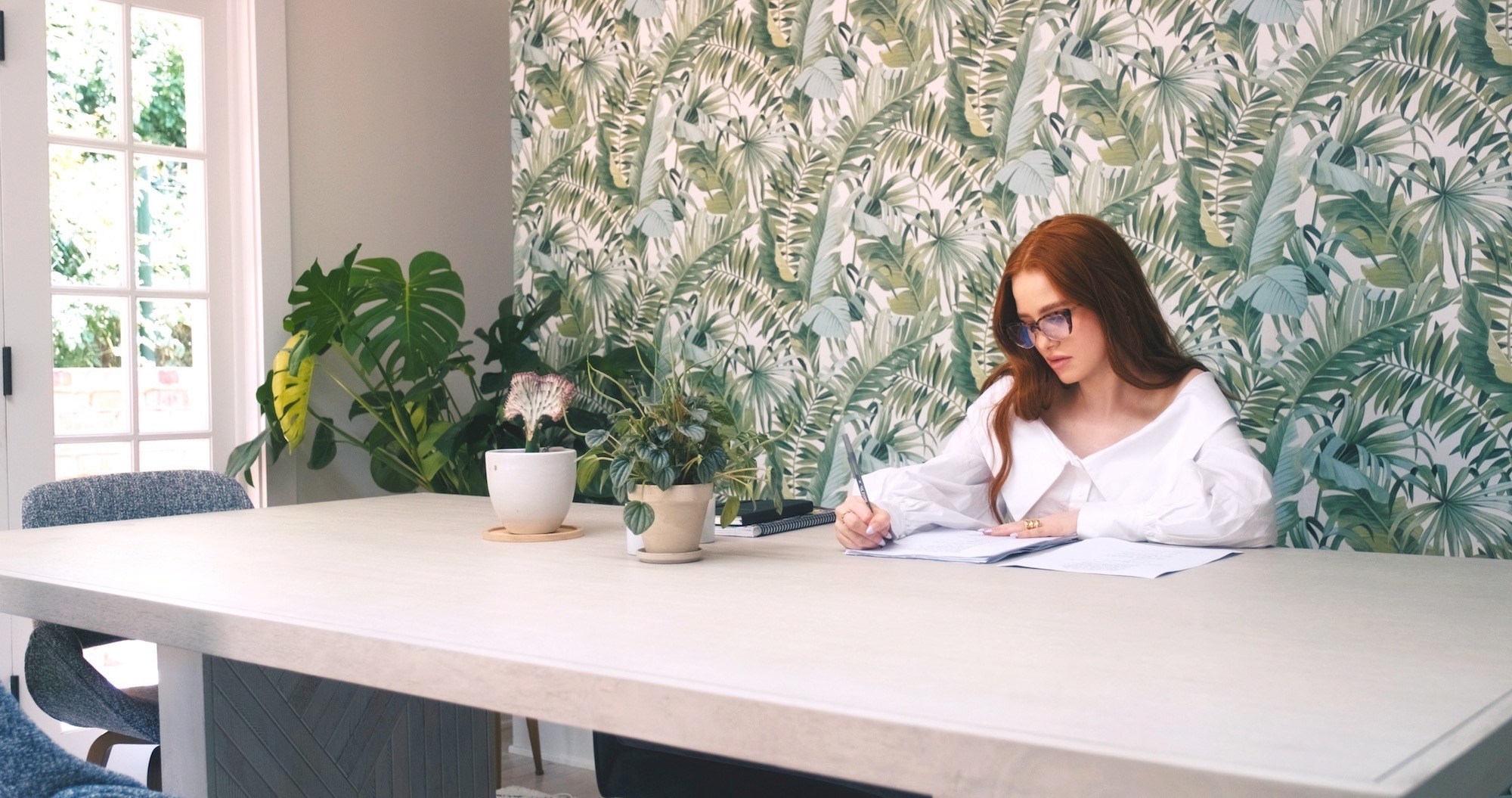 What's been your favorite podcast lately?
"Armchair Expert with Dax Shepard is my favorite podcast. I'm so obsessed."
What have you been listening to lately, music-wise?
"My favorite artists are Thin Lizzy and Rex Orange County. Gus Dapperton. Fun indie, alternative music that's going to make me happy."
Are you missing concerts at all?
"I was never a huge concertgoer to begin with, so I'm not really missing it, but I know the artists must be missing it."
How much time do you usually spend on social media each day?
"I really try to limit myself. Maybe 30 minutes."
What are some of your favorite accounts to follow on Instagram and TikTok?
"I don't have a TikTok, so I don't follow any there. On Instagram, I follow my friends and keep up with everybody. I don't follow a lot of people I don't know."
Are you the type of person who reads comments?
"No. You're kind of opening yourself up for a world of hate if you do that."
How do you usually unplug?
"Every day is different. Meditation is great. A bath is great. Checking in with my friends. Cooking. Anything that feels like it's not attached to a screen works pretty well for me. My job is a screen. Feeling connected to the earth and who I am as a person is really important to me."
Are you more of a home cook or more into takeout?
"I'm definitely more of a home cook because of my dietary restrictions. But I'm not saying I'm good at it, because I'm not. I cook for nutrition."
Is that something you've been working on during quarantine?
"No. It's so weird. My food tastes good to me, but I'm so health-based that I really focus on getting all of my food groups in one meal. When I cook for my best friend, she's usually like, 'Oh, it's so good.' But it's not that good."
Do you have a favorite thing to make?
"I'm really into protein pasta, like red lentil pasta. Then I put Daiya cheese on it, I chop some spinach, basil — it sounds good in theory, but it's probably not that delicious."
Love the honesty. Is there any update on when Riverdale will be filming again?
"No ma'am."
How much have you been keeping in touch with your castmates?
"Every day."
Do you have a group text?
"Yeah."
Are there any hints you can share for the next season?
"Oh boy. How do I say this without being super obvious? I guess just buckle up. Some people are going to be not super stoked, but some people are going to like it [laughs]. There's one thing I'm thinking about in particular. But buckle up!"
Why was it important for you to team up with Lo Loestrin Fe?
I'm really excited to work on this campaign because it's all about empowering people to research their options when it comes to pregnancy prevention. That's the entire point of the campaign: to empower people to look into what options they have and make educated decisions about their birth control options based on research.