Get your life on track and find happiness no matter what--it is a journey. We will avoid the individual voyage and puts your life on pause while life goes on. Take control of your life by recognizing who you are this moment.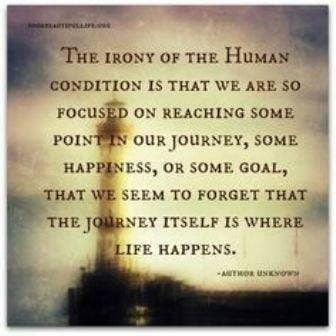 To fear change is to stops a process referred to as an evolving life. A life that evolves because we experience; an experience which necessitates our evolving reality without being obstructed by a behavior leading avoidance. And in facing life we must all come to its terms--terms which we have created by our own choices and decisions or have been stricken by unfortunate circumstance/s--but it is your life story.
Haven't we met a goal and destination which you find yourself currently--rather than waiting for the day "it just will happen;" a illusion that doesn't exist. What does exist is this very moment with each breath you take and each thought that runs through your mind. This is your life's journey--the moment you find yourself and the behaviors you engage in because there is a purpose. Another day and another reason to keep moving in the right direction; forward--and building your life story.
Our environments we associate with our journey are changing every moment and everyday. Some environments stick around for a while until it has met its purpose--be it a job, relationship or house, etc. Sometimes a journey continues on and changes the environment--to a new town/city, etc. And by far the intensity of the newer environment can be scary. It reflects the diligence or the opposing other--the regret of not doing and re-directs the journey you were not supposed to take.
A moment, per se, never leaves a person; in fact the moment that has remained unlived by a person, also remains as an unchanging circumstance that remains as it is until it has been rightfully lived. Call it shattered dreams or an unrelenting broken heart that led to a loss of hope and re-direction. Or be it a dream that has survived the hardships--let downs and so on but is stuck as we wait for others to make our journey happen.
Either way, you remain in the moments you willingly lived or chose not to by actively avoiding. Yet, you my friend... have a purpose. It is normal to feel afraid and uncertain at times because the struggle is always the story. It is normal to lead a life with perseverance, even against all odds and this creates a mindset for living a life worth living. Nothing is easy in obtaining and there are no easy ways around it. Traits/characteristics of who we are often determine the mindset needed for living in the moment. A mindset anyone could learn to have because it is essential to ones journey. This mindset, which I have learned firsthand encapsulates a well-developed self-concept: Self-worth/love, self-respect, sense of agency, confidence and self-esteem. Self-concept helps a person attend to their life with skills that allow one to trust thy self and to not be afraid to hold hope. This particular character is one that has been developed to become, and is evidenced by a persons response when faced with adversity. And most importantly--what it is to live an authentic life, i.e. standing up for what you believe in (including believing in yourself) even if you're the only one standing. As long as you are you and your moment is also equal to your hearts contentment! You are authentic.
Not all endings are ideal. Sometimes good things come to an end because the end was intended--also to play a pivotal part in how you will reach your full potential.
What is your life story? And where are you this very moment so this story can be written by your footsteps and willingness to recognize that life is this moment. This moment should recognize that the journey is constant, whereas the environment does not remain the same.
-Gina Sarpy aka Marina Gina
I'm not a writer but I write.
This post was created by a member of BuzzFeed Community, where anyone can post awesome lists and creations.
Learn more
or
post your buzz!