Is there anything better than straight-out-of-the-oven baked goods?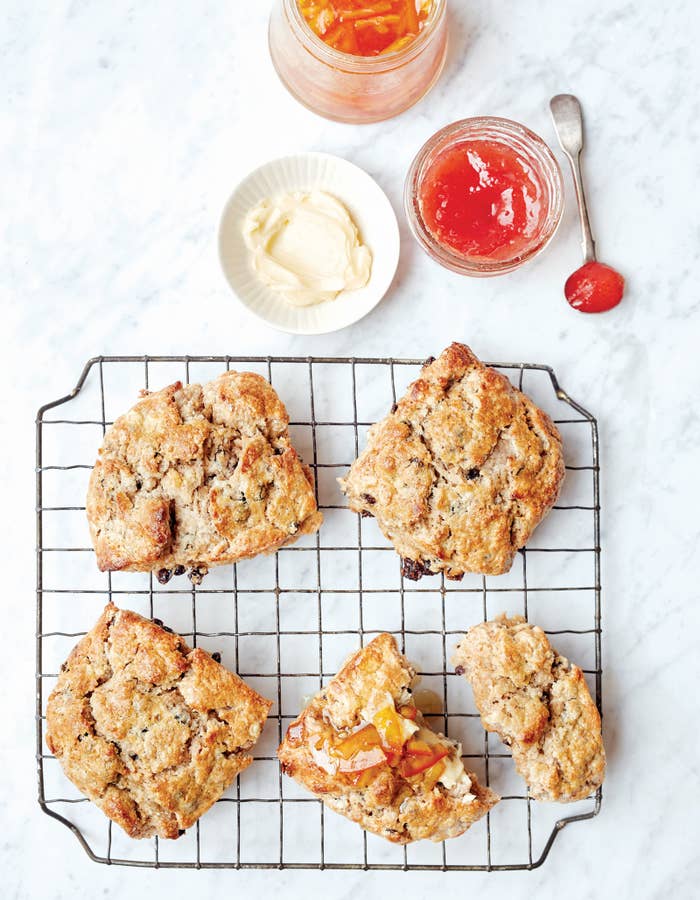 And I just happen to have the perfect baking project for your next weekend at home.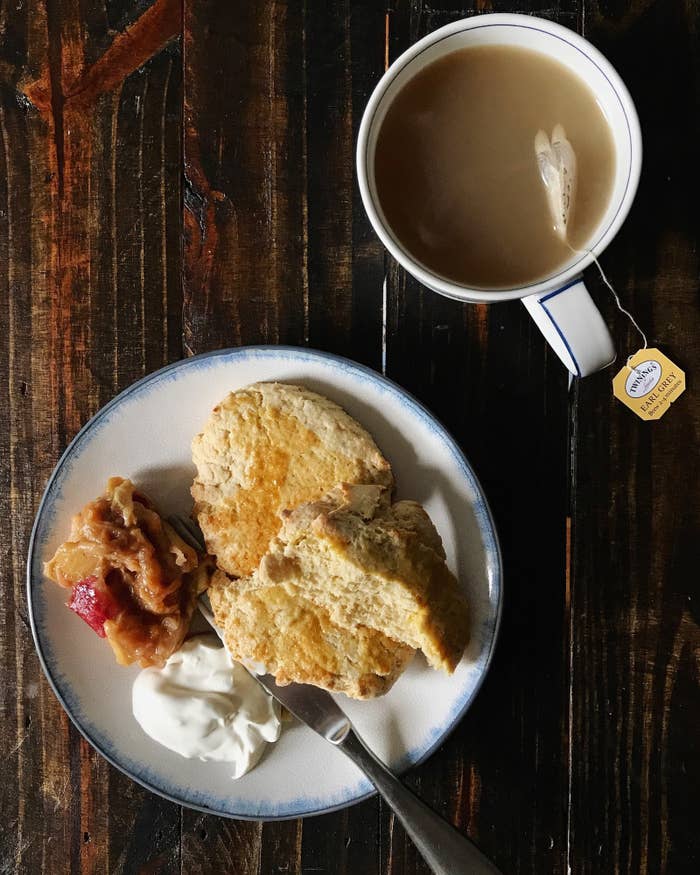 To serve these babies, I picked another recipe from the book: a honey-roasted rhubarb compote.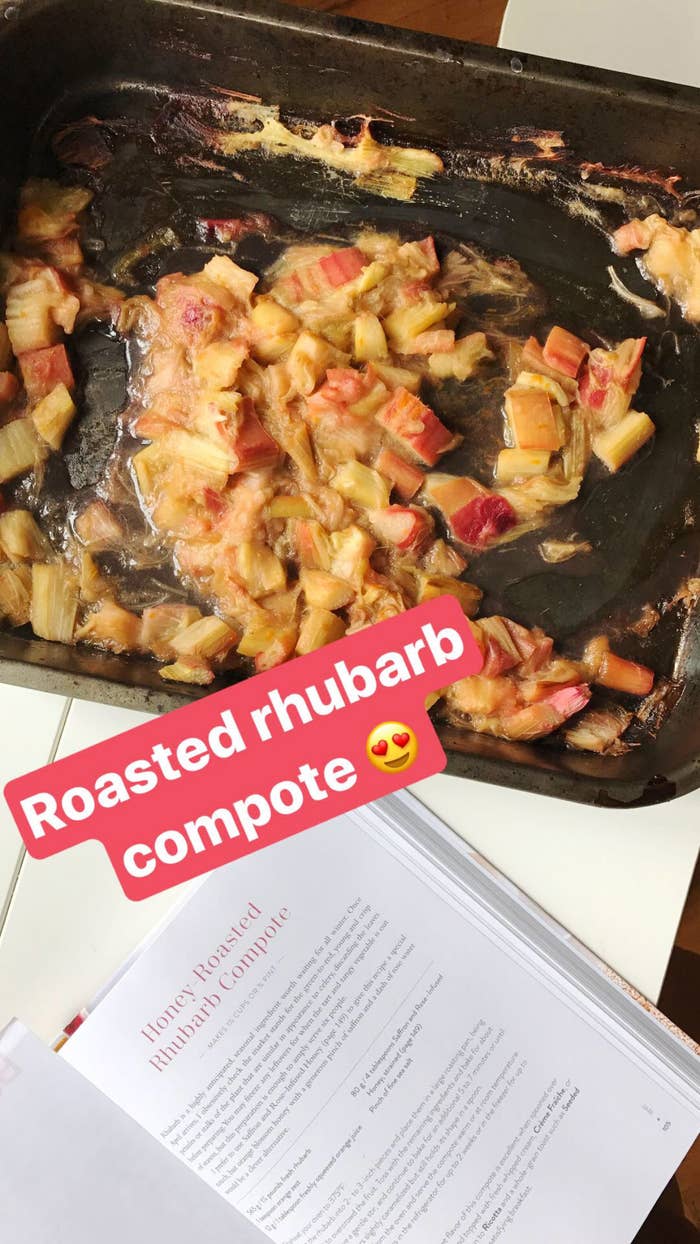 Here are the recipes if you want to make them too!
CURRANT CREAM SCONES
Makes 6 small or 4 large scones
INGREDIENTS

For the soaker
80 g / ½ cup dried currants
30 g / 3 tablespoons Grand Marnier or Cointreau

For the dough
120 g / 1 cup all-purpose flour
110 g / 1 cup whole wheat pastry flour
65 g / ⅓ cup granulated sugar
2 teaspoons baking powder
½ teaspoon fine sea salt
70 g / 5 tablespoons cold unsalted butter, cubed
45 g / 3 tablespoons crème fraîche
20 to 30 g / 2 to 3 tablespoons whole milk
1 large egg (50 g)
1 teaspoon lemon zest
10 g / 1 tablespoon freshly squeezed lemon juice

For the egg wash
1 large egg yolk
Generous dash of heavy cream
1 to 2 tablespoons coarse sugar
PREPARATION
At least 2 hours before you plan to make the scones (or even better, the night before), make the soaker. Stir together the currants and liqueur in a small bowl, cover with with plastic or a clean towel, and set aside to soak at room temperature.
Preheat the oven to 400°F/200°C and line a sheet pan with parchment paper.
To make the dough, whisk together the flour, sugar, baking powder, and salt in a large bowl. Working quickly, cut in the butter with your fingers or a pastry blender until the mixture resembles coarse meal. (Alternatively, you may perform this step in a food processor.)
In a separate small bowl, whisk together the crème fraîche, 2 tablespoons of the whole milk, the egg, lemon zest, and lemon juice. Stir in the currants and then fold this mixture into the flour and butter mixture until the dough just starts to come together, using a light hand as you would making biscuits — do not overmix. If the mixture feels dry, add another tablespoon of milk and mix just until it binds together.
To make the egg wash, whisk together the egg yolk and cream.
Remove the dough from the bowl and place it on a lightly floured work surface. Pat or roll the dough into a slab about ¾ to 1 inch thick. Using a bench knife or biscuit cutter, cut out 6 small scones or divide the dough into 4 larger scones, gently rerolling the dough if necessary. Place the scones on the prepared sheet pan and brush the tops of the scones with the egg wash. Sprinkle generously with coarse sugar and bake for about 15 to 17 minutes or until the tops are golden. Remove the scones from the oven and let them cool slightly on a wire rack; serve warm.
HONEY-ROASTED RHUBARB COMPOTE
Makes 1½ cups or ¾ pint

INGREDIENTS
565 g / 1¼ pounds fresh rhubarb
1 teaspoon orange zest
12 g / 1 tablespoon freshly squeezed orange juice
80 g / 4 tablespoons saffron- and rose–infused honey, strained
Pinch of fine sea salt
PREPARATION
Preheat your oven to 375°F/190°C.
Cut the rhubarb into 2- to 3-inch pieces and place them in a large roasting pan, being careful not to overcrowd the fruit. Toss with the remaining ingredients and bake for about 10 minutes. Give a gentle stir, and continue to bake for an additional 5 to 7 minutes or until the rhubarb appears slightly caramelized but still holds its shape in a spoon.
Remove the pan from the oven and serve the compote warm or at room temperature. Keep it stored in clean jars in the refrigerator for up to 2 weeks or in the freezer for up to 6 months.
Reprinted from Toast and Jam by Sarah Owens © 2017 by Sarah Owens. Photographs © 2017 by Ngoc Minh Ngo. Reprinted in arrangement with Roost Books, an imprint of Shambhala Publications, Inc. Boulder, Colorado