Pumpkin pasties are one of Harry's favorite treats in the Hogwarts Express, so they had to be part of our Hogwarts Feast.
We decided to make them savory, with a mixture of pumpkin purée, mashed potatoes, cheddar, and bacon. Find the recipe below!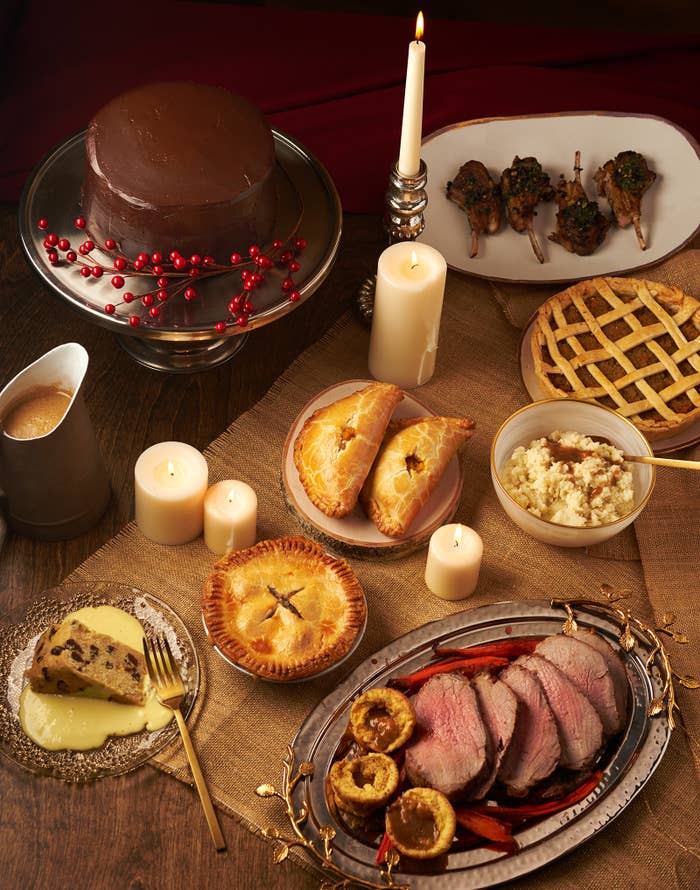 PUMPKIN PASTIES
Makes 8 pasties
INGREDIENTS
Crust:
3 cups flour
2⁄3 cup whole milk Greek yogurt
1 egg, beaten
1½ tsp salt
1 cup butter, chilled
Filling:
1 cup mashed potatoes (we used this Food Network Garlic Mashed Potatoes recipe but any mashed potato recipe will work)
1 15 oz can pumpkin purée
6 slices bacon, cooked and sliced in little bits
½ cup shredded cheddar cheese
1 tsp mustard powder
Salt, pepper to taste
1 egg yolk, beaten, for egg wash
PREPARATION
Start by making the crust. Place butter in the freezer for 15 minutes. Place flour and salt into mixing bowl and stir until combined. With cheese grater, grate chilled butter into flour and mix in with your fingers, rubbing mixture, until dough is in pea-size balls.
In small bowl, whisk yogurt and egg together. Add half of yogurt-egg mixture to the dough and mix. Add second half and mix until dough starts to form.
Flip dough onto lightly floured counter and knead for a couple of minutes, until dough sticks together in a ball. Wrap in plastic wrap and chill for an hour.
Fifteen minutes before dough is done chilling, mix mashed potatoes, pumpkin puree, bits of bacon, shredded cheese, mustard powder, salt, and pepper in large bowl.
Preheat oven to 350°F.
Take dough out of fridge and let soften at room temperature for 10 minutes before handling. Cut dough into 8 portions. On lightly floured surface, roll dough with a rolling pin, until you get a 1/8-inch thick piece of dough.
Scoop a spoonful of the pumpkin mixture in the middle of dough. With a bit of water, wet the edges of the dough. Flip one side of the dough onto the opposite side, enveloping the pumpkin mix, to form the pasties. Press both sides together with fork to seal pasty. Repeat with other 7 pasties.
Place pasties on baking tray lined with parchment paper. With brush, brush each pasty with egg wash. With knife, slice the top of each pasties twice in the shape of a cross.
Bake for about 50 minutes, until golden brown. Let cool for 15 minutes before serving.
Enjoy!