This Strawberry Crumble Basically Tastes Like Summer
Strawberry-rhubarb is a combo for the ages.
by
,
One of the best things about spring is that it's both rhubarb and strawberry season. Which means you get to experience one of the greatest food combos in as many baked goods as you want.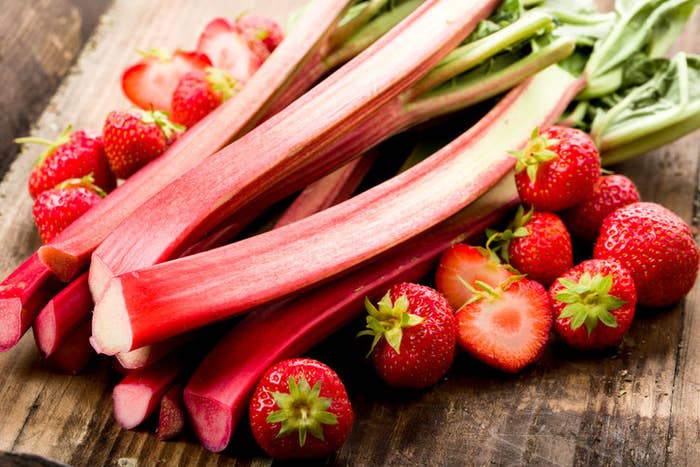 And one of the best ways to enjoy those flavors is this rhubarb and strawberry crumble cake.
This crumble has it all: a fantastic cake base, a delicious strawberry rhubarb layer, and a thick crumb topping.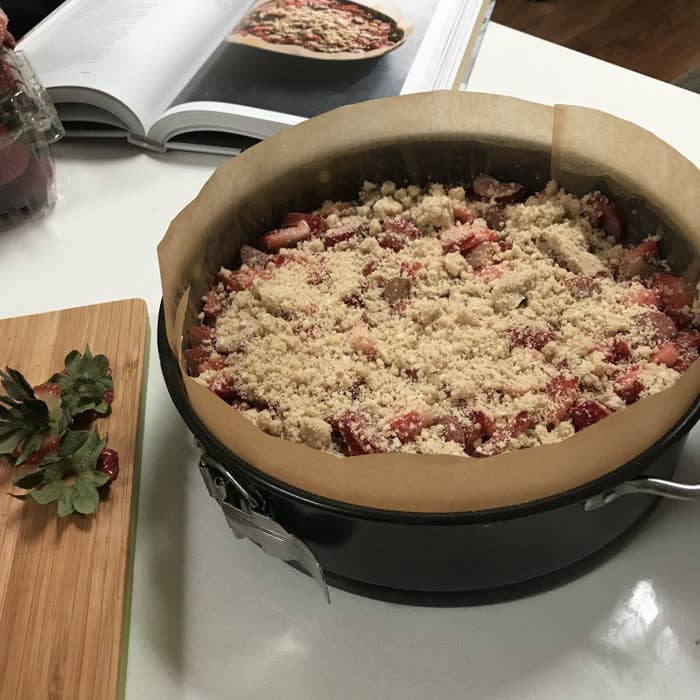 Here's the recipe if you want to make it at home!
RHUBARB AND STRAWBERRY CRUMBLE CAKE
Serves 12
INGREDIENTS
Crumble
8 1/2 tbsp/120 g unsalted butter, melted
3/4 packed cup/150 g light brown sugar
1 1/2 cups/190 g all-purpose flour
1/4 cup/30 g finely shredded coconut
¼ tsp salt
Fruit
9 oz/260 g rhubarb (2 or 3 medium stalks), cut into 1/3-inch/1-cm slices
9 oz/260 g strawberries, hulled and sliced 1/4 inch/0.5 cm thick
2 packed tbsp light brown sugar
1/4 cup/30 g tapioca flour (or cornstarch)
2 tsp lemon juice
scraped seeds of ½ vanilla pod
1/8 tsp salt
Cake
1 1/2 cups/190 g all-purpose flour
¾ tsp baking powder
¼ tsp salt
3/4 cup/170 g unsalted butter, at room temperature, cubed
1 3/4 cups plus 1 1/2 tbsp/220 g confectioners' sugar
3 large eggs
1 tsp vanilla extract
PREPARATION
Preheat the oven to 375°F/190°C. Lightly grease a 9-inch/23-cm round or square springform pan (or deep cake pan with a removable base) and line with parchment paper, then set aside.
To make the crumble, place all the crumble ingredients in a large bowl and use your hands or a wooden spoon to mix; you need to work the mixture quite a lot to get evenly moist, large crumbs. The consistency will be damper and more pebbly than you might be expecting, but this is what you want. Set aside.
To make the fruit, place all the fruit ingredients in a medium bowl, toss gently to combine and then set aside.
To make the cake, sift the flour, baking powder and salt together into a bowl and set aside. Place the butter and confectioners' sugar in the bowl of an electric mixer with the paddle attachment in place. Beat for about 3 minutes on medium-high speed, until light and fluffy. Add the eggs, one at a time, beating well after each addition. Add the vanilla extract, followed by the dry ingredients and beat until combined. Turn the machine off as soon as everything is combined, then pour into the lined cake pan, using an offset spatula or the back of a spoon to
even out the surface. Next, spoon over the fruit mixture and then sprinkle evenly with the crumble mixture.
Bake for about 70 minutes, until the cake is golden brown on top and a skewer inserted into the center comes out moist from the fruit but with no trace of wet batter. Have a look at the cake after 25 minutes; if it looks like it is getting too dark on top, cover the pan with aluminum foil for the remainder of the baking, to prevent it taking on any more color. Set the cake aside until completely cool before removing from the pan and transferring to a cake platter to serve.
Equipment
We make this in a 9-inch/23-cm round springform pan, but use a 9-inch/23-cm square springform pan if that is what you have. Either way, just make sure it is springform or a deep cake pan with a removable base.
Storage
Once assembled, the cake will keep for 2 days, covered in plastic wrap or stored in an airtight container. The fruits may discolor a little, but this won't affect the taste.
Reprinted with permission from Sweet: Desserts from London's Ottolenghi by Yotam Ottolenghi and Helen Goh, copyright © 2017. Published by Ten Speed Press, an imprint of Penguin Random House.
For more delicious recipes, check out Sweet: Desserts from London's Ottolenghi by Yotam Ottolenghi and Helen Goh, which you can order here.