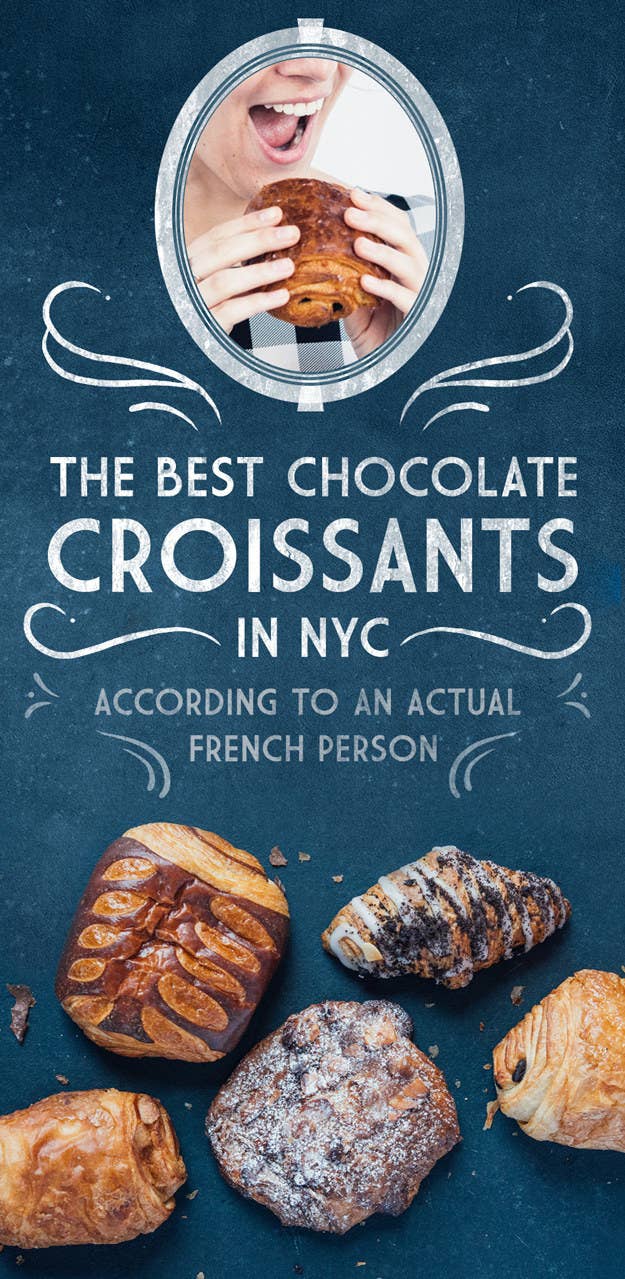 Hi! I'm Marie. I am French, born and raised, which pretty much means I was spoon-fed chocolate croissants from the cradle.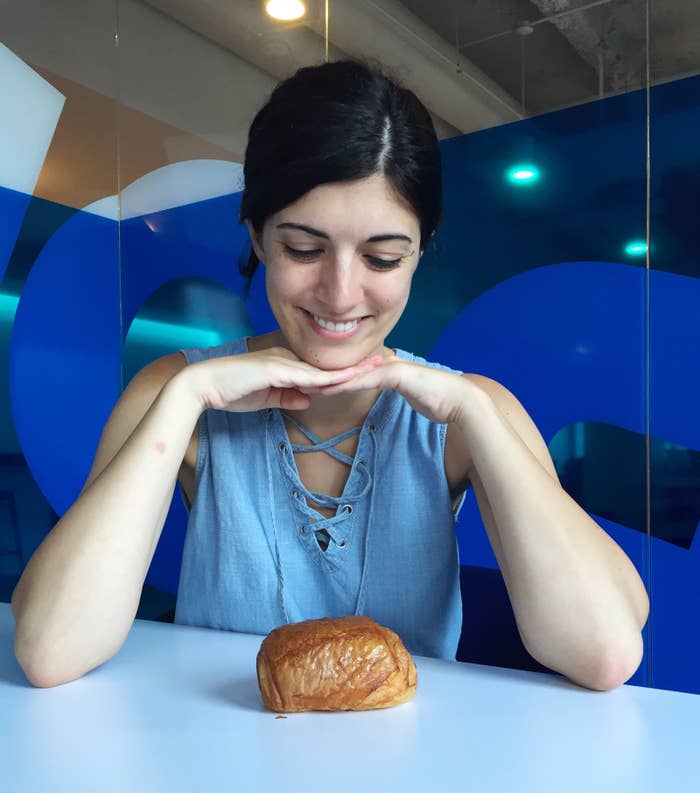 I feel very passionately about them. I even feel passionately about what they should be called — not croissants, since they don't have the crescent shape of a croissant, not pains au chocolat either (as Parisians call them), but rather chocolatines, as they're called in the Southwest of France, where I'm from.
I've been in New York for over four years now, so I decided it was time to find the best chocolate croissant in the city.
A good chocolate croissant (for the purpose of this post, I will call them that) should strike the perfect balance between flaky and buttery. The chocolate should be dark and bitter rather than sweet, and you should be able to taste it in every bite without it being overwhelming.
I selected 11 bakeries based on reputation and word-of-mouth. Here is my ranking, from worst to best, of the most popular chocolate croissants in New York.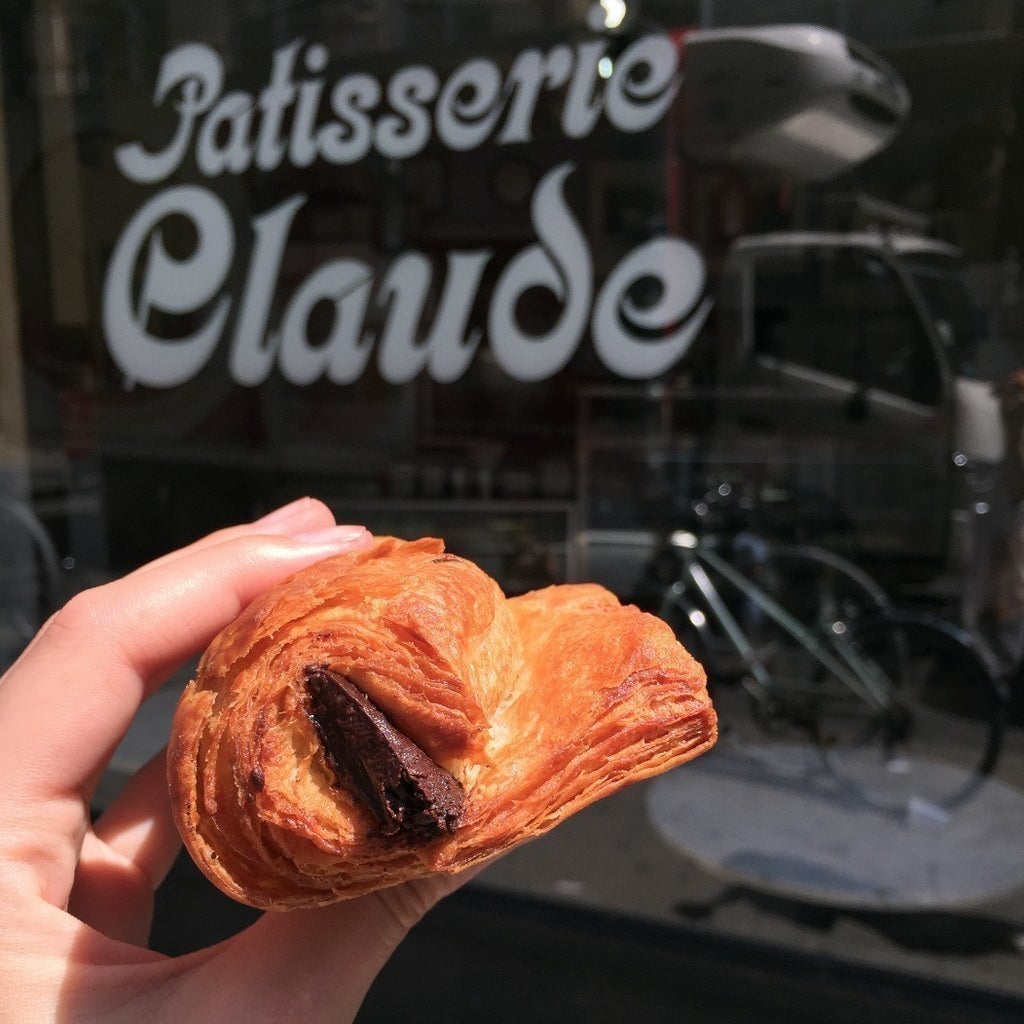 Location: West Village
Price: $2.75
I had read that this was one of the best croissants in New York and was really looking forward to trying it. It turned out to be pretty disappointing. Maybe I just got a bad batch but this was not good: The shape was kind of weird (which I would be ok with if it enhanced the product, but it didn't) and the texture was dry, chewy, and way too dense. The chocolate was good though, so there's that.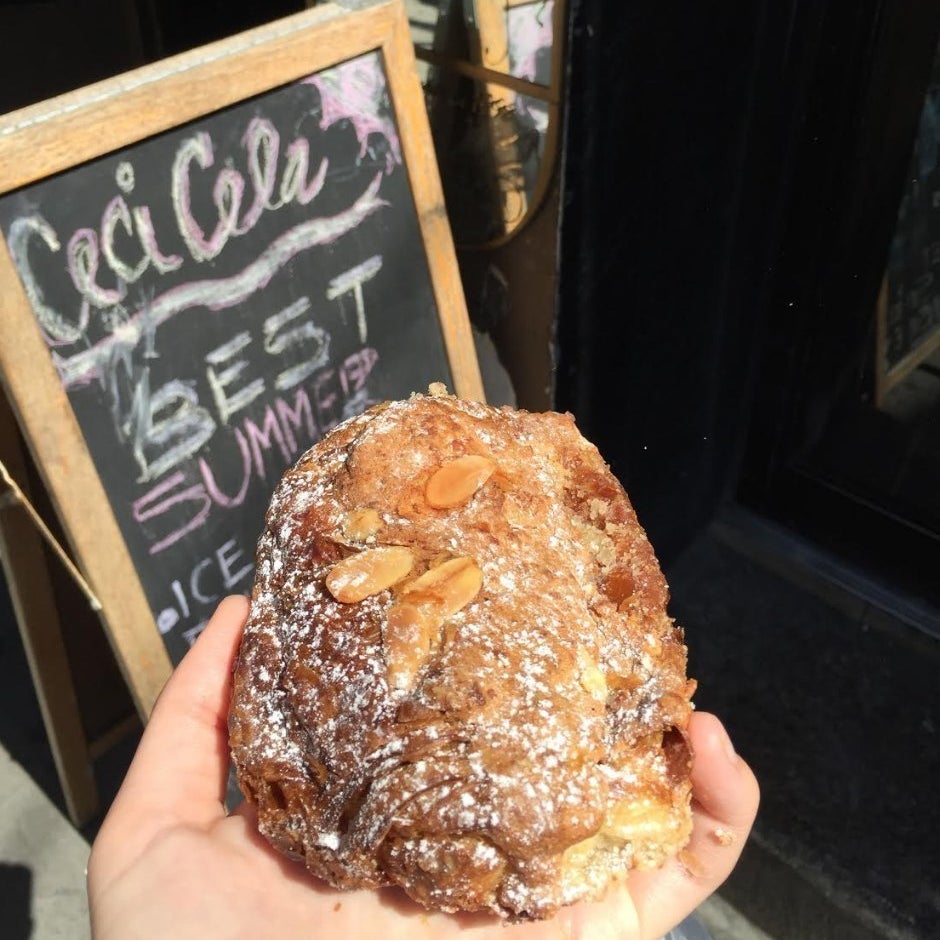 Location: Nolita and LES
Price: $2.70 for a chocolate croissant and $3.95 for a chocolate almond croissant.
I tried both the classic chocolate croissant and the chocolate almond croissant at Ceci Cela. Both were ok, neither was great. They were both a bit dry, crumbly rather than flaky, and with a texture that was a bit too compact. The flavors were good though, especially in the almond one, so it wasn't too bad!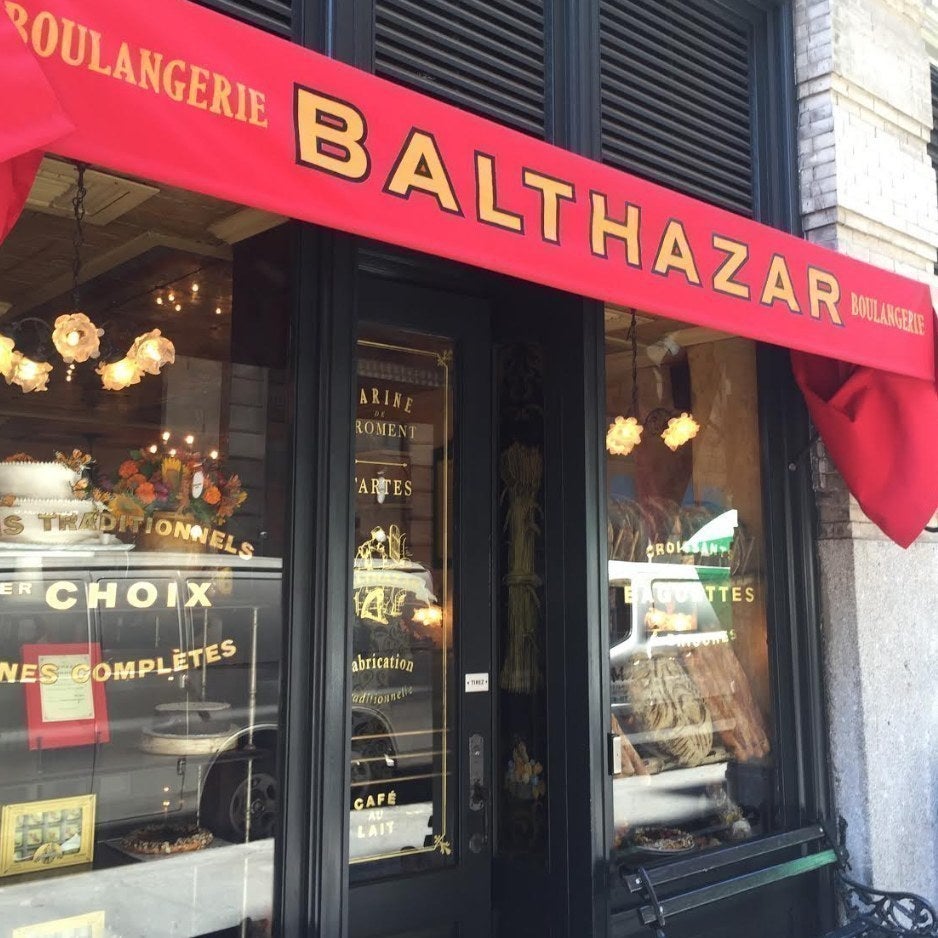 Location: Soho
Price: $3.75
One of the most famous bakeries in the city, Balthazar is a French New York institution. I had high expectations. They weren't quite met, but it wasn't a disaster either. I liked how authentic the chocolate croissant was – it reminded me of the ones I used to buy for 65 cents during recess in high school. But the ones I used to buy in high school were pretty mediocre to be honest, and so were Balthazar's. The pastry was dry, and the chocolate wasn't bad, but it wasn't remarkable.

Location: Union Square
Price: $5
Union Fare's insane croissants have been all over the internet and my Instagram feed. To be frank, birthday cake–flavored croissants sounded like a travesty to me but I couldn't not try one. They didn't have the traditional chocolate croissant, so I picked the closest thing I could find: a cookies and cream croissant. The texture was nicely soft and creamy but the flavor was way too sweet for my taste. A good croissant is all about balance (an ethereal yet buttery texture with a bitter chocolate note) and this one had none of it.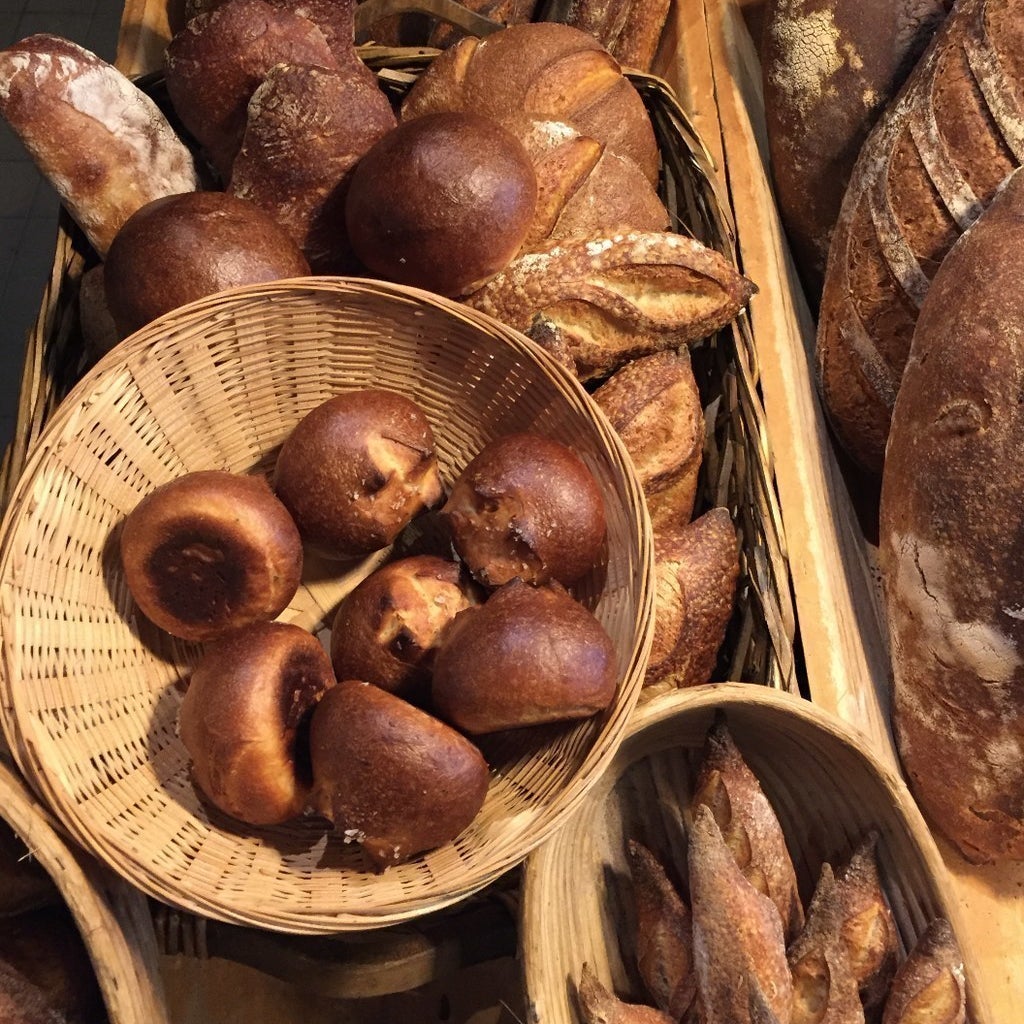 Location: Boerum Hill
Price: $3.50 for a chocolate croissant, $5 for a chocolate almond croissant
I didn't like Bien Cuit's chocolate croissant. I thought it was dry and overcooked — there is a difference between "bien cuit" (well cooked) and "trop cuit" (too cooked) — and I was pretty underwhelmed. But, I knew from past experience that Bien Cuit could achieve greatness, so I gave them another chance and tried the chocolate-almond croissant. I'm happy I did because it was delicious — very rich in flavors with a wonderful crunchy yet soft texture.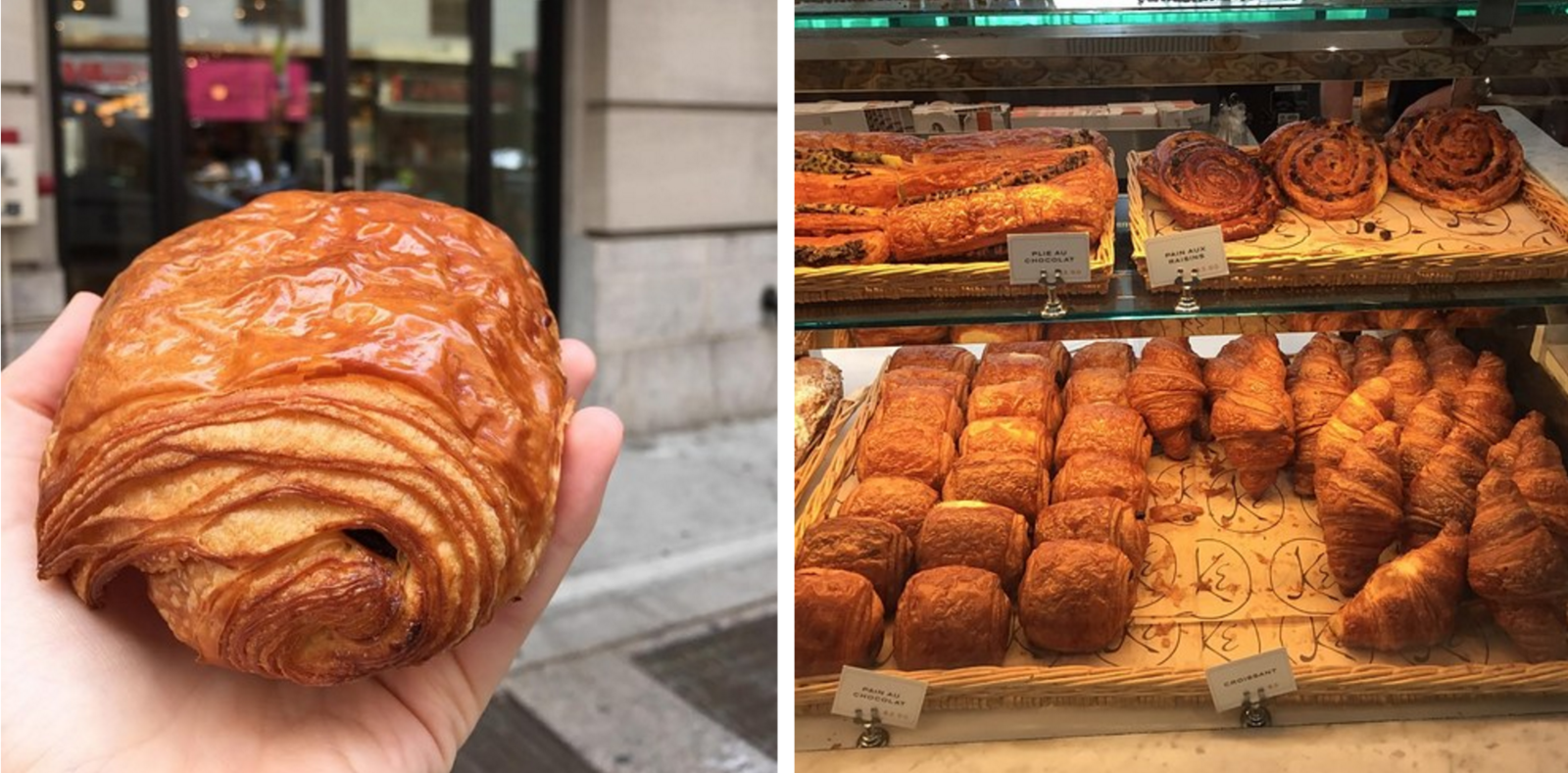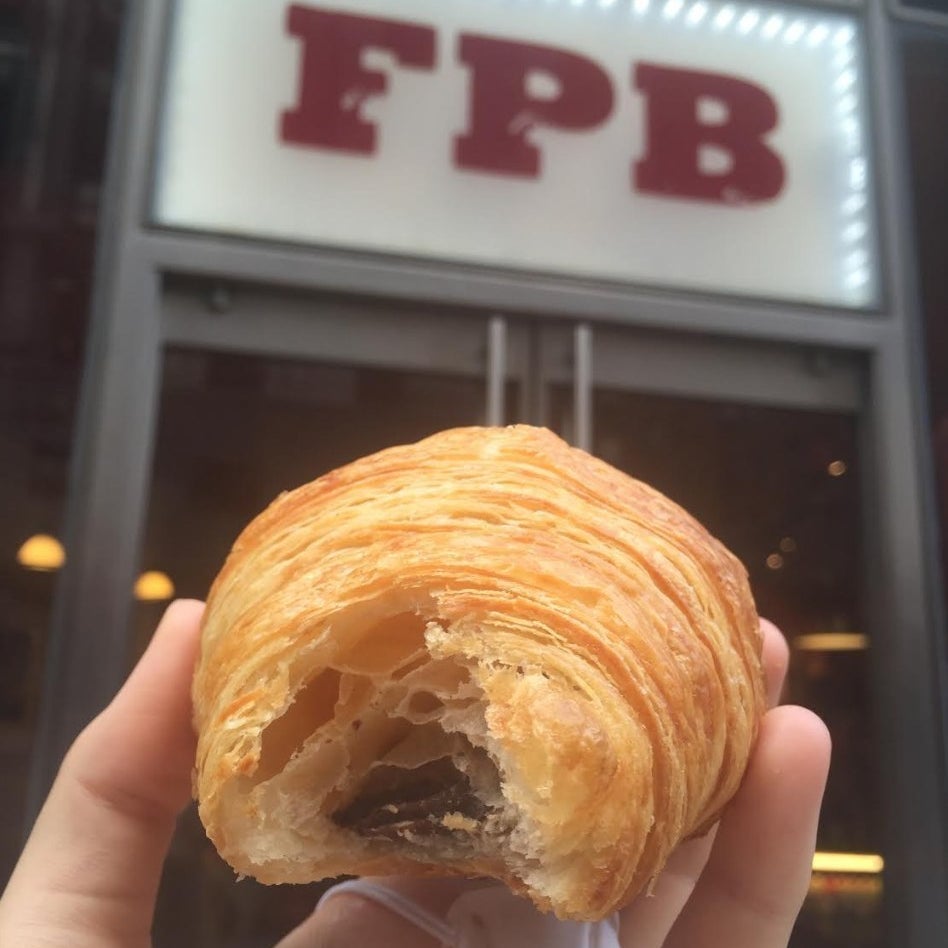 Location: Multiple locations
Price: $3.25
This is not shaped like a chocolate croissant and at first I took offense (it doesn't take much to offend me when it comes to French food) and dreaded the worst. But then I tried it and honestly, it was really good. It was both nicely flaky and buttery and the chocolate was great.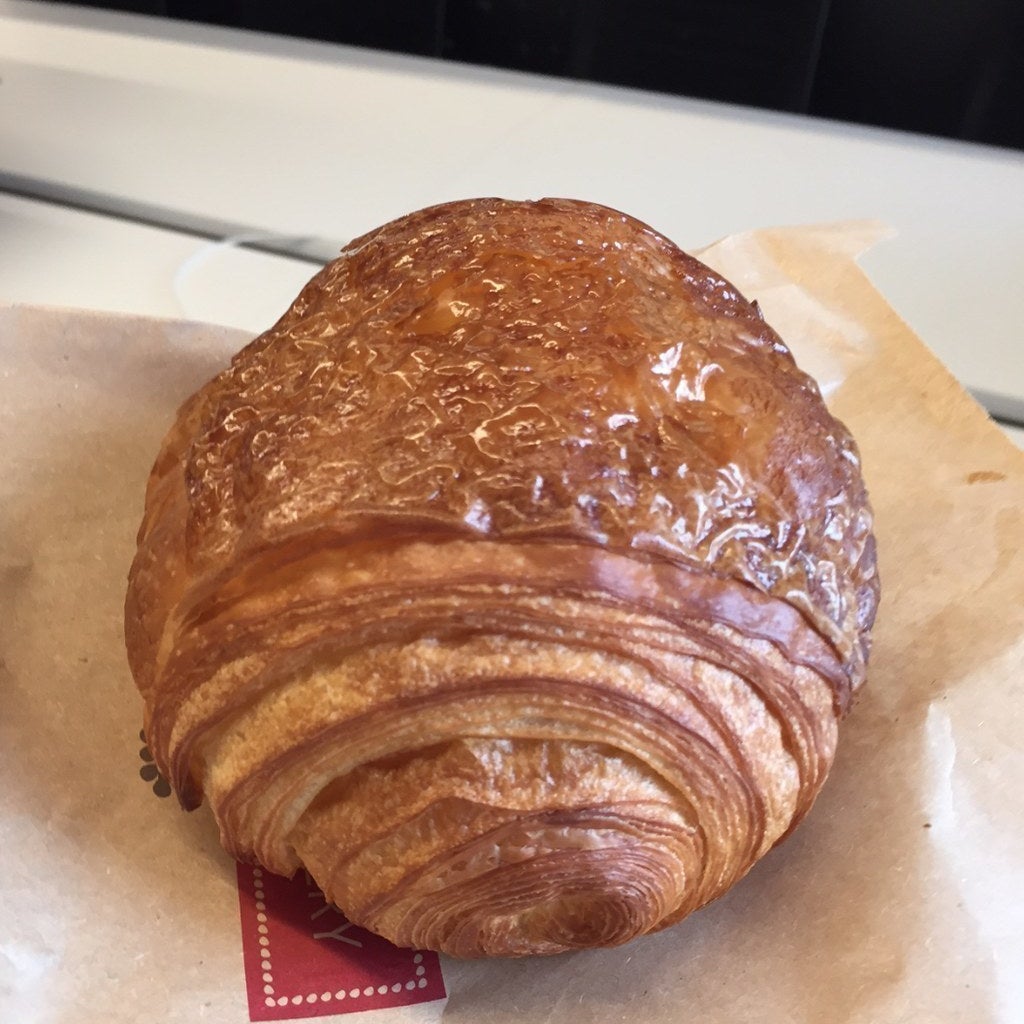 Location: Union Square, Bryant Park, and Upper West Side
Price: $3.25
I've been a fan of Breads Bakery's almond croissant for a while and if I could physically and financially afford it, I would have one every day. But I had never had their chocolate croissant before. I'm happy to say it didn't disappoint! It was so buttery and ethereal, I could barely deal. The chocolate was nice, although I wish there would have been a bit more of it.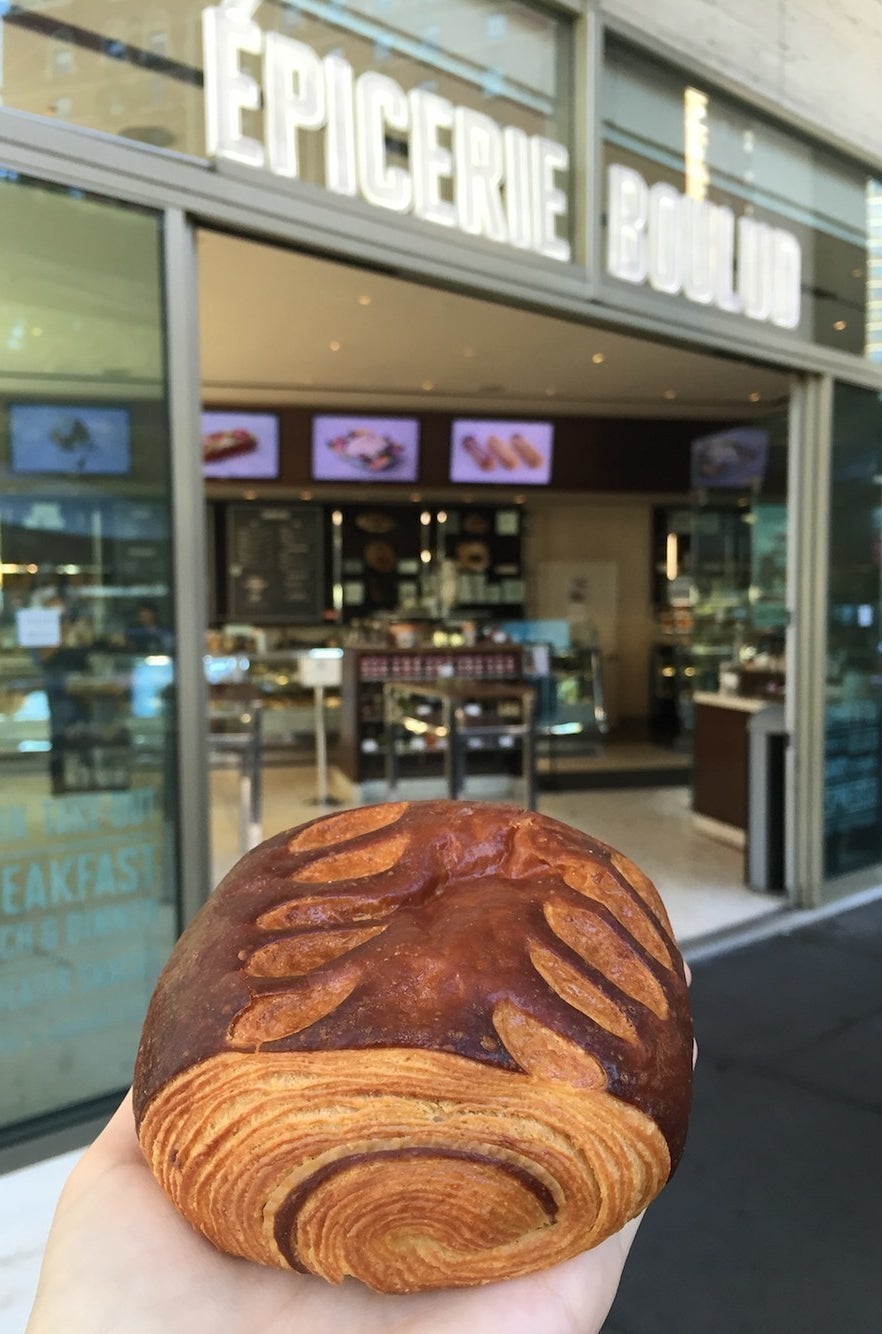 Location: Upper West Side
Price: $4.25 for the Nutella croissant, $3.50 for a chocolate croissant
First, this chocolate croissant looks really pretty. It's not something I usually care about, but I do appreciate the effort. Second, it is stuffed with both chocolate and Nutella. The bake itself isn't the best (a bit dry) and without the Nutella stuffing it would be pretty average. BUT IT IS STUFFED WITH NUTELLA. And that's all that really matters.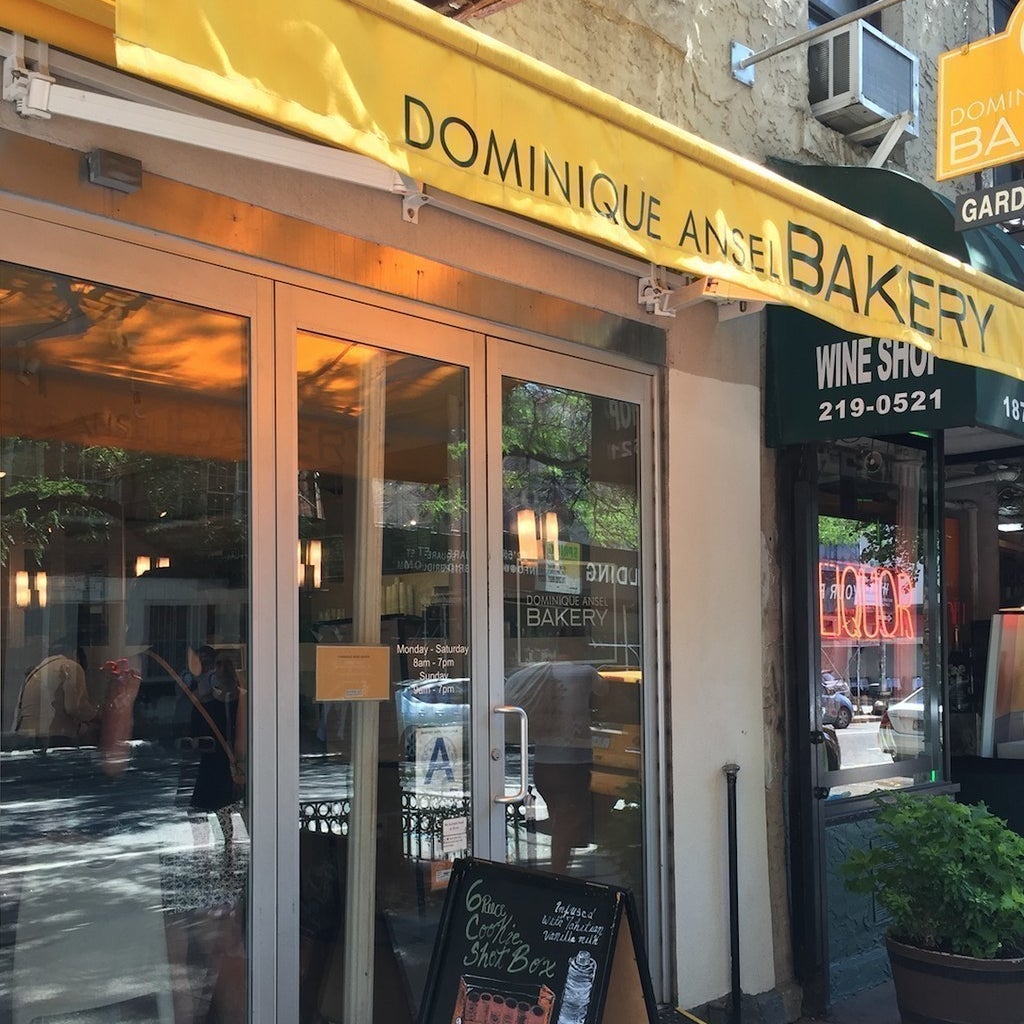 Location: Soho
Price: $3.75
Dominique Ansel is already one of the trendiest, most viral bakers out there (he invented the cronut!) so he really doesn't need any more hype. But this chocolate croissant was just perfect. It was straightforward yet perfectly executed, striking the ideal flaky-buttery balance. Even though I had already tried over five croissants that day, I devoured the whole thing. It helped that I got to try a croissant right out of the oven, but even when I ate another one a few hours later, it was amazing.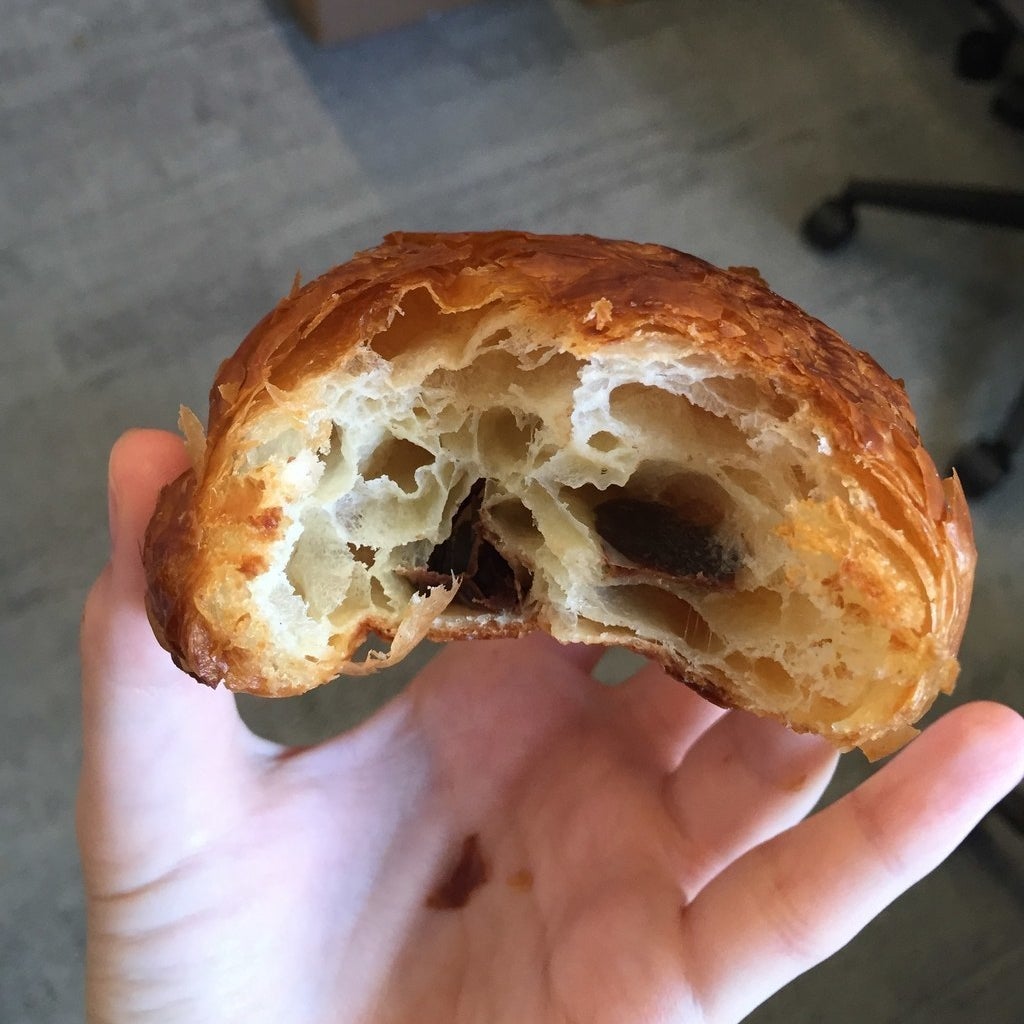 Location: Bushwick
Price: $4.50
L'imprimerie is a Bushwick bakery off the Myrtle-Wyckoff subway stop. It wasn't even on my radar, but after I tweeted about Boulud's Nutella croissant, a fellow French New Yorker recommended I try it.
I'm so glad I did. These are straight up some of the best chocolate croissants I've ever had in my life. The outer layer is perfectly cooked and crisp, the inside is fluffy and flaky, but also soft and buttery, and the chocolate is just the right amount of bitter. They also sell a pear-chocolate croissant and I am not joking when I say that it is one of the most wonderful things I've ever eaten. The pear flavor is subtle but perfectly complements an already delicious pastry.

Oh, and I also tried the chocolate croissant at Starbucks.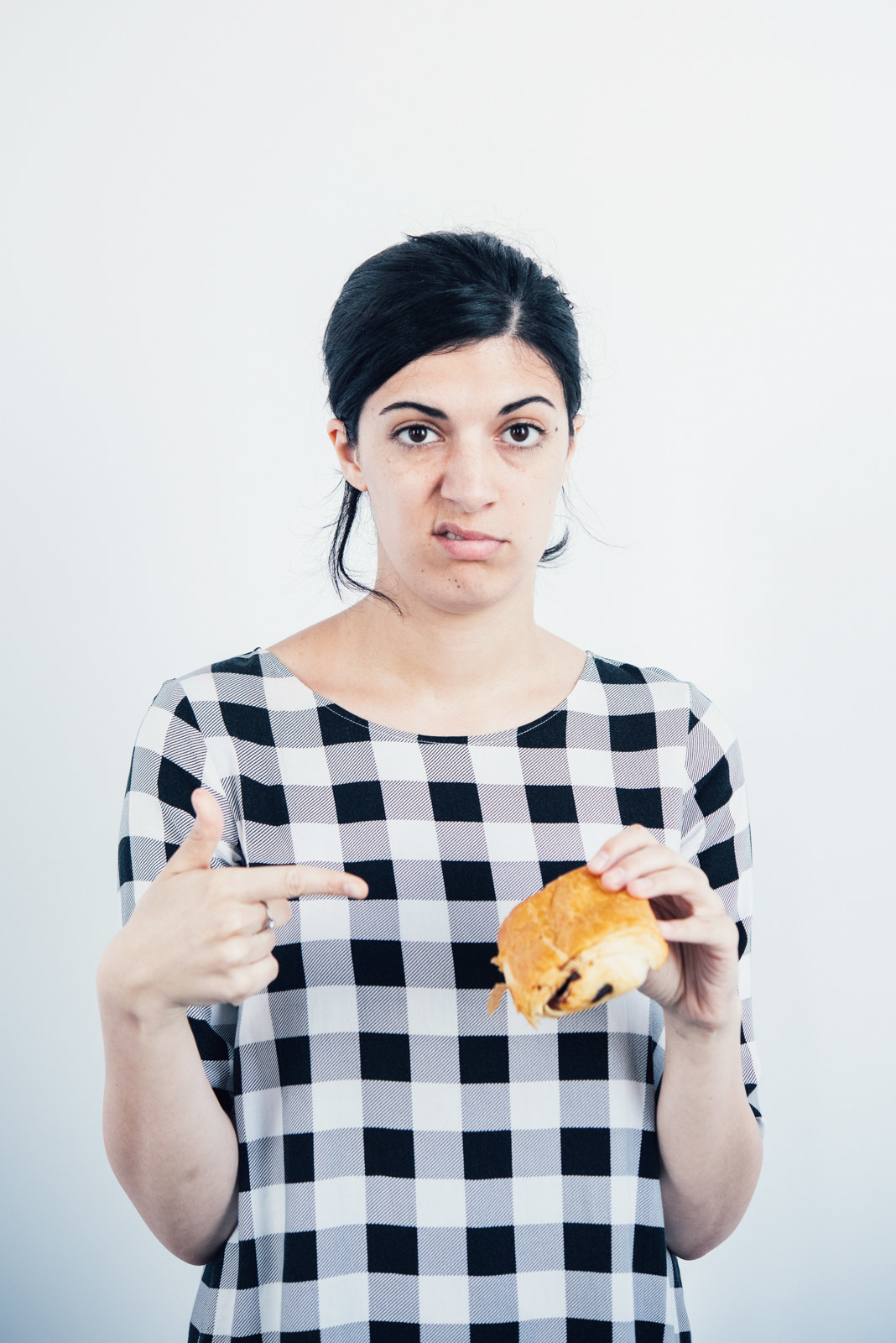 After three days spent eating chocolate croissants nonstop, I can happily say that there are definitely some great chocolate croissants in NYC. You just need to know where to find them!