Chicken Caprese Salad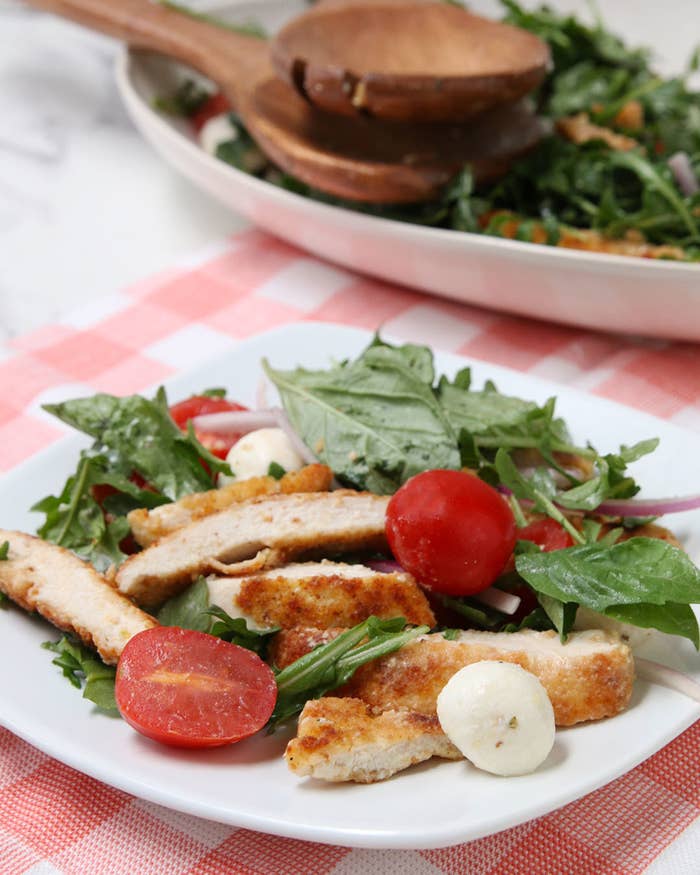 INGREDIENTS:
½ cup flour
¾ cup Marie's Garlic Parmesan Italian Vinaigrette (and more for garnish)
1 cup bread crumbs
4 thin sliced chicken cutlets
3 ounces arugula
3 tablespoons finely sliced red onion
1 cup cherry tomatoes
1 cup fresh mozzarella balls
3 ounces fresh basil leaves
Canola oil for frying
PREPARATION
1. Place flour, salad dressing, and bread crumbs in separate bowls.  
2. Carefully dredge cutlets in flour, salad dressing, and finally bread crumbs.  
3. Set aside (this can be done in advance and kept refrigerated; it's ideal to allow them to "dry" a bit).
4. In a heavy-bottomed skillet, heat about ¼ cup of canola oil over medium-high heat. Once oil is hot (though not smoking), carefully fry cutlets, turning at least once to ensure they are evenly browned and evenly cooked on both sides (160°F).
5. Set on paper towels to drain.
6. Combine arugula, basil, tomatoes, cheese, and onion.  
7. Slice chicken cutlets and place on a platter. Carefully top with salad and drizzle with additional Marie's Garlic Parmesan Italian Vinaigrette.
8. Enjoy!