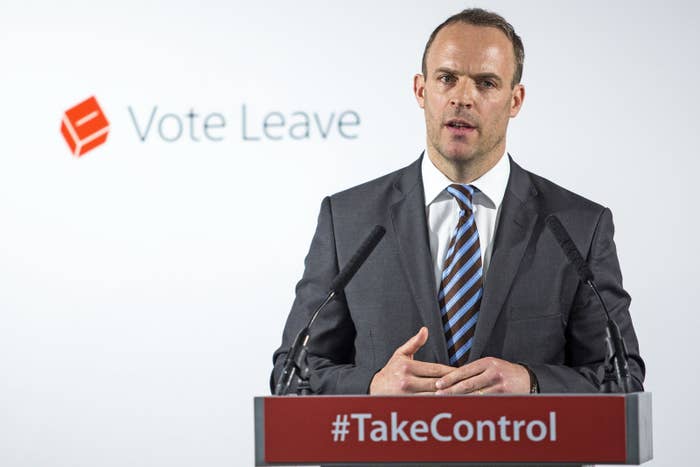 A Conservative minister has been criticised for offering an unpaid internship in his office for up to half a year, months after a group of MPs said such opportunities should be properly paid or banned outright.
Dominic Raab, who joined the Ministry of Justice in Theresa May's recent reshuffle, is looking for a "gap year student or recent school leaver" to join his Westminster office three or four days a week, for four to six months.
The "volunteer position" would involve dealing with constituents' correspondence, helping paid staff with research, running "secretarial tasks", and "assisting with the work of other colleagues as required".
Labour MP Justin Madders, the co-chair of the all-parliamentary party group (APPG) on social mobility, told BuzzFeed News: "I cannot see how anyone in all conscience can take someone on for so long without pay, least of all a member of parliament.

"To work unpaid for six months in London is only going to be possible for those who have extremely wealthy parents and is an incredibly restricting approach. It is incumbent upon MPs to set an example and show a commitment to opportunity for everyone in society by not creating positions that only those with the deepest pockets can access."
BuzzFeed News repeatedly contacted Raab's office for comment, but had received no reply at time of publication.
Madders' APPG released a report on unpaid internships in January, which called for them to be banned and for all interns to be paid after their first month, as otherwise they represent a "major barrier for disadvantaged young people".
The report was released two months after the government blocked an attempt to make such internships illegal, when Conservative MP Alec Shelbrooke tried to introduce a 10-minute rule motion that was talked out by his colleagues.
Speaking in parliament in November last year, Shelbrooke said: "Like most young people, at our local comprehensive school both my sister and I were taught that hard work and determination would help us make something of ourselves in the world of work.
"Unpaid work was simply not an option for me or my sister and it should no longer be a barrier for ordinary kids, like we were, to get into the workplace. In the 21st century it is time to ban the practice of unpaid labour."
A YouGov poll found in 2014 that 43% of 18-to-24-year-olds believe unpaid internships act, or have acted, as a major barrier to getting a job.