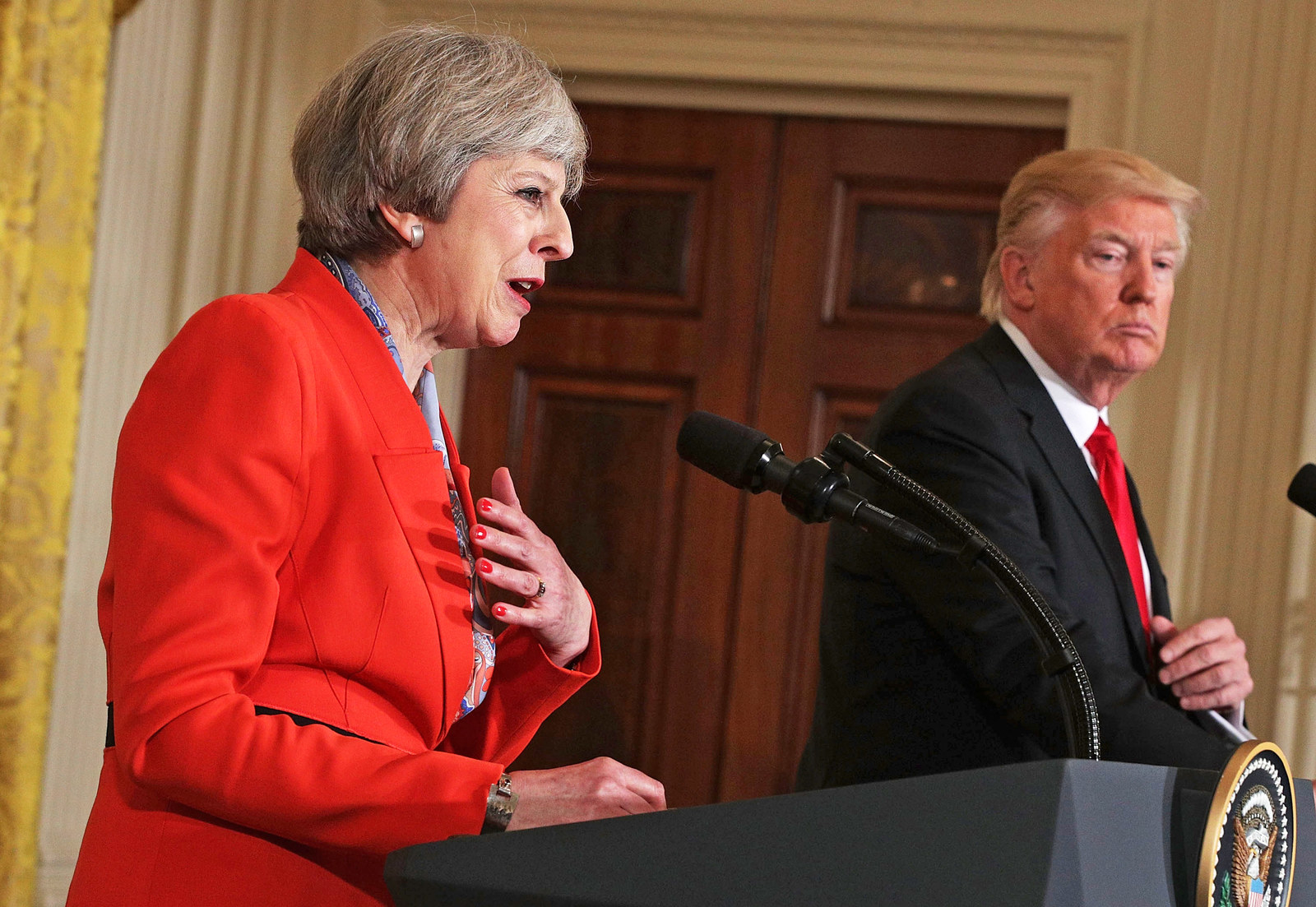 Theresa May denied knowing about Donald Trump's travel ban when she met him in Washington DC last week as she clashed with Jeremy Corbyn during Prime Minister's Questions on Wednesday.
Reports published earlier this week claimed that Trump's team told the prime minister when she was in the White House that he was about to sign an executive order banning Syrian refugees from the US. The New York Times published a leaked draft of the executive order on 25 January, days before May's joint press conference with Trump.
But when asked about the claims at Prime Minister's Questions by Labour leader Jeremy Corbyn on Wednesday, May said: "If he's asking me whether I had advance notice of the ban on refugees, if he's asking me if I had advance notice of whether the order could affect British citizens, the answer is no."
She added that her government was clear on the policy being "divisive and wrong". The comments came just days after she was criticised for initially refusing to condemn the ban at a press conference in Ankara.

In a Commons debate on Monday, Labour MP Mike Gapes called May "Theresa the appeaser" and home affairs select committee chair Yvette Cooper called her response "not good enough". Tulip Siddiq, the Labour MP for Hampstead and Kilburn, has warned that May's "feeble" approach to the policy risks alienating Muslim communities in Britain.
Continuing his line of attack at PMQs, Corbyn called on May to cancel Trump's planned state visit to the UK, citing a petition signed by over 1.5 million people that went viral earlier this week.
"He's praised the use of torture, he's incited hatred against Muslims, he's directly attacked women's rights," Corbyn said. "What more does President Trump have to do before the PM will listen to the 1.8 million people who have already called for his state visit invitation to be withdrawn?"

May hit back by saying that Corbyn's notion of a foreign policy was to "object to and insult the democratically elected head of state of our most important ally". She ended by saying "he can lead a protest, I'm leading a country", to loud cheers from her own benches.

Downing Street has confirmed that Trump's state visit will go ahead, despite thousands of people taking to the streets to protest against both the travel ban and the visit.

A debate in parliament will be held on 20 February about calls to cancel the visit, and more than 70 MPs have signed a motion calling for Trump to be blocked from addressing parliament.
May later announced that the white paper on Brexit, which will outline the government's plans, will be published on Thursday, a day after MPs vote on whether to trigger Article 50 or not.