Theresa May Is Seeking An Early General Election On 8 June
In a surprise announcement, the PM said the country needed an election to bring stability and unity at Westminster.
by
,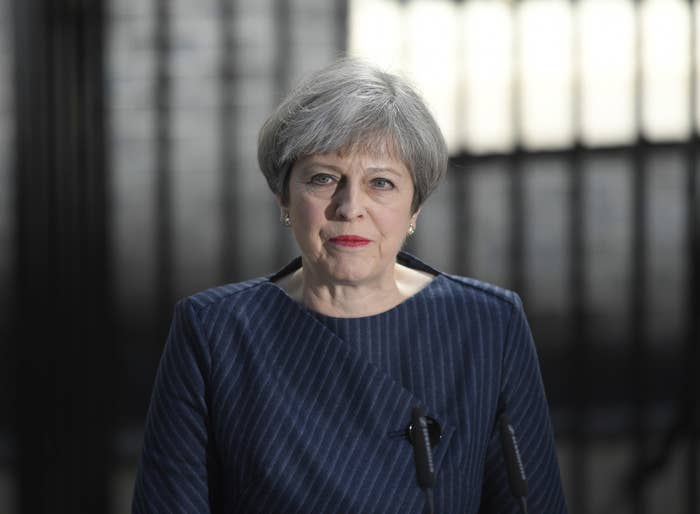 Theresa May will ask MPs to clear the way for an early general election on 8 June, in a dramatic reversal of her repeated assertions that she would not go to the country before May 2020.

In a surprise announcement outside 10 Downing Street on Tuesday morning, the prime minister said she would move a motion in the Commons on Wednesday, which will require a two-thirds majority – 434 of 650 MPs – to pass. If she gets the votes, as is likely, parliament will then be dissolved on 3 May, 25 working days before the election.
Under the Fixed Term Parliaments Act of 2011, May does not have the power to simply call an election.
The vote will effectively be a second referendum on Brexit. Throwing down the gauntlet to Labour, the Liberal Democrats, and the SNP, May said she was seeking an election because Brexit required political unity. "The country is coming together but Westminster is not," she said, criticising opposition parties for "political game playing".

"We need a general election and we need one now," she said.
"In recent weeks Labour have threatened to vote against the final agreement we reach with the European Union. The Liberal Democrats said they want to grind the business of government to a standstill.
"The Scottish National Party say they will vote against the legislation that formally repeals Britain's membership of the European Union. And unelected members of the House of Lords have vowed to fight us every step of the way."
"If we do not hold a general election now, their political game playing will continue."
She added: "It will be a choice between strong and stable leadership in the national interest, with me as your prime minister, or weak and unstable government under a coalition led by Jeremy Corbyn."
In an interview after her speech, May told ITV's Robert Peston that she decided to seek an early election while on a walking holiday with her husband in Wales last week.
May informed cabinet of her decision on Tuesday morning. There was unanimous agreement around the table that going to the polls early was the right thing to do, according to one person who attended the meeting.
All agree that there was a narrow window of opportunity to seek a new mandate before negotiations with the EU start in the summer. "This is the one chance you've got to get that strong hand," the source said, summarising the thinking in the room.
There was no triumphant banging of tables, the source added. Ministers don't want to appear complacent, even though polls suggest the Tories will win a much larger majority.
Liberal Democrat leader Tim Farron immediately took up her Brexit challenge. "This election is your chance to change the direction of our country," he said.

"If you want to avoid a disastrous hard Brexit. If you want to keep Britain in the Single Market. If you want a Britain that is open, tolerant and united, this is your chance. Only the Liberal Democrats can prevent a Conservative majority."
In a statement, Jeremy Corbyn welcomed May's decision "to give the British people the chance to vote for a government that will put the interests of the majority first".
"Labour will be offering the country an effective alternative to a government that has failed to rebuild the economy, delivered falling living standards and damaging cuts to our schools and NHS," he said.
"In the last couple of weeks, Labour has set out policies that offer a clear and credible choice for the country. We look forward to showing how Labour will stand up for the people of Britain."
In a later interview with the BBC, he insisted he was ready to be prime minister if Labour won, and refused to say he would stand down if the party lost the election. "We are campaigning to win this election, this is the only question now," he said.
May had repeatedly ruled out holding an early election, including in March when on two separate occasions a Downing Street spokesperson told journalists that she was "clear and consistent in her position that she does not think there should be" an election before 2020.
A spokesperson for the PM also said in November that there would be no snap election, and in October, May said that an early vote would create "instability".
Before this, she told Andrew Marr in September: "I'm not going to be calling a snap election", and her campaign to become Tory leader included reassurance that she would not want to go to the polls before 2020.
Number 10's official spokesperson declined to answer questions about why May changed her mind now, after so many firm denials from her aides that a snap election was on the cards.
The spokesperson, who revealed May had phoned the Queen on Monday to inform her of the decision, said officials working on Brexit will carry on undisturbed by the election campaign.
Even senior Tories were taken by surprise by today's announcement.
One former cabinet minister, speaking before Easter, told BuzzFeed News that support for the Conservatives wasn't as strong as the opinion polls suggested, and that the party was wary of the Liberal Democrats picking up support in areas that voted to remain in the EU.
Tory backbenchers, however, welcomed the decision. Anne-Marie Trevelyan, who campaigned to leave the EU, said that winning a new mandate before negotiations with Brussels are underway will mean the government has "certainty for a full five years, not just up to the point at which we leave the European Union".
She added: "In Theresa May, the Conservative party and the nation has a trustworthy and proven leader intent on uniting the nation and strengthening our hand at the negotiating table with the European Union."

This is a breaking story and will be updated.
Outside Your Bubble is a BuzzFeed News effort to bring you a diversity of thought and opinion from around the internet. If you don't see your viewpoint represented, contact the curator at bubble@buzzfeed.com. Click here for more on Outside Your Bubble.