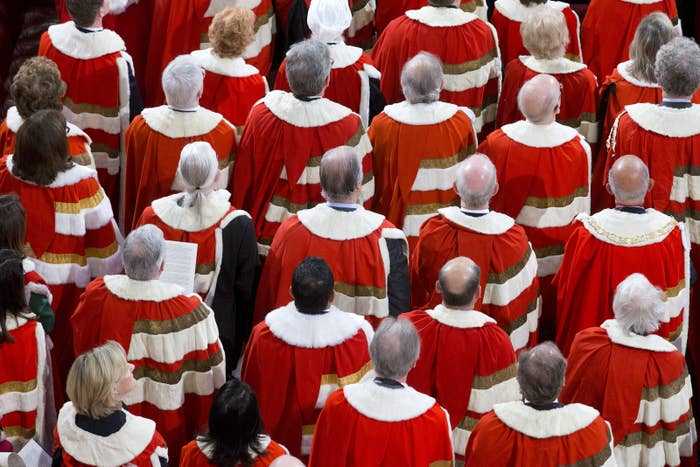 Labour and Liberal Democrat peers have warned that they may break convention and not vote for the Conservative manifesto commitments, posing yet another threat to Theresa May's leadership.
The opposition peers – who together outnumber the Conservatives in the House of Lords – could decide not to follow the Salisbury Convention, which states that peers must not vote down anything that was in the winning party's manifesto, as it is believed that that party has a mandate from the public.
But this could change after a source in the Labour lords told BuzzFeed News a "mood change" means that peers might try to "test government legislation" more than usual.

The Queen's Speech on Wednesday will include new bills that the Conservative government hopes to put forward, but it's not clear if all the lords will follow the usual path of backing those that were in the manifesto.
The Salisbury Convention, which is not legislation but is usually adhered to, was established in 1945 to ensure that governments that do not have a majority in the House of Lords can still deliver on their promises to the public.
However, it's not clear if it applies to May's party, which fell short of a Commons majority in the general election, taking 318 seats out of 650, and has not yet formed a working majority to govern with.
Mark Elliott, a professor of public law at Cambridge University, wrote a lengthy blog post saying that under "constitutional principle" the Tory manifesto pledges may not need to be supported by the Lords.
"The view might be taken — as I think it should — that constitutional principle does not require bills implementing Conservative party manifesto commitments to be singled out for the sort of special treatment normally accorded under the Salisbury convention to manifesto bills," he wrote.
But he warned that the Lords should think "very carefully before pressing that point, given the risks that are inevitably invited by an unelected chamber that may be perceived by others to be throwing its weight around".
Elliott's conclusions are close to what some peers seem to be thinking: Speaking to BuzzFeed News, a senior source in the Labour lords explained that while there are no plans to scrap the convention altogether, it may not be followed as closely as it was previously.
"There might well be a bit of a mood change, and it wouldn't be official party position, but there would be individual peers who had felt a little bit hidebound by Salisbury over the course of the last parliament, and with that burden lifted, they may feel more likely to try and test government legislation a bit more than they otherwise would," they said.
"Conventions can adapt, and aren't set in aspic in the way that hard law is ... responses to it will be put into the context of the unprecedented circumstances that we're in."
The Lib Dems, on the other hand, decided to stop following the convention when Tim Farron was elected in 2015. Dick Newby, Lib Dem leader in the Lords, told BuzzFeed News this week: "Theresa May has lost any mandate she thought she originally had. Rather than increase her majority she has lost it.
"Here in the House of Lords we will continue to do our job of scrutinising legislation and asking the government, whoever it consists of, to think again on questionable legislation."
The Conservatives have 252 peers out of 798, Labour has 200, and the Lib Dems have 102. There are also 244 crossbenchers, bishops, and other peers.
"The House of Lords plays an important constitutional role as a revising and scrutinising chamber," a Conservative spokesperson told BuzzFeed News. "It is a long-established principle that the Lords respects the primacy of the elected House of Commons and we expect that to continue."

In any case, the House of Lords won't be the only issue for May over the next few months: Though the Labour peers were getting ready to fight the Tories on many big issues, May's lack of a majority means that these may not even reach the Lords.
"The amount of legislation that's going to get out of the Commons is going to be so limited," the Labour lords source told BuzzFeed News. "Some of the stuff we were lining up to do a proper job on, like the grammar schools, just doesn't seem like we're going to see those in any way like the form that was being mooted.
"Frankly, the government is going to have enough problems in the Commons to then worry about what's going to happen down our end."