The Government Told A Ugandan Politician He's Too Poor To Visit Britain For A Conference
Caroline Lucas has urged the home secretary to rethink the "utterly misguided and hugely insulting" decision not to let Thomas Kentos Bakyayita attend the Global Greens Congress in Liverpool.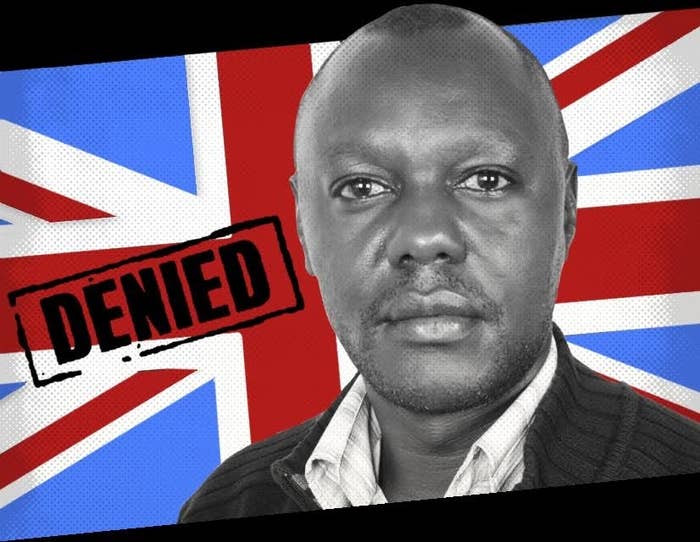 Caroline Lucas has urged the home secretary to rethink the "utterly misguided and hugely insulting" decision to deny a visa to a Ugandan politician wishing to come to the UK for a conference.
The Green party co-leader told Amber Rudd to "reconsider this decision as a matter of urgency" after Thomas Kentos Bakyayita was told he couldn't attend the Global Greens conference because he does not earn enough money in his home country.
Bakyayita, the secretary general of the Ecological Party of Uganda and president of the Eastern Africa Green Federation, was hoping to travel to Liverpool in late March after being granted funding from the Westminster Foundation for Democracy.

He applied for a visa but was told on March 17 by an immigration officer that his income of £112.86 per month meant that there were doubts that he really was intending to leave the country before his visa expired.
The letter of refusal, seen by BuzzFeed News, said: "I am not satisfied that you intend to leave the UK at the end of your visit as stated by you or that you are genuinely seeking entry as a visitor for a period not exceeding 6 months."
"It's very disturbing that someone doubts my financial capacity in my home country," Bakyayita told BuzzFeed News.
"My air travel, my food (lunch and dinners) teas, bed, travel insurance, all conference material like pens and notebooks are provided for. Then why in God's name am I denied a travel entry to the UK because my wages in my country are less and don't match those paid in developed countries?
"Worst of all, I feel totally undermined – just because I was born, grew up in Uganda, a third world country... They think that we travel to run away from our mother country."
He said he had applied for a visa before, in January, but had been told that it was to be rejected as the entry officer was not satisfied with the evidence of family ties in his home country. He said he then reapplied with information about his family, including his children's medical cards to prove that he was "the breadwinner".
Lucas, whose party is hosting the Global Greens Congress, where green parties from around the world will be meeting from 30 March to 2 April, wrote to Rudd earlier this week to argue that "his commitment to politics in Uganda alone shows that Thomas is unlikely to overstay his visa", and that "Thomas has also made clear that he has family and dependents living in Uganda who rely on his support".
"It is clear that Thomas meets the Eligibility Requirements for Standard Visitors and I am extremely disappointed that the opportunity to encourage international political dialogue is being thwarted by unreasonable implementation of the immigration rules."
She added: "Furthermore, by refusing Thomas a visa to the UK, the Home Office is denying face to face collaboration between green parties across the globe."
Lucas also told BuzzFeed News that there is still time for the Home Office to reverse their decision so Bakyayita can make the trip.
"Thomas Kentos was planning to come to Britain to take part in an international politics event, yet the Home Office have rejected him simply because of his financial status," she said.
"Such discrimination is entirely unacceptable and I urge the Home Secretary to immediately reverse this rejection and allow Thomas to come to Britain for the Global Greens Congress."
The Westminster Foundation for Democracy confirmed that it offered full funding for the Ugandan national to attend the congress, and added: "Westminster Foundation for Democracy works to strengthen multi-party politics in developing countries. As part of this work, we support international efforts to enable representatives from low-income African countries to participate in relevant international meetings."
BuzzFeed News has reached out to the Home Office for comment but had not received one at the time of publication.