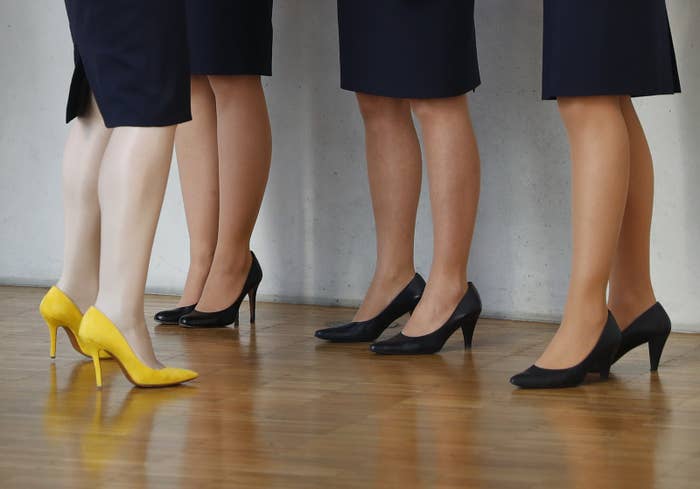 The government has said it will introduce new guidance on dress codes in the workplace, following an inquiry and a report that looked into such issues as gender-specific uniforms and high heels at work.
MPs welcomed the decision. "It is ... very welcome that the government has accepted our recommendation that it should be doing much more to improve understanding among employers and employees alike, to prevent discriminatory practices in the workplace," Labour MP Helen Jones said.

Jones had secured a debate in Westminster Hall last month after a petition calling on the government to "make it illegal for a company to require women to wear high heels at work" gathered 152,420 signatures.
The petition was launched after Nicola Thorp, who was working for Portico, an agency used by PwC, was sent home from work without pay for not wearing high heels in May last year.

The House of Commons petitions committee and the women and equalities committee later released a report in January saying that "discriminatory dress codes remain widespread", and that "the existing law is not yet fully effective in protecting employees from discrimination at work".
The report also found that dress codes that include high heels and target "young women in insecure jobs who already feel vulnerable in the workplace" are "damaging to their health and wellbeing in both the short and the long term".
In response to this report, the government said on Friday that it would be working on offering new guidelines to make the law clearer on employment practices.
"The Government Equalities Office (GEO) will be producing guidance on dress codes in the workplace as a specific response to the Thorp petition and the issues it raises," it said. "We expect to be able to issue this during the summer."
The government said it was "clear that the law to deal with this sort of discrimination is adequate", and that it recognised "that some employers lack awareness of the law or even choose to flout it, taking advantage of reluctance by employees to take action when they feel discrimination has occurred".
Its statement went on: "We therefore welcome this opportunity to develop new guidance for employers. ... The GEO, working closely with Acas, the Equality and Human Rights Commission (EHRC) and the Health and Safety Executive (HSE) will explore options for raising further awareness of this issue."
Reacting to the government's response, Tory MP Maria Miller, chair of the women and equalities committee, said: "Equality legislation is not sufficient to achieve equality in practice.
"This petition, and the committees' inquiry, have reinforced the need for effective enforcement of legislation and for employers and employees to be aware of their obligations and rights.
"We welcome the commitments made by the government to increasing awareness of those rights, and hope that the next government will monitor how this changes women's experiences of the workplace."
The two committees are also calling on employers to consider reviewing their dress codes voluntarily, in order to make sure that they are not discriminatory. "We are taking this opportunity to challenge all employers with dress codes to review them and consider whether they remain relevant and lawful," they said.