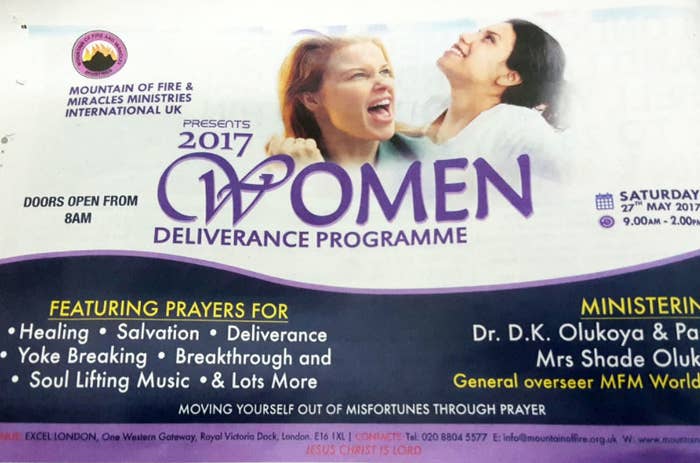 The Evening Standard published an advert from a "pray the gay away" church in its newspaper this week.
The ad, which appeared in Wednesday's paper, promoted the 2017 Women Deliverance Programme, an event that is due to take place at the ExCeL in London on Saturday.
The conference was organised by the Mountain of Fire and Miracles Ministries (MFM), a Nigerian "non-denominational fellowship" that has branches around the world and was founded by Daniel Kolawole Olukoya in 1989.
Olukoya, who is billed as the event's main speaker and minister, has published several books of prayers including one aimed at his followers "caught in the bondage" of "homosexuality, lesbianism, masturbation, prostitution".
The prayer, named "power against sexual perversion", has appeared in his books Drawers of Power From the Heavenlies and Prayer Rain, as well as on the website of at least one MFM branch.
"As you pray sincerely with a contrite/repentant heart (Psalm 51:17) God will set you free from the chains of sexual perversion", the text adds.
In another blog post, Olukoya writes: "In Deuteronomy 23: 18, the Lord describes what is referred to as dogs. 'Thou shalt not bring the hire of a whore, or the price of a dog, into the house of the Lord thy God for any vow: for even both these are abomination unto the Lord thy God.'
"We can see the way the Bible handles the issue. The Bible refers to homosexuals and lesbians as dogs. Anyone who has ever engaged in these kinds of things would need to receive deliverance from the spirit of the dog, which has entered into him or her."
"Deliverance" is a term commonly used by anti-LGBT churches that claim that through the power of prayer, people can change their sexual orientation.
Will Gore, the deputy managing editor of the Evening Standard, told BuzzFeed News: "We have no knowledge about this and will bring it to the attention of the advertising department."
MFM and ExCeL have been approached for comment.