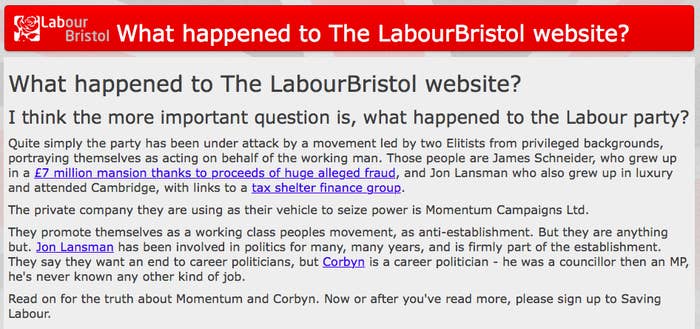 The Bristol Labour party has threatened action against one of its members for using its logo on his website.
Lyle Hopkins, who had redesigned his local party's website for free, wiped the site on Tuesday after growing exasperated with the direction of Labour under Jeremy Corbyn.
Hopkins told BuzzFeed News that until four years ago "the Labour Bristol site was in a state – it was running on Wordpress and when you searched for it on Google it warned you that the site had a virus".
As a software engineer, Hopkins offered his services, and spent "lots of time revamping" the website, for free, which then "included live Twitter feeds for each candidate/MP/councillor, etc".
After a while, the website domain, labourbristol.org.uk, eventually expired, but Hopkins said he "continued to pay for it whilst trying to get the local party to take ownership", as "it was the local party that was using the site, updating the content, etc".
"Despite using the site as their main outlet, they never bothered to take the domain over," Hopkins explained.

However, things changed when the Labour member lost "all confidence in Corbyn", and attended a Bristol West party meeting where, he says, activists from the grassroots organisation Momentum shouted at local MP Thangam Debonnaire.
As of 9 August, the website now shows a message asking "What happened to the Labour party?" and goes on to criticise Momentum's aims, as well as its legal structure.
Other paragraphs attack "career politician" Corbyn, and go on to say that he is "ill equipped to lead the party, let alone be prime minister".
The Bristol Labour party tweeted earlier:
Hopkins said he supports Owen Smith in the ongoing Labour leadership contest and will be adding "some pro-Owen info" to the page.