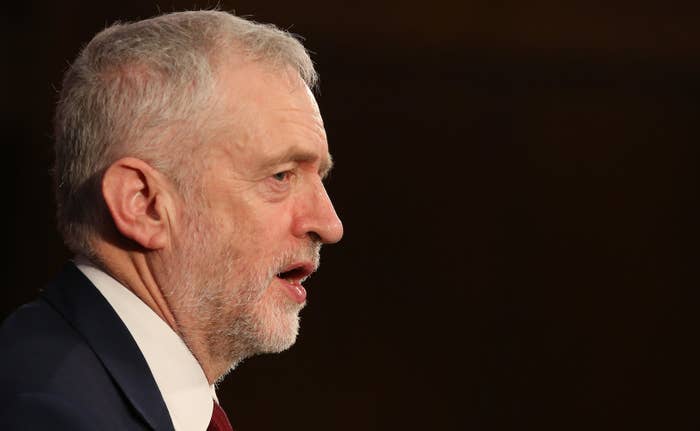 Labour MPs told BuzzFeed News of their disappointment on Wednesday after Jeremy Corbyn failed to "land a blow" against Theresa May at Prime Minister's Questions following her government's U-turn on a major Budget announcement.
In a letter sent to Conservative MPs this afternoon, the chancellor Philip Hammond announced that he would be scrapping a planned tax hike on self-employed people, a week after announcing it in the House of Commons.
The policy had been heavily criticised by the press and some backbench Tory MPs, but some were sceptical of the timing of the reversal – traditionally, the government avoids creating bad news for itself on the day of PMQs.
Labour leader Jeremy Corbyn, however, confused some in the chamber by appearing to not actually ask Theresa May about it.
"I've never known a PM so vulnerable after such a swift and humiliating Budget U-turn", Nottingham East MP Chris Leslie said. "The [Labour] front bench should be forensically exposing this moment of acute embarrassment for Theresa May – there's no excuse to do otherwise."
Others were less diplomatic, with Bermondsey MP Neil Coyle telling BuzzFeed News: "Corbyn didn't land a blow. May regularly announces pigs fly, unicorns roam freely, and there is gold under every Brexit rainbow. But with such a scarecrow opponent she can go on. And on. And on."
Asked if he thought Corbyn had held the Conservatives to account during PMQs, Middlesbrough South & East Cleveland MP Tom Blenkisop said: "No, he hasn't and can't. Simple as that really, isn't it."
Another MP, who did not want to be named, concluded: "Theresa May could fart loudly at the despatch box and it wouldn't make any difference; as long as Corbyn is there, she is laughing all the way to the election."

One Labour MP, however, received praise from her party's parliamentarians during the PMQs session. Yvette Cooper, the chair of the home affairs select committee, asked Theresa May:
"The prime minister's just done a £2 billion Budget U-turn in the space of a week. Last year, the government did a £4 billion U-turn in the space of five days. Is that why they want to abolish spring Budgets, because they just keep ripping them up?"
The question was followed by cheers from the Labour benches, as well as praise from several MPs on Twitter.
A spokesperson for Corbyn, however, said the Labour leader had "absolutely" held the prime minister to account during PMQs.

"He highlighted that the government has U-turned in the most dramatic fashion," they said. "We are clearly holding the government to account."