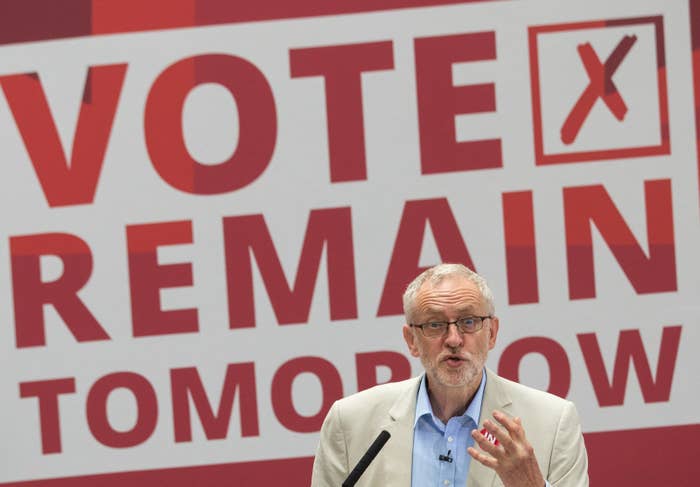 Jeremy Corbyn refused to support a planned Labour press briefing on the benefits of staying in the single market during the referendum campaign, leaked emails seen by BuzzFeed News reveal.
On 14 June, nine days before the vote, Labour officials wanted to promote a speech the following day by deputy leader Tom Watson with research showing that staying in the single market could create 1.3 million jobs in Britain.
But in an email seen by BuzzFeed News, Corbyn's head of policy intervened to make clear that both the leader and shadow chancellor John McDonnell "don't politically support" the research and therefore opposed the briefing.
"Neither LOTO [leader of the opposition] nor STT [shadow Treasury team] are happy to support this," Andrew Fisher's brief email concluded.

Details of the email exchange came on Wednesday as Corbyn faced questions over whether he supported Britain retaining single market access following Brexit. They will add to criticism from Labour rebels that he was ambivalent to the EU and obstructed the Remain side during the referendum campaign.
The figures Labour staff wanted to promote drew on research by the Centre for Economics and Business Research (CEBR), which had established in October 2015 that staying in the single market and the EU would bring 790,000 new jobs to the UK by 2030.
In an initial email sent to senior Labour figures on June 14, a party official said: "This analysis is updated to reflect the Treasury now says the reforms to the single market could increase GDP by 4 per cent – leading to 1.3m jobs instead."
The email continued:
There is also some new analysis in there about membership boosting labour productivity and in turn real wages between 1986 and 2011. Though topline will be how staying in EU could lead to more than a million new jobs. Any questions, please shout though we need to get a press release out ASAP.
After another official pointed out that the planned briefing would have to be run past the leader and shadow chancellor, Corbyn's director of policy then replied:

We don't politically support many of the underlying assumptions in the CEBR report (let alone necessarily its methodology and conclusions).

We are not backing TTIP and we do not have a position on further liberalisation of the markets mentioned.

Neither LOTO nor STT are happy to support this.
Despite their opposition, the press release was sent out and Watson did give his speech the next day, including the 1.3 million jobs line. But the figure was never repeated by the Labour leadership, and didn't appear in any other piece of party literature.
Contacted by BuzzFeed News on Wednesday, a Corbyn spokesperson declined to elaborate on why the leader opposed sending out the research. "The emails state why we didn't support this briefing," the spokesperson said.
In a separate statement, Corbyn's team also sought to clarify his position on single market membership: "We will be pressing for full access to the European single market for goods and services... But there are directives and obligations linked to the single market, such as state aid rules and requirements to liberalise and privatise public services, which we would not want to see as part of a post-Brexit relationship."