"Invaluable" Revenge Porn Helpline May Turn To Crowdfunding After Losing Government Funding
A helpline launched in 2015 to help victims of revenge porn is at risk of closing down as the government may be about to stop giving it public money.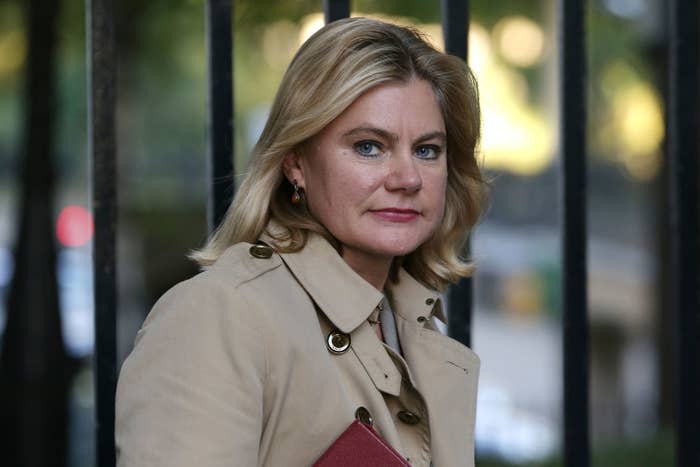 A "revenge porn" helpline, launched with great fanfare by the government in 2015, may now have to resort to crowdfunding in order to keep going after it was told it could not be given more public money.
Campaigners and MPs have expressed outrage at the news, with one former Tory minister saying the service "deserves support".

The project was launched in February 2015 by then-women and equalities minister Nicky Morgan, and aimed to help people who have had intimate pictures or videos of them put online without their consent.
It received over 2,500 calls in 2016, but the Government Equalities Office will stop funding it in April.
Speaking to BuzzFeed News, Laura Higgins, who runs the helpline, said: "We were delighted that the Government Equalities Office were supportive of our project and kindly funded us for two years. The first year of funding was a pilot, intended to establish the scale of the issue in the UK.
"We were very grateful that Nicky Morgan saw the need for the service to continue, but the grant was provided on the clear understanding that the Equalities Office couldn't fund us post April 2017.
"Sadly all efforts to secure funding from other departments and avenues have so far proved unsuccessful and we are currently faced with the potential closure of the service if funds are not found."
Higgins said that she was looking into possibilities for crowdfunding the helpline, adding: "We continue to explore all avenues."
Maria Miller, the chair of the women and equalities select committee, told BuzzFeed News that the helpline "proves a unique and invaluable service to people who are grappling with the appalling problems associated with being the victim of online abuse" and "deserves support for its work and needs more resources to cope with demand".

Polly Neate, the chief executive of charity Women's Aid, added: "There is no doubt that survivors of all forms of abuse need support, both to recover and to bring perpetrators to justice if that is what they choose to do.
"All helplines are experiencing huge demand, which is not going to change – so we can't afford any reduction in the level of help available."
The helpline's precarious situation was brought to light by shadow minister for women and equalities Sarah Champion, who challenged her government counterpart in the Commons on Thursday.
In her question to Justine Greening, Champion pointed out that "some 20% of 13-to-21-year-olds have had unwanted pornographic images sent to them, and 5% of them have had indecent images shared without their consent".
Greening replied that her department had made no announcement on the subject yet, which led Champion to later comment that "once again, the Tories are all talk but no action when protecting women and girls from violence".
She added: "Labour is urging the government to maintain this vital, value-for-money service. Ministers must now clarify and publish their continued funding arrangements for the helpline."