Forcing Women To Wear Heels At Work Is Damaging To Their Health, Report Concludes
A joint report issued by two parliamentary select committees also found that dress codes including "makeup, high heels, and skirts above the knee" can make workers feel "very uncomfortable, even sexualised by their employer".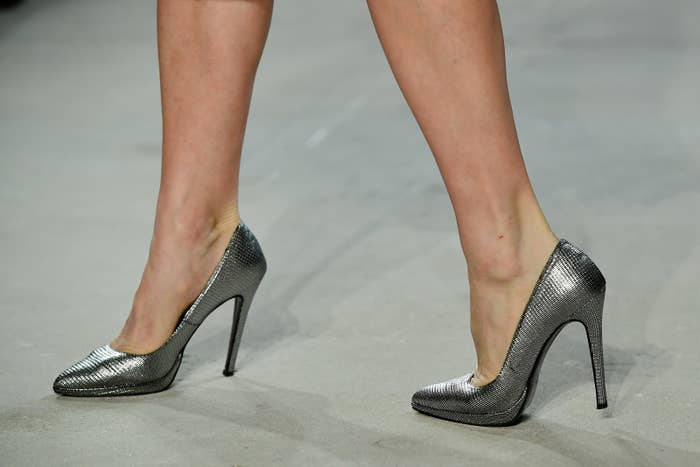 Dress codes that include high heels and target "young women in insecure jobs who already feel vulnerable in the workplace" are "damaging to their health and wellbeing in both the short and the long term", a parliamentary report has concluded.
The research, published by the select committees for petitions and for women and equalities, found that although discriminatory dress codes are against the law, many employers and employees do not know this.
The inquiry was triggered by the case of Nicola Thorp, who was employed by Portico, an agency used by PwC, and was sent home from work for not wearing high heels in May 2016. A petition to "make it illegal for a company to require women to wear high heels at work" was then launched and gathered over 150,000 signatures.
At the time the government responded by saying that "company dress codes must be reasonable and must make equivalent requirements for men and women. This is the law and employers must abide by it."
The report, however, urges the government to do more to raise awareness of anti-discrimination laws, as well as "substantially increase the financial penalties for employers found by employment tribunals to have breached the law".
Among the evidence gathered, the committees found that, according to the College of Podiatry, "on average, women report pain after one hour, six minutes and 48 seconds of wearing ill-fitting high heels — with a fifth of respondents reporting pain after 10 minutes' wear".
"Employers who require their female employees to wear high heels must be either unaware of the pain and impairment they cause, or simply choosing to ignore it," it concluded.
The inquiry also found that dress codes including "make up, high heels and skirts above the knee" can make workers feel "very uncomfortable, even sexualised by their employer".
Concerns were also raised about the impact of gender-specific dress codes on LGBT employees.
Though the Equality Act is clear "in principle", the report stated, "its application to individual cases is not straightforward", and needing to prove that a specific requirement is "less favourable treatment" can deter workers from going to an employment tribunal, as the law can be seen as "unclear".
The report said an awareness campaign should focus on the industries most hit by unfair dress codes, such as hotels, tourism, hospitality, and retail, as well as sixth-form and FE colleges.
Helen Jones, the chair of the petitions committee, said: "The government has said that the way that Nicola Thorp was treated by her employer is against the law, but that didn't stop her being sent home from work without pay.
"It's clear from the stories we've heard from members of the public that Nicola's story is far from unique. The government must now accept that it has a responsibility to ensure that the law works in practice as well as in theory."
CORRECTION
Nicola Thorpe was employed by Portico, an agency used by PwC. An earlier version of this story stated Thorpe was a PwC employee.